The 2nd Gwent FIDE Rating Tournament
At the University of Wales College, Caerleon 16th - 25th May 1997
The tournament took place in the superb surroundings of the boardroom at the University. Favourite to was FIDE Master Chris Baker. He was never in any trouble until his last round game against Peter Varley, where he nearly came a cropper after a series of spectacular sacrifices. Varley missed a few wins, most notably, 27.Bd4!! The game was a real crowd pleaser.
White: Peter Varley (2225) Black Chris Baker (2310) 2nd Gwent FIDE Tournament, R9
e4 d6 2. d4 Nf6 3. Nc3 g6 4. f4 Bg7 5. Nf3 O-O 6. Be3 b6 7. e5 Ng4 8.Bg1 c5 9. dxc5 bxc5 10. Bc4 Bb7 11. Bd5 Qb6 12. Nd2 Bxd5 13. Nxd5 Qb7 14.Qf3 Kh8 15. Nxe7 Qxe7 16. Qxa8 dxe5 17. O-O-O exf4 18. Qe4 Qc7 19. Nc4 Na6 20. h3 Nf6 21. Qe5 Qc6 22. Qxf4 Qa4 23. a3 Nb4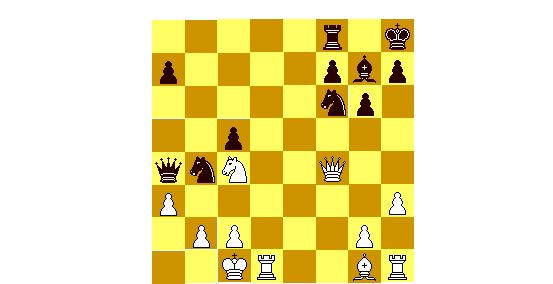 Position after 23….Nb4!
24. axb4 Bh6!!? 25. Qxh6 Qa1+ 26. Kd2 Rd8+ 27. Kc3 Qxd1 28. Bxc5 Ne4+ 29. Kb3 Nxc5+ 30. bxc5 Qxh1 31. Qg5 Rb8+ 32. Ka2 Qe1 33. Qf4 Qb4 34. c6 Qa4+ 35. Kb1 Re8 36. Qf6+ Kg8 37. Ne5 Rxe5 38. Qxe5 Qxc6 39. Qe2 h5 40. c4 Qc5 41. Qe4 f5 42. Qe2 Kf7 43.Kc2 h4 44. b3 a5 45. Qd2 Kg7 46. Kc3 Qb4+ 47. Kc2 Qc5 48. Kc3 ½-½
Final Cross Table
| | | | | | | | | | | | | |
| --- | --- | --- | --- | --- | --- | --- | --- | --- | --- | --- | --- | --- |
| Name | Rating | CB | GM | PV | ID | JG | RT | RB | AS | DV | MA | |
| C.Baker | 2310fm | *** | 1 | ½ | 1 | 1 | 1 | 1 | 1 | 1 | 1 | 8½ |
| G.Morris | (2045) | 0 | *** | 1 | ½ | 1 | 1 | 0 | 1 | 1 | 1 | 6½ |
| P.Varley | 2225 | ½ | 0 | *** | 1 | ½ | ½ | 1 | 1 | ½ | 1 | 6 |
| I.Debbage | 2060 | 0 | ½ | 0 | *** | ½ | 1 | 1 | ½ | ½ | ½ | 4½ |
| J.Gilbert | 2150 | 0 | 0 | ½ | ½ | *** | 1 | ½ | ½ | 1 | ½ | 4½ |
| R.Taylor | (2060) | 0 | 0 | ½ | 0 | 0 | *** | ½ | 1 | ½ | 1 | 3½ |
| R.Batey | (1925) | 0 | 1 | 0 | 0 | ½ | ½ | *** | ½ | ½ | ½ | 3½ |
| A.Sheehan | (2100) | 0 | 0 | 0 | ½ | ½ | 0 | ½ | *** | 1 | 1 | 3½ |
| D.Vaughan | (2010) | 0 | 0 | ½ | ½ | 0 | ½ | ½ | 0 | *** | ½ | 2½ |
| M.Adams | 2080 | 0 | 0 | 0 | ½ | ½ | 0 | ½ | 0 | ½ | *** | 2 |

FIDE ratings after this event;
| | |
| --- | --- |
| P.Varley | 2210 |
| J.Gilbert | 2105 |
| A.Sheehan | 2025 |
| R.Taylor | 2030 |
| G.Morris | 2150 |
| D.Vaughan | 2020 |
| R.Batey | 2025 |
| M.Adams | delisted |
| C.Baker | 2310 |
| I.Debbage | 2045 |
Home Page Related Page 2 | Related Page 3