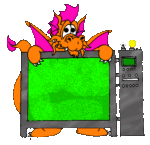 Captain's Report
By Mark Adams
Another round of 'if only's'. If only I had remembered to take my pawn back (time trouble), and if only Jon Gilbert had converted his won position etc etc.. On the plus side, the top boards did extremely well. Also, young Suzie Blackburne showed her potential again against very highly rated opposition.
Iolo played to his usual high standard, winning a Q+P ending. Pete had a comfortable draw against Alfred with the black pieces. Nigel, too, held his game comfortably. A solid draw for Andrew, saw up 'win' the top board matches 2½-1½. Jon let his won position slip. He was following Penrose-Tal for ages. I messed it up in time trouble. It won't be long before Jonathon Blackburn will be moving up the boards. His very competent draw was quite impressive. Suzie found that giving away 500 rating points was just too much.
The match against the 'other' Dragons was closer than the score suggests. They brought in 'ringer' John Cooper, who didn't play in the previous round. Pete played the ending well, and was even thinking about winning the game. Iolo showed excellent ending technique holding doubled e pawns and R v R. Jon had a good draw with his a6 Slav against David James. Andrew blundered in time trouble. I went mad giving up 2 pawns then a knight, then a rook for a big attack, but Charles defended well and snuffed out the threats. The battle of the Saunders ended in a draw as did Jonathon's game against Abigail, where he pushed and pushed in the R+P ending. Abigail played well to defend, playing some 'only' moves. Suzie gave up the 'poisoned pawn' on b2 but found it tricky to get the compensation required.
<![if !supportEmptyParas]> <![endif]>
<![if !supportEmptyParas]> <![endif]>
<![if !supportEmptyParas]> <![endif]>

<![if !supportEmptyParas]> <![endif]>

Gwent Dragons

<![if !supportEmptyParas]> <![endif]>

<![if !supportEmptyParas]> <![endif]>

I.K.H.H. 2

<![if !supportEmptyParas]> <![endif]>

1

w

Jones, Iolo

2269

1-0

Farndon, David

2236

2

b

Varley, Peter

2240

½-½

Alfred, Nathan

2198

3

w

Saunders, Nigel

2150

½-½

Cooper, Andrew

2151

4

b

Walden-Jones, Andrew

2159

½-½

Howell, Chris

2160

5

w

Gilbert, J

2085

0-1

Gurr, Lyndon

2048

6

b

Adams, M

2024

0-1

Garner, David

2100

7

w

Blackburn, Jonathan

1981

½-½

Lock, Gavin

2103

8

b

Blackburn, Suzie (F)

1492

0-1

Mills, Natalie (F)

2010

<![if !supportEmptyParas]> <![endif]>

<![if !supportEmptyParas]> <![endif]>

<![if !supportEmptyParas]> <![endif]>

<![if !supportEmptyParas]> <![endif]>

3-5

<![if !supportEmptyParas]> <![endif]>

<![if !supportEmptyParas]> <![endif]>

<![if !supportEmptyParas]> <![endif]>

<![if !supportEmptyParas]> <![endif]>

South Wales Dragons

<![if !supportEmptyParas]> <![endif]>

<![if !supportEmptyParas]> <![endif]>

Gwent Dragons

<![if !supportEmptyParas]> <![endif]>

1

w

Cobb, James

2349

½-½

Varley, Peter

2240

2

b

Cooper, John

2344

½-½

Jones, Iolo

2269

3

w

James, David

2252

½-½

Gilbert, Jonathan

2085

4

b

Zeidler, Sven

2235

1-0

Walden-Jones, Andrew

2159

5

w

Saunders, John

2200

½-½

Saunders, Nigel

2150

6

b

Morris, Charles

2231

1-0

Adams, Mark

2024

7

w

Cast, Abigail (F)

2119

½-½

Blackburn, Jonathan

1981

8

b

Cast, Jason

1848

1-0

Blackburn, Suzie (F)

1492

<![if !supportEmptyParas]> <![endif]>

<![if !supportEmptyParas]> <![endif]>

<![if !supportEmptyParas]> <![endif]>

<![if !supportEmptyParas]> <![endif]>

5½-2½

<![if !supportEmptyParas]> <![endif]>

<![if !supportEmptyParas]> <![endif]>

<![if !supportMisalignedColumns]>
<![endif]>
<![if !supportEmptyParas]> <![endif]>
4NCL, Division 2, 1999/2000 - Positions after Round 4
4NCL Div 2, 1999/2000

1

2

3

4

5

6

7

8

9

10

11

12

13

14

15

16

17

18

P

W

D

L

GPts

MPts

1

S.Wales Dragons

x

4½

5

6½

5½

4

4

0

0

21½

8

2

Barbican 4NCL 2nds

x

1½

5½

6½

5½

4

3

0

1

19

6

3

Perceptron Youth

x

2

4½

6

5

4

3

0

1

17½

6

4

Poisoned Pawns

x

4

5½

5½

2½

4

2

1

1

17½

5

5

Slough 2nds

x

4½

3½

4

4½

4

2

1

1

16½

5

6

Bigwood 2nds

3½

6½

x

2

7½

4

2

0

2

19½

4

7

Bristol 2nds

2½

4

x

7½

4

4

1

2

1

18

4

8

BCCA

6

2½

x

4½

3½

4

2

0

2

16½

4

9

Wessex

3

2½

x

6

5

4

2

0

2

16½

4

10

Levy Gee 3Cs

3½

3½

x

4½

4½

4

2

0

2

16

4

11

Kings Head

6

4½

2

x

3

4

2

0

2

15½

4

12

Witney

1½

3½

5

x

4½

4

2

0

2

14½

4

13

IKHH 2nds

4½

½

3

x

5

4

2

0

2

13

4

14

Guildford-ADC 2nds

2½

5½

3½

x

4

4

1

1

2

15½

3

15

Nidum Knights

4

3½

4

x

4

4

0

3

1

15½

3

16

SCS

1½

2

4

x

5

4

1

1

2

12½

3

17

Thistle W. Rose

3½

½

4

3

x

4

0

1

3

11

1

18

Gwent Dragons

2½

3

3½

3

x

4

0

0

4

12

0
<![if !supportEmptyParas]> <![endif]>