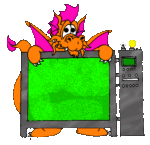 Captain's Report
By Mark Adams
Home
Round 1 Gwent Dragons 5 – B.C.C.A. 3
The BCCA were an unknown quantity to us, therefore preparation was limited. Thanks to Jon Gilbert, we managed to find some of their correspondence games from the net, so we were not completely unaware of their openings. In fact, my opponent was astounded after the game when I produced a printout of a dozen or so of his games.
Pete had an excellent win on 1. His king manoeuvre to g1 via f1 and g2, shows his understanding of such things. I had a draw with my correspondence IM on 2. I must admit, I would have played on if I were him. John Fletcher had a game of missed chances (see his comments to his game) on 3. Jon Gilbert equalised comfortably against the awkward 1.f4 and was 'dead pleased' with his first win for us. Simon had a great win on 5 against a much higher rated opponent- 26 moves is almost a miniature. Young Andrew did us proud with an excellent win with black. He obtained an advantage early on, slipped back to an equal-ish position in the middle game, but powered through in the ending. Richard suffered from a passive position, but to be fair, his opponent played very imaginatively. Helen Gale made her debut for on 8. Do not be fooled by her quiet nature!! Her aggressive opening showed that this lady is not to be messed with. She outplayed her over confident opponent, who made the classic mistake of paying to much attention to the difference in grades. Helen was unlucky to fall into the classic B+2P v B drawn position.
All in all, a very good performance. Things will get much tougher from here on in though. The board 8's look especially tough this year – Jane Richmond, Abigail Cast etc,. The next round was a case in point. Apart from board 1, our losses came on the only boards where we were higher rated!!
Gwent Dragons v B.C.C.A.

1

Varley,P

2290

1-0

Gough,M

2216

2

Adams,M

2035

˝-˝

Tait,

2185

3

Fletcher,J

2100

0-1

Toothill,J

2088

4

Gilbert,J

2100

1-0

Hall,RVM

2120e

5

Brickman,S

1980

1-0

Waters,C

2160

6

Walden-Jones,A

1965

1-0

Phillips,D

2000e

7

Batey,R

2045

0-1

Hardman,M

1928

8

Gale,H(F)

1445

˝-˝

Barnes,L(F)

1608

5-3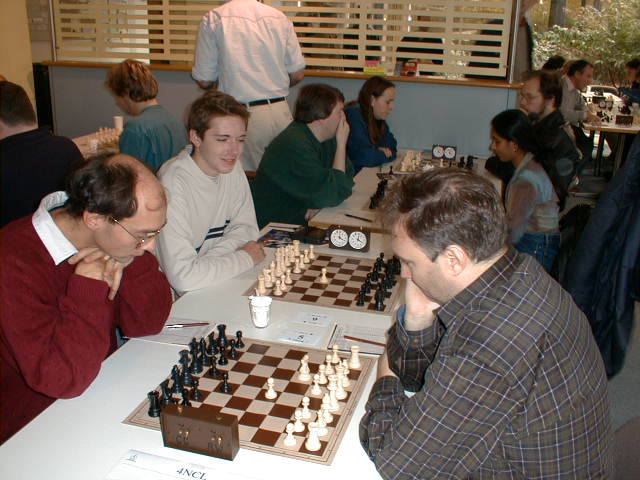 | | |
| --- | --- |
| Pete Varley and Jon Gilbert raring to go! | Boards 4-8 against King's Head (SB left) |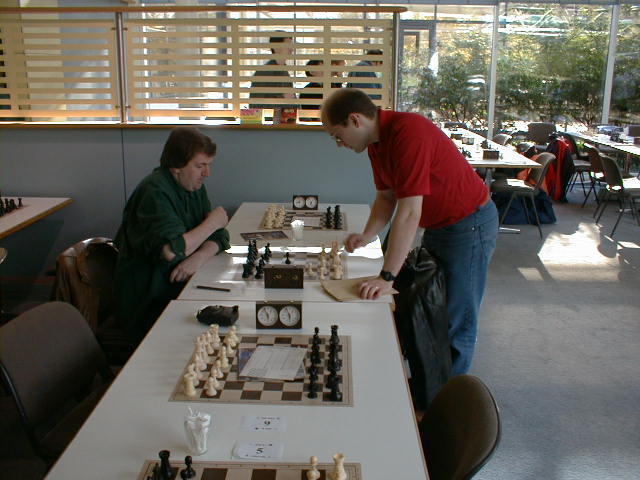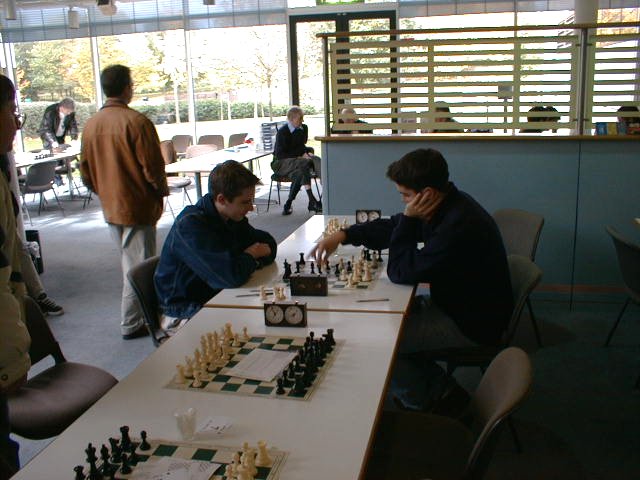 | | |
| --- | --- |
| Richard giving Jon advice on 1.b3 | Andrew Walden-Jones (left) who scored 2/2 |
Round 2 King's Head 5˝ – Gwent Dragons 2˝
Again, out graded on most boards (7 this time!) this match looked very difficult for us. Pete had a solid draw on top board. I played too passively and was mashed in the ending. Jon Gilbert can be very pleased with his weekend. 1˝/2 against 2190 is pretty good. John Fletcher very nearly held his game, but blundered in time trouble. Simon was holding his game, but got his bishop trapped. Andrew won his game, from a piece down, in a blitz finish – doesn't matter how you win – they all count. A great weekend for the lad with 2/2. Richard's dogged approach to the game produced a good draw against a determined opponent and may have been better in the final position. Helen tried her best, but couldn't recover the position after missing a tactic early on.
Kings Head v Gwent Dragons

1

Thomas,R

2295

˝-˝

Varley,P

2290

2

O'Sh'nessy,C

2190

1-0

Adams,M

2035

3

McMichael,R

2255

˝-˝

Gilbert,J

2100

4

Mackenzie,C

2125

1-0

Fletcher,J

2100

5

Ward,J

2056

1-0

Brickman,S

1980

6

Compton,A

2015

0-1

Walden-Jones,A

1965

7

Shah,A(F)

2030

˝-˝

Batey,R

2045

8

Gilfillan,A

2032

1-0

Gale,H(F)

1445

5˝-2˝