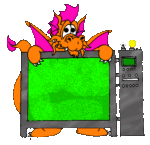 Captain's Report
By Mark Adams
Home
Round 7
Gwent 4½ v Invicta Knights 2 3½
The following report is based on players comments.
On board 1, Iolo Jones managed to win a dodgy looking pawn, then a better looking second, then a third and a forth etc. Peter Varley, on 2, was lost from move 6 (a pet opening which his opponent put down). Ulrike mated Reuben in the middle of the board, an excellent result for, pushing her closer to that 2200 mark and her WIM title. Richard 'Houdini' Miles managed to draw a game after losing queen for knight! From the diagram below, it is hard to imagine that Black would draw 10 moves later. An out of form Andy Borg lost quickly on 5. John Fletcher lost an ending a pawn down while Andrew Walden-Jones 'done the business' for us once again on 7, mating his opponent with a speculative piece sac. Ian White made a good debut with an important win on 8.
Round 8 Slough 2 4 v Gwent Dragons 4
Iolo J went into the endgame a Q-side pawn down, and although it looked from time to time as if he might hold it, he went down in the end. Peter won quickly against Jovanka Houska (she allowed mate in 3, but Pete was winning at least a pawn by that stage anyway). Ulrike drew very comfortably with black against a 2215. Houdini seemed to be going downhill, but held on to draw. Andy's opponent got his draw offer in just in time - a few moves later and Andy would have played on to win. Andrew seemed to stand worse positionally, but conjured up a mating attack and won. John missed a few tactics that would have won his gambit pawn back and reached a lost ending. From then on he played some outstanding moves to get a very important draw. Ian was outplayed on board 8, but must have learned something about chess at this level.
The whole match was looking very shaky at one point. We were one up and 4 to play and we stood worse on all four! Still a point is a point. Another 2 or 3 points should see us safe.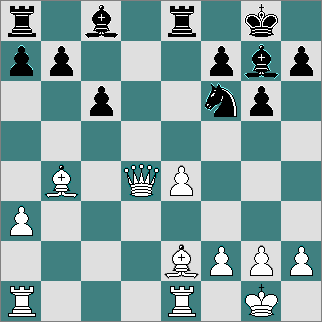 L.Gurr (2120) v R.Miles (2085)
Position after 17.Qxd4
Play continued 17....Nxe4 18.Qc4 a5! 19.Rac1 axb4 20.axb4 Nd6 21.Qc5 Nf5 22.Bg4 Be6 23.Bxf5 Bxf5 24.Qb6 Bb2! 25.Qxb7?? Bxc1 26.Rxc1 Rab8 ½-½
4NCL Division 2, 1998/9 Crosstable After Round 8
4NCL Div 2, 1998/9

1

2

3

4

5

6

7

8

9

10

11

12

13

14

P

W

D

L

GPts

MPts

1

Guildford

x

4

*

*

4.5

3.5

*

6

*

6.5

6

*

6.5

6

8

6

1

1

43.0

13

2

Coulsdon & P

4

x

*

*

*

*

4.5

4.5

5

*

5.5

3.5

6.5

6.5

8

6

1

1

40.0

13

3

Bristol 2nds

*

*

x

*

1.5

4.5

4.5

4

*

5

*

5.5

5

4.5

8

6

1

1

34.5

13

4

White Rose

*

*

*

x

1.5

5

2

4.5

*

7

4.5

*

5.5

6.5

8

6

0

2

36.5

12

5

Wood Green 2

3.5

*

6.5

6.5

x

*

2.5

4.5

3

*

4.5

5

*

*

8

5

0

3

36.0

10

6

S Wales Dragons

4.5

*

3.5

3

*

x

4

*

5.5

*

3

7

*

5.5

8

4

1

3

36.0

9

7

Bigwood 2nds

*

3.5

3.5

6

5.5

4

x

2.5

5.5

*

*

3.5

*

*

8

3

1

4

34.0

7

8

Witney

2

3.5

4

3.5

3.5

*

5.5

x

5

*

*

6.5

*

*

8

3

1

4

33.5

7

9

Kings Head

*

3

*

*

5

2.5

2.5

3

x

5.5

*

4

4

*

8

2

2

4

29.5

6

10

Gwent Dragons

1.5

*

3

1

*

*

*

*

2.5

x

4

5

4

4.5

8

2

2

4

25.5

6

11

Nidum Knights

2

2.5

*

3.5

3.5

5

*

*

*

4

x

*

3

4.5

8

2

1

5

28.0

5

12

BCCA

*

4.5

2.5

*

3

1

4.5

1.5

4

3

*

x

*

*

8

2

1

5

24.0

5

13

Slough 2nds

1.5

1.5

3

2.5

*

*

*

*

4

4

5

*

x

3.5

8

1

2

5

25.0

4

14

Invicta Kts 2nds

2

1.5

3.5

1.5

*

2.5

*

*

*

3.5

3.5

*

4.5

x

8

1

0

7

22.5

2