03
The Plan/Form and Design Form
The site is at its widest next to the Star & Garter and narrows towards Putney Bridge. providing a natural 'face' for the building at its eastern end which addresses a wide sweep of pavement creating a convenient setting down point.
Arrival at an entrance on Lower Richmond Road would have obstructed traffic and yet an entrance on the Embankment itself would inevitably be at a lower level and would require a stair up into the building.
The entrance at the eastern end presented a problem for the Client who wished the Restaurant first floor to be entered at a central point.
This was resolved by positioning the main stair up to the Restaurant towards the centre of the building creating a generous lobby at the entry point. This also acts as an entrance off the terrace and now contains a statue by Elizabeth Frink which animates the building at the point of arrival.
The ground floor bar is set beyond the stair to the Restaurant and affords views of the river through deep recessed windows intended for alcove seating which give the desired sense of enclosure and cosiness whilst still addressing the river.
At the far end of the bar the floor is sunken to form an area which acts as a Brasserie and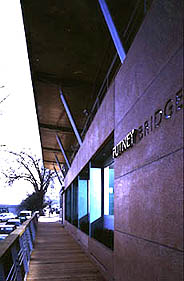 Cafeteria. The lowering of the floor responds to the widening of the plan at this end of the building and this is further developed by the large sliding glass door leading to the terrace and also provides a further separate entrance to this area which could, otherwise, only be accessed from the bar.