May2000

North West Region

Newsletter

March 2000

Welcome to the tenth issue of the North West Regional Newsletter. Roy and Barbara Hitchings have left the cold, wet climate of the British Isles and are now basking in warmer temperatures in Spain. Meanwhile, back in Britain, I have taken over compilation of the newsletter so any queries, information or items of interest should be addressed to me!

Karen Davies,

3, Wharfe Close,

Congleton,

Cheshire

CW12 3RW

01260 275776

e-mail: karen.davies@bcunw.freeserve.co.uk

Diary Dates for 2000

Regional Meetings to be held at Trafford Water Sports Centre:

Monday 6th March 2000 -

Regional Committee Meeting (R.C.M.).

Monday 8th May 2000 -R.C.M. and Club Forum Meeting.

Monday 3rd July 2000 -Regional Committee Meeting.

Monday 4th September 2000 -R.C.M. and Club Forum Meeting.

Monday 6th November 2000 -Regional Committee Meeting and meal.

Saturday & Sunday 18th-19thNovember 2000 – A.G.M. Southport.

Access and Environment

What's going on? February 2000

nwb0005

Nationally

Did you write to your M.P. as requested in the December Canoe Focus? The Government has decided not to include access to water in the bill for access to the open countryside. It is too hot an issue to be sorted out within their timetable. But.

The Environment Agency have recommended that the government should sponsor and fund a representative group to review arrangements for access over inland water for appropriate recreation. This is vigorously opposed by the angling representatives on the EA advisory committees. So there is something new to write to your M.P. about. Tell him or her there is an unjust situation regarding access to water for canoeing, the approach of requesting voluntary agreements is not working and something else is required. Tell him a review body as recommended by the E.A. is essential to obtain fair access. If M.P.s and the government don't know we are really disadvantaged they won't do anything about it.

In the region

River Lune - solicitors acting for the riparian owners of 1km of the left bank of the river downstream of the A684 near Sedbergh have notified the BCU that their clients will prosecute any canoeist trespassing on their water. The BCU Cumbria have been trying for many years to get an access agreement.

River Lune - Carl Lowther is trying to regain access to the flat section of river above Skerton Weir in Lancaster.

River Mersey - I am trying to promote a canoe trail on the river from Stockport to Carrington so that access can be built down the steep banks and around weirs.

The draft Mersey Bollin Local Environment Agency Plan (LEAP) has been published for consultation. Canoeists need to respond before April to make sure canoeing is considered. Contact the LEAP officer at E.A. Birchwood for a copy. 01925 840000.

River Douglas - there is an opportunity for canoe trails using the canal and river, BW and Lancashire Countryside are interested but we need a local canoeist or club to promote it. Any volunteers?

River Calder - the E.A, supported by local canoe clubs, is investigating the building of a combined fish pass and slalom course at Padiham Weir.

We still need local access officers for the Croal, Etherow, Roach, Tame and Wyre. Any volunteers?

Clean Up

Does your club hold a river clean-up? It is useful to improve a section of the river environment and also to get good publicity for canoeists.

Mersey Basin Campaign

This campaign is working to improving the rivers and environment of the area. Clubs can join the Mersey Basin Trust free and get access to information and some funds. Ring 0161 228 6924 or visit the website http://www.merseybasin.org.uk.

Chris Cleaver Access and Environment Officer

Evening Telephone 01625 878838

E-mail chriscleaver@bcuinternet.com

Clitheroe Canoe Club

North West Region Weekend

Teesside White Water Park

8th & 9th April 2000

Competition:

Fun Down River Race

Fun Slalom

Fun Rodeo/Freestyle

(Prizes for juniors, ladies & mens on points)

Coaching available:

Freestyle, Slalom, Beginners White Water and Open Canoeing.

Contact: Andy 01254 824007

Steve 01254 823473 (evenings)

Ian 01254 822346

Tickets £10.00 for the weekend

Buy 10 before 15th March and get 2 extra FREE

Expedition to China and K2 Base Camp

During August of 2000 I am taking part in an expedition to K2 base camp, with the Yorkshire Schools Exploring Society. The expedition will consist of four leaders (one a doctor) and twenty school aged children between 16 – 19 years of age, thirteen of which are girls.

The expeditioners have to undertake fieldwork that could count towards GCSE or A'level coursework, so it's not an adventure holiday for them or us.

The expedition will start in Islamabad, drive along the Karakoram Highway to Gilgit. We cross China, undertaking a short acclimatisation trek up Mustagata Peak. We travel then along the Ancient Silk Road to Kashgar. After here, we skirt the southern edge of the Taklamalen Desert to Marardala to meet our camel caravan.

In order to reach the K2 mastif we have to cross the Shaksgam River. If this is too dangerous we will trek up the valley to Gasherbrum.

From K2 base camp, if time and conditions allow, we trek up to K2's advanced camp, to have a closer look at the North Face of this spectacular mountain.

After our return from K2 we drive across the Taklamalen Desert and fly home from Beijing after visiting the Great Wall and the Forbidden City.

As you must realise, this is an opportunity of a lifetime. The leaders along with the expeditioners have to raise the money in order to go. This will be £2,750, so I am planning to undertake fundraising ventures such as the Three Peaks Challenge and anything else to get money, so be warned I will be pushing sponsorship forms in front of you.

If anybody has any ideas on fundraising, grants to dig into please let me know

Thanks Izzy Murray

ContactIzzy via

Telephone 01142659722

Email: i.murray@rothervalley.ac.uk

Paddlepower goes open -The new scheme for young people.

You will all have heard of the new Young Paddlers Scheme but just to remind you, its aim is to:
| | |
| --- | --- |
| | Encourage more young people to come into and stay in the sport. |
| | Show them all aspects of the sport – both competitive and adventurous. |
| | Provide signposts into Clubs where their skill and developments can be nurtured. |
| | Fit the equipment to the child and not vice versa. |
To date, in order to deliver the scheme, there was a requirement to attend a workshop. The reason for this was to provide you with some excellent coaching resources, to brush up on your knowledge of issues effecting young people and to meet other coaches in your area with whom you could work to delivering the scheme with your group.
Well, things have changed….
Now, to deliver the scheme with your group you need only complete an application form which is available from the BCU Coaching Department. So get dialing!
To deliver Paddlepower 1, you need to be or have access to a Level 2 coach or above.
Paddlepower 2 can be delivered by anyone – a club helper, parent or coach.
We will still be running Paddle power workshops around the country to support you in delivering the scheme so watch this space for further details.
For further details please phone your BCU Paddlesport Development Officer on Chester 1244 660606
WHITEWATER KAYAKING/CANOEING FOR
ALL ABILITIES
IF YOU LIKE PADDLING GRADE 2 TO 3 WHITE WATER IN WARM DRY WEATHER THEN THIS COULD BE FOR YOU
OR BOTH FOR
£550
Price includes:
| | |
| --- | --- |
| | Return flights from Liverpool to Geneva. |
| | Transport to and from Geneva. |
| | All equipment. ( Personal boats can be taken out). |
| | 6 to 12 days coaching on personal skills and river leadership. |
| | Working in small groups with a BCU Level Five Kayak Coach. |
| | Campsite fees. |
For Further Details phone Riverside Adventure on Chester 01244 660606
The Lower Dee Open Boat Tour takes place from April 28th to 30th, 7km per day with a fancy dress competition on the Sunday although a Saturday Night Ceilidh and bouncy castle (for those of the appropriate ages) should be good for smudging the makeup. The tour will have camping and caravans by arrangement. Those who do not have open canoes will be able to hire them but don't even think about kayaks. 0151 336 4557.

Derek Brooks Regional Coaching Organiser.
Paddling into the next Millennium.
The main objectives of the BCU are More Paddling, More medals and More Quality Coaching.
Paddlesport is developing rapidly and skill levels on the water are increasing exponentially.
Their has been a move away from traditional BCU star and Coach awards in recent years with many paddlers realising that with some input on personal skills they can progress far more quickly and enjoy paddlesport more. Canoeing activity and experience is becoming more important than awards and qualifications. In my view this is a refreshing development and mirrors development in other successful sports.
All Coaching Awards are now quality assured and have become far more standardised. Paddlers have become far more discerning and are now asking the question How up to date is the coaching and information I am receiving? This has resulted in some courses becoming more expensive because of the additional quality of the people and resources used. Some criticism from voluntary club based coaches about the expense of becoming qualified and the hoops needed to be jumped through. If the last sentence strikes a cord read on carefully.
The attached coaching calendar outlines the scope and range of courses available in the region.
At the last club Forum (Next one at Sale Water Park May 8th 8-00) it was outlined how Affiliated Clubs wishing to develop new activities could access funding up to £5000 per club to develop and help coaches qualify at a minimal cost. Only five clubs attended this meeting. More than one Local Club has already spent over £3000 updating and developing its club coaches with support from the Coaching Panel.
I am asking all clubs to identify their Coach Update requirements and their Coach Development needs and send me a copy. I can then plan with you to enable club coaches to progress at minimal cost and to maximum effect. If we work together new and existing activity can be supported, The Coaching panel will provide the support and expertise and coaches. Clubs need to be proactive and set the agenda and identify the people. Please contact me or Jonathan Davies the Regional PDO (01244660606) to discuss your development needs or arrange a visit to point you in the direction of a Millennium bid.
Saturday 8th/ Sunday 9th April 2000 Tees Course. Ticket £10 per person for the weekend including coaching. Two free tickets for every 10 tickets booked. We will also be running a 1 day White Water Safety and Rescue Update over this weekend cost £10. Places are limited so book well in advance.
The BCU is only as strong as the support of the membership. Help us to help you. Support Regional Developments.
| | | |
| --- | --- | --- |
| 2000/01 NORTHWEST REGION COACHING CALENDER | | |
CONTACT YOUR LCO FOR FURTHER DETAILS OF HOW THE NORTHWEST REGION CAN HELP WITH YOUR COACHING REQUIREMENTS. RCO. Derek Brooks 01244 675870
Provisional. Bold Regional courses
BCUNW Web Site
www.users.globalnet.co.uk/~bcunw

email bcunw@globalnet.co.uk

Date

Discipline

Type

Level

Venue

Provider

Jan/Feb

AQUATIC FIRST AID

Ian Bell

20/02/00

Coach Update Burrs.

Burrs

Pat Mee

26/02/00

Kayak Assessment

3

Salford Quays

Stuart Gibbon

11/03/00

White Water Safety

Riverside Adventure

Jonathan Davies

8/9/0400

NORTHWEST TEESIDE EVENT COACHING FESTIVAL.

TEESIDE

Andy Nobblet

01254824007

05/05/00

Merseyside Scout Bala Weekend

1

Bala

Ian Bell

05/05/00

Kayak Assessment

2

Bala

Ian Bell

05/05/00

Kayak Training

2

Bala

Ian Bell

06/05/00

Sea

Training

3

Len Hartley

06/05/00

Kayak

Training

2

Chester

Ian McMullen

10/06/00

Kayak

Training

2

Riverside Adventure

Jonathan Davies

10/06/00

Canoeing Safety Test

Safety

Debdale O.C.

Paul Heaton

24/06/00

Kayak

Training

2

Merseysport/Crosby

Dave McGarry

01/07/00

Sea 3

Assessment

3

Len Hartley

09/07/00

Kayak

Assessment

2

Chester

Ian McMullen

15/07/00

Kayak

Coach Update

Merseysport

Dave McGarry

22/07/00

Kayak

Training

5*

Riverside Adventure

Jonathan Davies

29/07/00

Kayak

Assessment

5*

Riverside Adventure

Jonathan Davies

09/09/00

Canoeing Safety Test

Safety

Debdale O.C.

Paul Heaton

16/09/00

Kayak

Training & Assessment

1

Riverside Adventure

Jonathan Davies

30/09/00

Kayak Training
2
Chester
Ian McMullen

07/10/00

COACHING PROCESS
Riverside Adventure
Jonathan Davies

23/10/00

Kayak Assessment
2
Merseysport/Crosby
Dave McGarry

14/10/00

Kayak
Training
2
Ian Bell

04/11/00

Kayak

Training

5*

Riverside Adventure

Jonathan Davies

10/11/00

Kayak

Assessment

3

Regional Weekend

Ian Bell

10/11/00

Kayak

Training

3

Regional Weekend

Ian McMullen
BCU Northwest Region Coach Update and AGM. Southport Derek Brooks
27/01/01
Kayak Assessment 5* Riverside Adventure
Jonathan Davies

Coach Update units

Risk assessment and Injury prevention
Child Protection
Aquatic First aid
River Safety Initiative.
Hidden secrets, coaching paddlers not blades.
Star test standardisation
Paddle Power workshop

Please inform your LCO of your requirements

Bill Hanham LCO
294
Blackpool Old Road Poulton Le Fylde Lancs
0
1253882405
John Davies
Riverside Adventure. 330 Eccleston Rd, Higher Kinnerton, Flintshire
0
1244660606
Dave Herd
23
Church Close Waddington Clitheroe Lancs
0
1200428108
Derek Brooks
22
Sherbourne Ave Westminster Park, Chester. CH4 7QU
0
1244675870
Dave McGarry
130
Buckingham Road, Moghull Merseyside L31 7QR
0
1512874644
Ian Bell LCO
7
Heyes Drive, Wallasey, Merseyside L45 8QL
0
1516381555
Joanna Firth
Burrs Activity Centre, Burrs. Bury.
0
1617649649
Len Hartley
19
Dove Dale Rd, Wallasey, Wirral, Merseyside.
0
1516394556
Stuart Gibbon
15
Quays, Salford, Manchester.
0
1618777252
Terry Hailwood
78
Manor Way, Crewe. Cheshire.
0
1270212787
Pat Mee LCO
83
Newsham Lane, Hadfield, Glossop, Derbyshire SK13 2AR.
0
1457864817
Paul Heaton
Debdale Centre, Hyde, Manchester.
0
1612235182
Ian MacMullen LCO
108
Sealand Road Chester
0
1244372183
PTO FOR LOCAL COURSE PROGRAMME GREATER MANCHESTER
BCU Northwest Coaching.
An opportunity to get something for free.
Free Newsletter and Free ticket to the Northwest meet at the
Tees White Water Site.
Learn more about White Water Safety + Lots of coaching
Saturday/Sunday 8th 9th April 2000. Cost £10 for the whole weekend including free competitions rafting and coaching.
Name the river.
Spot the mistake.
E-mail entries only bcunw@globalnet.co.uk
Any items for the Newsletter to karen.davies@bcunw.freeserve.co.uk
Happy New Year
Derek Brooks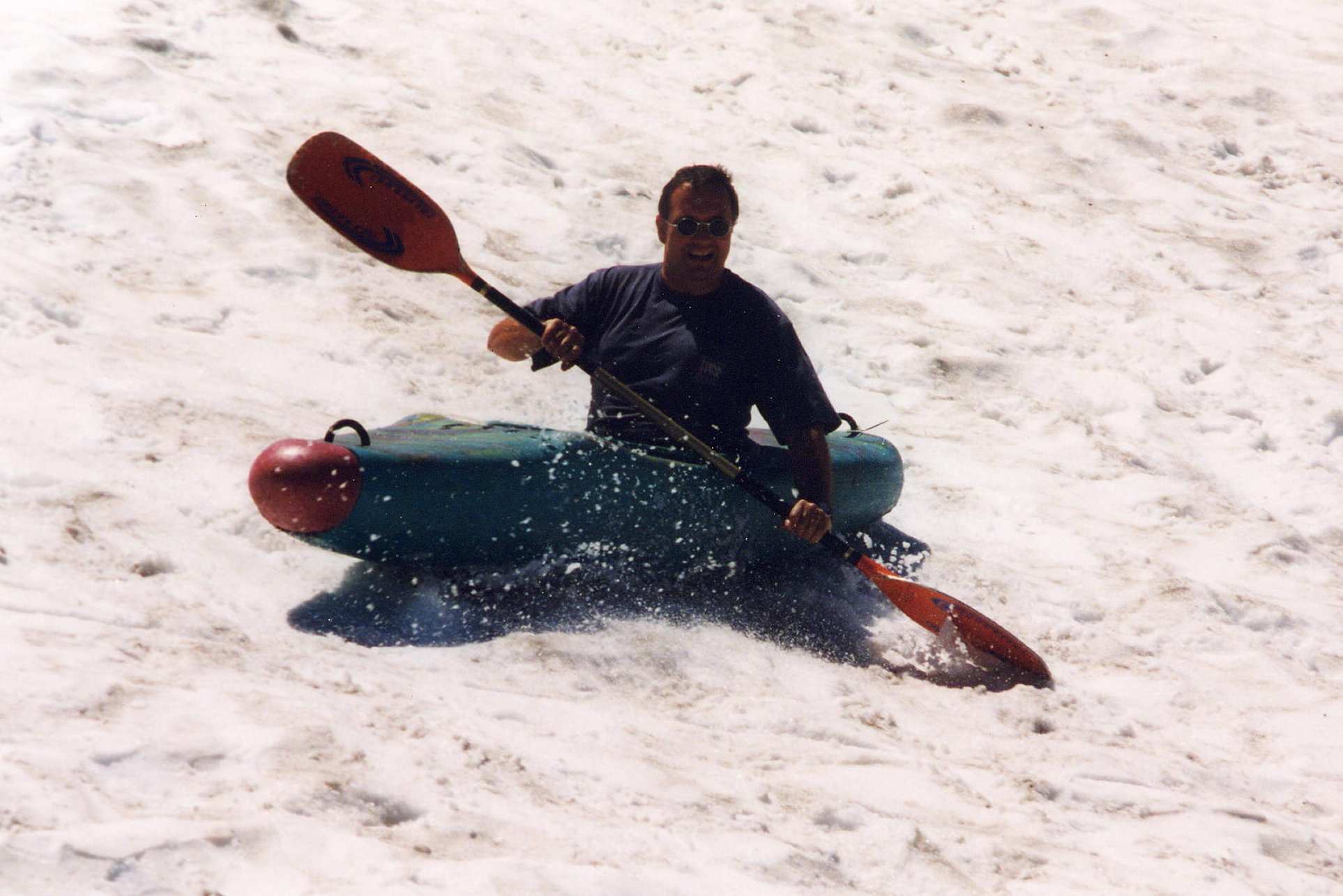 Marathon paddling in the North West Region appears to be quite strong at present, however we still have some way to go before we can match the apparent strength of the Southern regions. Having said that, Chester put in a very impressive performance at the Hasler Finals in '99 gaining 4th place overall. Second in the N.W was Macclesfield and District (MAD) in 15th position, Freestyle (FRE) were 21st and Warrington (WAR) came home with 25th place. Everyone seemed to have a great day racing on the Sunday, some having made a weekend of it by playing at the Tees Barrage on Saturday.
The top four placed clubs within the North West qualify to go to the finals so there is a lot of effort put in during the year at the qualifying races, currently there are seven in the region. Two races have already been held for this years finals with MAD taking the honors at both events.
| | | | | | | |
| --- | --- | --- | --- | --- | --- | --- |
| ADL | CHE | FRE | DCP | MAD | WAR | RUN |
| 10 | 17 | 17 | 6 | 20 | 14 | 15 |
With five races to go it is looking like another highly competitive year in the region!
The number of entries to each race is some where around the 60 –70 mark at present. It would be marvelous if that figure could be increased this season, with a bit of effort on the promotion side we could even reach the magic 100! To help increase entry level at the regions events a new trophy was introduced three years ago. It's polite title is Points and Posteriors, commonly known as 'Bums on Seats'. Basically everyone who races gets points for their club, regardless of their position within the race. Since it's introduction MAD have dominated this trophy, winning it three years running. They may not have the best paddlers in the region but they sure have got the most! So far this season MAD are at it again with a 18 point lead after just two events.
| | | | | | | |
| --- | --- | --- | --- | --- | --- | --- |
| ADL | CHE | FRE | DCP | MAD | WAR | RUN |
| 18 | 44 | 46 | 9 | 64 | 32 | 7 |
Marathon racing is great fun (honestly) and there is always a lot of happy smiling people at these race meetings who will make anyone feel welcome so please come and join us. There is a category for everyone from novice to full professional so you will be with people of your own ability. Race distances vary from 2 miles for the beginner, up to 12 miles for the experts!
Marathon paddling isn't just about the Hasler's though. There are also several longer distance paddles for the more hardy among us. Most people will have heard about the Devizes to Westminster race, yet how many know of the similar event which takes place within our own region? The Cheshire Ring Canal Race takes place every year and can involveup to 150 paddlers plus their supporters. The race covers the 97 miles, 92 locks and 5 tunnels of the Cheshire Ring canal system- hence it's name. If that sounds just a bit to far ( you don't have to do it all yourself, you can enter a relay team) try the shorter Weaver Descent. It's only 17 miles and it's downhill! If it's real adventure your after then the Conway Ascent is right up your street, 11 miles upstream travelling on the incoming tide. This race can be really rough if the weather is bad and can offer even the best of paddlers a challenge. The real attraction with this race is that the whole club can go along as those that don't feel up to racing can just relax and enjoy the scenery whilst paddling the river in whatever craft they wish as part of the touring group. Late in the year comes the Bollington Cut race. 27 miles along the Macclesfield canal from Marple to Hardings Wood, Kidsgrove. Usually held mid October it can be cold, last years was cancelled due to the ice being thicker and stronger than the hull of the boat! All these events are advertised in the BCU Yearbook, so if you would like to join in, just get in touch with the organizer and I look forward to seeing you out there!
Finally I would like to wish anyone entering the Devizes to Westminster Race the very best of luck with all your training and the race itself – 125 miles is a long way!
B.C.U. North West REgion
Newsletter
Volume 1. Issue 8
REGIONAL HEALTH WARNING
Over the last 20+ years Barbara and I have enjoyed canoeing in many parts of the British Isles and in addition serving the British Canoe Union as coaches and
administrators.
Within the next 10 months we will be moving to Spain.
Hence this is an early warning - the North West Region will require the following posts to be filled :
Secretary
Treasurer
Newsletter Editors (Scanner and Modem provided)
Regional Disability Organiser
The Region cannot function without these positions being filled. Please contact either Andy Cook or Barbara Hitchings if you feel you can help your Region in the future.
Friends of Allonby Canoe Club
6th Liverpool International
17th/18th July 1999
All seven Great Britain National Teams will be in action during this fabulous feast of Polo. Make sure your Team is there too. For entry forms or further information please contact :
Mike Moffitt or Gerry McCusker
74 Burnie Ave 20 Taunton Drive
Bootle, Merseyside Aintree, Merseyside
0151 922 0760 0151 526 4493
email : gerry@mccusker1.freeserve.co.uk
stolen
THEFT OF SEA KAYAKS FROM SKELMERSDALE
On 1/2 March four sea kayaks used by my Group for expedition purposes and also freely lent out to other youth and community groups were stolen from the rear garden of a house in Skelmersdale. The insurance value will not allow us to replace them and I want to try and recover them to allow many planned expeditions to take place over the Summer.
The boats are very distinctive, they are Rotomoulded plastic Skerrays made by Valley Canoe Products. They are 17' long and have a distinctive clipper type bow and stern. Each boat has a large oval rear hatch and a smaller circular front hatch. They are fitted with expedition lines and elastics on the front and rear decks.
Three of the boats are an unusual turquoise colour the third is red. They may be marked with the words 'Breakout' or 'Phoenix'. I imagine they will be difficult to dispose of for anything like their real value. I am offering a substantial cash reward for any information which leads to the recovery of all or any of the boats.
Please keep an eye out for me and ring me anytime on the numbers shown.
Home:01695 632434
Work : 01257 515720
Mobile: 0370 562014
Thankyou,
John Lechmere
Group Quarternaster
PS. If you know of anyone who has any second-hand sea kayaks for sale perhaps you could pass on my details to them.
FLOOD FORECASTING Environment Agency and the Met. Office working together.
The Environment Agency is investing £4.5 million over the next three years in a 10 year
programme to beef-up the U.K.s weather radar network to give the public as much
advance flood warning as possible.
The E.A. and the Met Office set in motion a programme of improvements to the existing radar network and confirmed an on-going commitment to using new technology to produce the most effective service.
(Courtesy of the Environment Agency).
1999
OPEN CANOE REGATTA
SATURDAY 10th July 1999 2pm.
THE MALTSTERS ARMS
TUCKENHAY
Near
TOTNES DEVON ·
Fancy Dress Paddlepast (Rafting allowed)
Slalom : Tag : Balloon Relay : Highwater Race
Bungee Tug o'War
Barbecue : Excellent Prizes
Overnight camp at Watermans Anns, Tuckenhay
Registration £2.50
Members £l.50
Under 18 Free
For further details contact: Phil Sheardown Tel: 01803 865301
MORE MONEY INTO CANOEING
More Funding from the Lottery Sports Fund.
WORLD CLASS PERFORMANCE was launched in 1996 and has been successful for Britain's elite performers including canoeists. It has awarded grants to over 30 sports and is to continue with an annual budget of £25 million
THE ENGLISH SPORTS COUNCIL under the new image of Sport England is also committing £25 million into two new programmes to develop talented sportsmen and sportswomen.
WORLD CLASS START will have an annual budget of £10 million and will make funds available to National Governing Bodies to help talent develop. Such areas as support for training, sports science and medicine, personal development of young performers and employment of top coaches will be included.
WORLD CLASS POTENTIAL with an annual budget of £15 million will allow National Governing Bodies to expand these programmes, giving access to the necessary facilities and equipment and in employment of world class coaches.
(taken from SW Region Newslette
PADDLEABILITY
Fun Day at Salford Quays.
On Thursday 13th April we decided to hold a racing day at Salford Quays for our members. They all have special needs of some type, differing levels and abilities. We had already tried a smaller version last
September. This time our target was for an attendance of 15, in fact over 20 members attended. Chadwick Textiles offered to sponsor the day for us, so we organised a barbecue. A barbecue in the pouring rain. Our volunteers are so committed, it is unbelievable. Two of them, stood under a bridge, sheltering from the rain, giving out burgers, coleslaw and drinks.
The day was called a fun day, because without it being fun the members would not attend. So they had fun, competed and all achieved different levels of success.
Races involved single kayaks, double open canoes and mixed sex relay races in kayaks. We marked out the course; brains here did not measure out the distance. The results:
Single kayak races
Boys Girls
Graham Nuttall 1 minute 30 secs Sarah Hogg 2 minutes 19 secs
Michael Murden 1 minute 45 secs Melanie Gornall 2 minutes 41 secs
Chris Watters 1 minute 47 secs
Open mixed doubles
Charlotte Harisson & Graham Picken 2 minutes 23 secs
Graham Nuttall & Melissa Miklewright 3 minutes 8 secs
Relay
Chris Watters & Melanie Gornall 4 minutes 31 sees
Michael Murden and Charlotte Harisson 4 minutes 40 sec.
The day was a real success. We are hoping to organise another fun day towards the end of July. If anybody is interested in joining us (volunteers or paddlers) please contact David Tweddle, or myself on 0161 736 3944.
Michael Appleyard, Oakwood High Youth Club, Oakwood High School, Park Lane, Salford, M67RQ.
A DAY AT THE RACES
We entered a total of 4 paddlers in the 200 metre sprint races at Nottingham. Travelling down from Manchester we made Holme Pierrepoint just in time. The organisers had brought our slots forward by an hour. So it was a quick change, jump into the canoes, starting point and off. In these circumstances we did really well. Graham was a little disappointed. After the race we found him looking at the ground and we had to decipher comments such as " What happened to me ?".
Charlotte Harrisons efforts placed her comfortably in the C time band and Michael Murden achieved a respectable 1 minute and 32.96 seconds. Melanie Gornall who had demonstrated a wonderful stroke at Salford Quays previously, struggled a little due to a poorly fitted
buoyancy aid. After our exertions we sat and ate our jacket potatoes, watching the other races. It was an event just to be there participating on the day with the best in the country at the National Water Sports Centre.
Where were the other North West Region Paddlers ?!!
M. Appleyard
Marathon Racing May 1999
Graham Simpkin, Regional Hasler Competition Organiser
Macclesfield club extended their lead in the North West competition by a win at the April races on the Macclesfield Canal. Forty three paddlers competed in six different classes, some of the races were very hard fought with first place in contention until the last half mile. This race is one of the most difficult with the narrow canal restricting the first row of the start line, steel piled banks reflecting waves to give a bumpy-wobbly ride and frequent narrow bridges to frustrate overtaking. The next race is on the wide waters of the Weaver.
Warrington Club are relative newcomers to marathon racing in their sea kayaks. They are looking for a K2 if there is one for sale anywhere.
The points table is now:
Club Hasler Competition Points & Posteriors
Macclesfield 47 127
Freestyle 44 114
Chester 42 97
Warrington 27 55
Duffryn Conway 25 40
Adlington 9 22
The other races this year are:-
Macclesffeld 2 4 July Andrew Millest 01606 648917
Adlington 22 August N Bortfield 01625 619271
Hasler Finals 19 September
Farndon 3 October A Parkinson 01829 741214
Marathon - competition canoeing for all
The North West marathon season began again with a traditional cold and windy day in Chester. Fifty two paddlers from 7 clubs took to the water to try to win prizes for themselves and points for their clubs toward the regional trophy and Hasler competitions. The marathon competition will continue throughout the Spring and Summer at a variety of venues including Addlington, Macclesfield and Northwich. These marathon events are always friendly events and there are divisions catering for all abilities of paddler and all types of boats. They provide a perfect introduction to competition canoeing for all ages from 8 to 80 on local canals and non threatening rivers. Races vary from 2 to 12 miles in length
depending on the paddler's ability and there is a system of local promotions to ensure that ambitious paddlers can progress through the divisions quickly.
In addition there are a number of events in and around the region for the more ambitious paddler. The Conway Ascent in North Wales is a popular event which includes the novelty of travelling upriver with the rising tide (or without the tide if you get it wrong). The Weaver Descent is a longer event and the ultimate test in the region is the Transpennine race between Liverpool and Leeds.
Access and Environment What's going: on?
BCU Nationally
The BCU is going to propose changes to the forthcoming Right to Roam Bill to include access to water. When the details are worked out we will need members help to lobby MPs etc. to get the changes considered.
The BCU has published the Facilities Strategy to emphasise the shortage of canoeing
facilities and show a planned wish list to support future grant applications. If your club has a need or plan for any capital work - landing stage, clubhouse or slalom course, tell me so it can go on the list.
There is a new post vacant in the region, a Facilities Officer.
The BCU can give advice on Lottery applications but cannot do the job for you. The BCU has information on bodies giving smaller grants - Commuted sums of money from
property developers for environment improvements. Entrust (Landfill Tax) grants. Local trust grants .
BCU Locally (And that means you)
Carl Lowther is working to maintain access to the flat section of the Lune in Lancaster which is used for training and Marathon Racing.
We still need Local Access Officers for the Croal, Dane, Etherow, Roach, Tame, Weaver, Wheelock, Wyre.
Can you or your club help?
Responsibility for coastal access has returned from the sea touring committee to the
access committee. There is therefore a vacancy for the new position of Coastal Access
Officer.
We need to lobby local authorities so they understand our needs and help. They will have a new duty to produce a Local Cultural Strategy to plan and encourage provision. Culture includes Sport and Recreation. We must get involved.
There are some rivers without access problems, like the Mersey, which are neglected. It was very badly polluted but is getting cleaner, give it a try, it is worth an annual visit. And we should show we are using it before the anglers get too interested. A river guide is
attached.
Give me a ring if you paddle the river, I want to know how many people use it.
C Cleaver
01625 878838
River Mersey
The river is formed in Stockport from the confluence of the Rivers Goyt and Tame. The first mile is unusable due to high built up banks and a shopping centre built over the river. Downstream from Stockport the river valley is mainly underdeveloped due to the risk of flooding. Unfortunately the river was 'improved' by weirs, straightening and steep flood banks. There are some natural features and a number of submerged weirs for a bit of interest. The river has enough water in dry weather and at high levels gives a brisk run with some bouncy bits. The best trips are between miles 2 – 5. 2 – 9 – 11.4. The section from 0 can only be done in low water due to weirs. The section below 11.4 awaits the discovery or development of access points.
Miles Map reference
0 The first get in point, at the end of Ford Street adjacent 886901
to Hollywood Way bridge, Stockport
0.2 Brinkswater Weir. Low crescent. No get out. 884900
0.8 M60 Motorway Bridge 874899
1.2 Heaton Mersey Bleach Works Weir. Low crescent. Dangerous
in middle/high water. Difficult get out on right. 868900
2.0 Cheadle Bridge, Manchester Road, B5095. Access. 856898
Confluence of Micker Brook.
2.4 Kingsway Bridge. A34 852894
2.5 Railway Bridge
4.2 Simons Bridge (Footbridge) 840907
5.0 M60 Motorway Bridge 835901
5.1 Footbridge 834903
5.2 Northenden Weir. 8' sloping. Shoot on left. Dangerous in spate. 833903
Best get out on right, under motorway bridge.
Access. Public Car Park on left bank. Boat Lane, Northenden.
Tatton Arms P.H. close by.
5.4 M60 Motorway Bridge 832906
North Bridge, Palantine Road
7.1 Princess Road Bridge 826911
7.6 Bridge (Private track) 821917
8.3 Bridge (Private track) Chorlton Water Park on right. 818919
9.0 Jackson's Bridge (Footbridge). Access Park on Rifle Road not 811926
on Jackson's Boat P.H. car park.
9.8 Sale Ees Weir. Submerged weir and waves. Followed by rapid. 801936
Potential site for slalom course.
Sale Water Park/Trafford Water Sports Centre along left bank.
If you are using the Water Park it is possible to make a circuit
using the lake and river.
10.1 Barfoot Bridge, Bridgewater Canal Aquaduct and railway bridge. 769934
10.3 M60 Motorway Bridge 794934
10.5 Crossford Bridge, Chester Road A56 791932
11.4 Little Ees Lane, Ashton on Mersey. Access 778933
12 Carrington Spur Motorway Bridge
12 Ashton Weir. Stepped. Great care. Inspect and portage. Difficult 773936
get out.
16.6 Flixton Bridge, Carrington Lane, B5188. Difficult access up very 743937
steep banks.
18.6 Carrington Weir and confluence with Manchester Ship Canal. 728936
No access. We must lobby the local authority and the developer
To include public access provision in the redevelopment of the
Site of Carrington Power Station.
Message from Sue Burgess
I am delighted to be working with the BCU's innovative Volunteering Development
Programme. The aim of this programme is to develop an effective recruitment, support and development programme for volunteers at local, regional and national levels within the BCU.
So where do we start?. - with YOU. Over the next two months I hope to get out and about to meet and talk with people who are already volunteering much of their time to the sport. 1 need to get your ideas about volunteering - about the people, the skills and the time! commitment required. I want to hear about the real, practical problems you face as a volunteer. With this information as a starting point, we can begin to build a
programme, which can make a difference to the recruitment, retention and recognition of volunteers through out the sport.
The New Year will see the introduction of regional Valuing Volunteers workshops to continue gathering information and to begin to share some good practice ideas.
I look forward to meeting or speaking with you soon. In the meantime, if you would like any further information about the Valuing Volunteers Programme, please do not hesitate to contact me at:
Tamworth House, 2 Garden Court, Garden Village, Wrexham LL11 2SQ. Tel: 01978 313673
NorthWest Region Coaching Courses Chester - North Wales
Kayak Coach – Level 2 Assessment 18th July
Kayak Coach – Level 2 Training 9th/10th October
Kayak Coach – Level 3 Assessment 18th.19th November
Contact Ian McMullen
Tel 01244 372183
Aquatic First Aid Courses can be arranged
Contact - Bryan Stevens for details
Able to travel to your club centre
Tel - 01244 539410
French Alps – Summer 1999
(Ribble Canoe Club)
Anyone interested, then read on !!
It is hoped to organise a trip to the French Alps this summer, probably 2-3 weeks around the July/August period. The trip is very much in the early planning stage and will be
tailored around the requirements of the people interested in going. The holiday is not purely a hard river paddling trip but a leisurely family based trip suitable for anyone who wants to have a good time in the sun with some paddling and other activities thrown in. The holiday will be camping based (unless alternatives can be found) and transport to the Alps will be a matter of filling a number of cars and making our own way to the campsite, whether in convoy or separately It is suggested that we head for the Briancon/Embrum area of southern France, where the Club has been on a number of occasions before. Or an alternative to 2 weeks in one spot would be to go to the Biaritz area, around the coast on the Spanish/French border for a week surfing and lounging in the sun followed by a week in the Briancon/Embrum area of the Alps for some addling.
On past expeditions to the Alps people have taken canoes, bikes, windsurfers, walking/climbing gear etc and had a very enjoyable time. There is a large lake at Embrum with beaches for anyone wanting to windsurf, canoe or just lounge in the sun. An ideal site for Canadian canoes or relative beginners to paddle in safety. The Briancon and Embrum
areas (the towns are about 15-20 miles apart) are surrounded by spectacular mountain scenery ideal for walking and cycling and the whole area has numerous clear blue rivers to paddle from Grade 2 up to 6.
Where we go and what we do depends on who is interested in going and what you want to do - it is your holiday! The cost of the holiday will be based on the cost of the ferry crossing, petrol to get down there,campsite fees and the amount of wine and beer you drink. Information on ferries, campsites, routes, maps etc can be organised and booked as a group (if required) or individuals can sort themselves out.
Anyone interested should contact Andy Rushton (01772-724872) or Simon Cole (01253-795017) so that a list of people can be put together and a meeting arranged to sort out the details. A slide show could be arranged of previous trips if required.
North West Youth League
The second season of the North West Youth Leagues was very enjoyable with a total of thirteen teams split seven in the Under 18 League, and six in the new Under 16 League.
In the Under 18 League Friends of Allonby Colts finished as League Champions again with 18 straight wins out of 18. However, the battle for Runners-Up position was a very tense affair with either of the two Viking Teams and Friends of Allonby Colts in the running. Viking 'X' had started the season as the stronger of the two Derby teams but Viking 'Y' grabbed a precious 2-1 win against them in the final tournament which in the end proved good enough to haul them into third place. However, Friends of Allonby Cubs slightly better goal difference gave them the edge over the two Viking Teams and the Runners-Up Trophies.
The other three teams in the League - Middleton Scouts, Ribble and Manchester
Warriors all improved dramatically during the season and played some very exciting games every time they took to the water.
In the Under 16 league all six Teams worked extremely hard throughout the season and had a really great time in the process. As with the Under 18 League the emphasis was on development and each of the teams really did improve during the course of their three Tournaments.
It was touch and go how the League Table would eventually pan out with some
cracking games and unpredictable outcomes. In the final run in it became a contest
between Viking 'I' and the two Friends of Allonby Teams to see which could collect the highest number of points. All three finished having won 10 of their games but Friends of Allonby Pips managed a higher number of drawn games to take the Championship and Friends of Allonby Pups lost one fewer games than Viking 'I' to grab the runners-Up Trophies.
Manmix and Middleton Scouts, the other two teams in the Under 16 league, put in some great performances and will be better still when they return for the 1999/2000
season in September/ October next.
Please note that the North West Youth League is open to Teams from other BCU
Regions as the four Viking Teams from Derby can testify. All the Tournaments are held at Irlam Pool near Manchester which is in relatively easy travelling distance from
Central and West Yorkshire.
It would be very nice to be able to expand both leagues to ten teams each so, if you would like to provide your youth team with friendly competition to help their
development, please contact Gerry McCusker on 0151 526 4493 or email to gerry@mccusker1.freeserve.co.uk.
Thanks to Gerry McCusker for the above article
Investing in the Future
I'm not an independent financial adviser about to advocate the merits of prudent financial planning, or saving for the future - but the message is rather similar!
From little acorns mighty oak trees grow, and little polo players have a tendency to grow into excellent adult players if they are nurtured, trained and suitably motivated.
I am suggesting and recommending that clubs make a special effort in 1999/2000 to start a Youth Team if they haven't already got one. Polo is a great game for kids.
There is no reason why Mums and Dads can't get involved as coaches, timekeepers,
referees, team logistics managers (driving the youngsters to their events) or general
supporters. However, Senior club Players also need to take an interest in the youngsters and help them to develop general canoeing and polo skills under their supervision.
Subsequently these new Youth Teams could be encouraged to join in a local Youth League (if there isn't one already in your area why not start a Youth League of your own) and perhaps eventually join the national Youth Leagues to compete on an even wider plain. In this way the interest of the youth players can be maintained and they will naturally feed into the Club's Senior teams in future years.
Without making this investment in youngsters, Clubs are in danger of eventually running out of players to replace their senior members who may possibly relocate to other areas of the country, retire from the game, or simply find themselves a new interest. Several "big name" Clubs have disappeared in recent years for this very reason, and others have had to resort tot he "transfer market" in order to survive.
Not all the youngsters will make it to your senior teams. Some will lose their enthusiasm, move on to something else, discover "girls" or "boys" as appropriate, or concentrate
exclusively on their academic studies. But a good number will be retained in the sport and will definitely graduate in time to your senior team(s).
Gerry McCusker
BCU visit to club site
Well I never thought I would see the day when the BCU would come to the club site to see how we're developing the club and its facilities, but last week I met with the Officer in charge of Facilities and Development Strategy. He thought the site has great potential and gives the club full backing in the lottery bid (this is very important to success of the bid) and has suggested other areas from which we may tap funds to develop the club. This was a totally refreshing approach from the BCU.
Junior Canoes
Following the clubs interest in developing the youth/childrens section of the club, the Committee have agreed to purchase two new junior canoes.
Canoe Instruction For Children
This is currently in progress at the Hotel Grove Baths. Mark Burch is running the course and I hope to be helping him in the next stage of taking the kids onto the canal or river.
Canoe Polo
This section of the club is doing very well and I understand the MCC Team won their league. They are to buy a quality second-hand polo boat and kit for up and coming young players who do not have their own boats.
On a final note, we've lust had a brilliant Bank Holiday weekend. All those who were out paddling, I hope you had a great time. For those of you who haven't yet brushed off the cobwebs that have been collecting on your canoe over the winter, come on down to the club site on Tuesday evening (club night] and sample the delights of a refreshing paddle. You don't know what you're missing!
Congratulations to slalom C2 pair
Well done to Tom Carlisle and his partner in crime, Steve Hesford who paddled to a victorious first place at the German Open Slalom in Monschau a couple of weeks ago. The very next day they paddled again in the International event against the French and Swiss (they both have very good C2 team paddlers) and came a creditable second place. They clearly deserve their place in the England Slalom Team and lets hope their efforts now get them one step nearer to a place on the Great Britain Slalom Training Squad. Well done lads!
Manchester Paddler wins Great Britain selection event
Yes, Heather Corrie who started off her paddling career training at the Goyt site in Marp]e has recently shown her determination to be the best in Britain. At the Slalom Team Selection Event in La Seu in Spain (site of the 1992 Barcelona Olympic Slalom Event) she has just won both selection races which now makes her the number one boat in the British team.
(Taken from Manchester Canoe Club Newsletter)
WILD WATER RACING
JILL BOLTON
Inter-club championships
This years inter-club championships will be held on Saturday 31 July, again on the River Washburn near Harrogate. Manchester are the reigning champions (thanks to the efforts of Phil Heald, Dave Cooke, the Taylors and the Boltons, but several clubs are determined that we won't do it again - can we prove them wrong. The secret of our success was that we had a FULL TEAM. Whilst Jill is happy to coordinate the team again this year, she is unable to spend several hours on the phone trying to round up a full team. YOU NEED TO VOLUNTEER (phone 01925 823897, e-mail jill@wwr.u-net.com) You don't need to be fast, or even to paddle a racing boat. Supporters, especially shuttle bunnies, are
especially welcome.
Inter-regional championships
The 1999 inter-regional championships should have been on the Washburn in March, but unfortunately it was broken. It has been rescheduled for Sunday 21 November on the Mersey. This race, along with the Div B and National Youth Championships at the Burrs on the Saturday should attract some of the country's top river racers to the North West For the weekend (actually most of the country's top river racers live in the North West anyway). Make a note in your diary to attend - especially slalomists who will be starting to get withdrawal symptoms by then, as the slalom season ends in October.
Pre-World Championships
Andy Bolton has been selected for the GB Junior Wild Water Racing Team, to take part in the Pre World Championships on the River Isarco at Vipiteno in Northern Italy. Andy, who has just won the Under 16 and Under 18 National Championship titles, started river racing in order to win the Poussin trophy in the Manchester Quinzaine series.
Coaching
Any youngsters who feel inspired to follow in Andy's footsteps (or should that be wake?) and would like some coaching/advice, please contact Jill, Chris or Andy Bolton phone 01925 - 823897). This offer also applies to adults - especially veterans competing in the Quinzaine series (yes, Pete King, that includes you).
Calendar
Sunday 27 June Tryweryn Div B Starts camp-site,
Finishes above Mill
Saturday 31 July Washburn Div B & inter-clubs Be there!
ADVANCE NOTICE!
JULY 17-18TH MARPLE MINI SLALOM
ORGANISER HALEY NEWMAN
Come and join in (or to watch) this club event; there will be something,we hope,for everyone Coaching and club boats available,
Saturday 9.30 onwards Course erection; All WELCOME! we need you!
2.00 onwards Team event and sprint Barbeque b.y.o.f. and drink
Sunday 10.30 start
An ideal event in superb weather conditions (Haley says)to have a go.
Entry £2
under l6 £l
Free camping.
Canteen both days
If you are in touch with ex-members we do know that a number are coming in the hope of meeting with old friends - and may even paddle. Advice on pole dodging can be obtained between now and then on Tuesday evenings
NORTH WEST REGION
BRITISH CANOE UNION
ACCESS SERVICE
Local Access Officers and Club Representatives are invited to attend
the
Access seminar and training day
on
Saturday 9th October 1999
at
Burrs Activity Centre, Bury
10am to 4 pm
We would like as many people as possible to come to the meeting and contribute.
Canoeing is inhibited by the shortage of suitable canoeing waters and facilities within many areas.
The objective of the Access Service is to provide more opportunities for canoeing by-
1. Reducing the problems effecting canoeing use of rivers, navigations and coastal waters.
2. Promoting the provision of canoeing facilities and playsites.
Bearing in mind that the majority of people live in cities and everyone starts as a beginner the opportunities must include lowland rivers and rivers near centres of population.
These opportunities can only be achieved at a local level by Local Access Officers and local canoe clubs, supported by BCU regional teams and BCU national officers, building
relationships with land owners, local authorities, navigation authorities, Environment Agency, local sports councils, environment action groups, river valley initiatives etc.
The plan is for the meeting to move on from the general problems and solutions identified at the November 1998 meeting and will produce a specific want list and action plan for each river in the region.
Please come to the meeting if you would like to see this happen or can help.
In order to allow arrangements please ring me and confirm your attendance, leave a message if I am not in.
C.H.Cleaver. Northwest Region Access and Environment Officer
39 Cavendish Road, Hazel Grove, Stockport, Cheshire. SK7 6HX
Evening Telephone 01625 878838 E-mail CHRISCLEAVER@bcuinternet.com
FLOOD FORECASTING
Environment Agency and the Met Office working together
The environment Agency is investing 34.5 million over the next 3 years in a 10 year
programme to beef-up the UKs weather radar network to give the public as much advance flood warning as possible.
The E.A. and the Met Office is set in motion a programme of improvements to the existing radar network and confirmed an on-going commitment to using new technology to
produce the most effective service.
(Courtesy of the Environment Agency)
Disability Awareness Training Course
June 18 - 20, Chester
The Disability Awareness Training course has recently been updated, partly because of a need identified within the deliverers forum and also to meet the new coaching update
requirements. The newly structured course took place at Chester - Friday evening and
Saturday morning in the YHA and the remainder of the weekend at the Riverside Centre.
The 17 candidates came from all parts of the N.West, N. Lakes and E. Midlands. Course evaluations were extremely positive, everyone finding the new approach and equipment food for thought!
Because of funding from the NW Disability Committee and Paddlesport the cost of the course was kept to £15 - also well received !!
Finally it is worth noting that all registered BCU Coaches who attended were credited with 3 coach update modules.
Thanks to Derek Brooks (RCO) Andy Brittles (Cheshire Sports Trust) and Jon Davies (Riverside) for their all round support.
Roy Hitchings (Regional Disability Organiser)
B.C.U. North west region newsletter
Volume 1. issue 6
55 People were present at the coaching AGM. The RCO, Derek Brooks, thanked everyone for attending
Derek began by introducing Mike Devlin, Director of Coaching for the BCU.
Andy Cook spoke briefly about the role of the RCO and the LCOs and how these have developed and expanded over the years.
Mike Devlin then continued Andy's theme and spoke on the changing role of the RCO and LCOs. Over the years the RCO/LCOs have had to respond to the growth of the sport with the minimum of help and finance. The NW Region has a good RCO and a supportive team of LCOs. The Region is pro-active and the role of the RCO is not to 'police' courses but to 'encourage' paddling within the Region. Communication needs to be better - both from HQ down and vice versa.
Andy thanked Derek for his hard work over the year on behalf of the Region.
The election of the RCO took place. Andy Cook proposed that Derek Brooks be re-elected for a further 3 years, seconded by Kevin Farnan. Derek was duly re-elected as RCO for the NW Region.
Mike Devlin gave a brief presentation using Power Point. This is the new Level 2 Resource Pack comprising some 92 slides! This will become available to contracted course deliverers and aspirant coaches initially. The presentation covered all aspects of coaching. (Techniques, delivery etc). This is seen as a supportive device to assist in the standardisation of delivery.
After the presentation Derek asked the group to split into their respective districts. He then asked them to think of their own ideas on the 'way forward' for local and regional needs. Derek is going to compile a list of these ideas and they will be forwarded to everyone a.s.a.p.
The election of the LCOs took place. A vote took place for the LCO for Cheshire; this was between Terry Hailwood and lan McMullen. Ian left the room, Terry was not present at the meeting, whilst the voting took place. Only those people from Cheshire were allowed to vote.
T Hailwood-O, I McMullen-7, Absentions -4
lan McMullen was duly re-elected. The remaining LCOs were re-elected nem con.
Roy Hitchings spoke briefly about the coaching accounts. It had been agreed at last years AGM to send 50p per candidate per coaching course to Roy, this money to go into the Coach account. According to the accounts only £16 has been received, representing 32 candidates all year who have taken part in coaching courses! It was agreed to continue with the 50p per head levy. It is in the Region's interest to receive this money as it goes towards buying equipment and enhancing quality of delivery.
Len Hartley and Andy Cook were re-elected as Sea and Open boat coaches.
The meeting closed at 6.00pm
***********************************
Coaching Annual Report
This has proven to be an extremely busy year with several initiatives beginning to pull together and deliver the objectives of Regional and National action plans. The region has led the way with paddlepower, injury prevention and coach update.
The regional coaching panel has continued to meet and give regional coaching activities guidance and direction. They now have a clear working structure and vision of the way forward. The model adopted will be a template for other regions to follow.
Paddlepower has been a major priority this year. The trial within the region has refocused the thrust of coaching within clubs. This initiative is now ready to be launched on a national level with clubs being the central focus and hub for development. The Coaching Service will be key to the development of the imaginative coaches necessary to hold young people in the sport long term. The paddlesport officer and the RCO have visited all of the clubs involved regionally in the paddlepower initiative on at least one occasion. Paddlefest activities have been successfully run at the Burrs and Chester. However we do need more coaches to make connections with their local clubs and support these activities.
It is intended to further support the development of clubs by offering technical advice and advice on health and safety issues through the paddle power accreditation scheme and centre approval schemes already operated.
Coach update will provide a forum for all coaches to meet and exchange ideas on a regular basis and will provide support and help for trainee coaches needed for so long It will enable us to challenge long held views and ideas and take paddlesport into the 20th century. The emphasis is on personal development and improvement
With this in mind a series of regional events have been organised to promote paddle power and the coach update programme. Coaches are encouraged to bring their young people to the Paddlefest and update their skills at the same time. There will be a small nominal charge for this. LCO's have agreed to act as organisers for these events and co-ordinate activities. The intention is to refocus and rejuvenate coaching activity at a local level using the Manchester panel as an example of good practice
The lottery bid for £60000 made by clubs to support paddle power has now reached the top of the pile and has an allocated caseworker. We are optimistic that this bid will be successful in the New Year. It should be noted that this has generated a considerable amount of money for paddlesport activity within the region. The targets agreed with the sports council are specific and performance led. It is important that all coaches give this initiative their highest priority, as any future funding is dependent on this scheme being a success.
The region has been at the centre of developing new coach education programmes. The Injury prevention course and Risk assessment material developed within the WCA and Northwest now permeates all coaching awards and activities. The region will be focussing on Coaching processes, White water safety initiative and child protection during the next year as key areas in coaching. The regions level 5 and aspirant level 5 coaches have agreed to be involved in the delivery through
coach update.
The main inhibitor for development has been the lack of available funding and personnel on the ground. The employment of a youth development officer regionally has addressed the first problem. The proposed registration of The Northwest Regional Coaching panel as a National Vocational Qualification centre will enable the region to draw in funding that will support both individual coaches working actively and long term within a centre or club environment and a wider coach update programme. This will develop as a trial at the Burrs centre and Chester Canoe club in 1999.
The use of regional level 3 courses during 1998 has acted as an excellent standardisation process and forum for the exchange of ideas. The coaching panel has decided that all courses at this level will operate in a similar way during 1999. They will be co-ordinated by LCO's on an inclusive basis. All appropriately qualified coaches who wish to be involved will be involved. The proposed Level 2 course run in a similar style in the Manchester area will further consolidate this approach. Coaches within the region have been supported to the tune of over a £1000 from the central coaching budget to assist with achieving acceptable standards. The introduction of contracted course provider status and a standard pack for level 2 training will further assist other providers in delivering a nationally standardised package as coaching processes are introduced at other levels.
The profile of sea paddling is being further enhanced within the region. Len Hartley recently qualifed as a level 5 sea coach a product of the regional coach development programme. He is in the process of setting up a sea symposium based on the Isle of Man for the year 2000. A
co-ordinating committee needs to be formed. Volunteers are eagerly awaited. There is a strong possibility that a fleet of sea kayaks will be purchased under a shared purchase scheme
co-ordinated by the PDO.
Communication has been a perennial problem. It is costly and time consuming. The Northwest Coaching Panel now has a presence on the web. The newsletter, coaching calendar etc, can be directly accessed in this way. Free email providers are available and all coaches are encouraged to register addresses with the RCO.
E-mail : bcunw@globalnet.co.uk this will enable better communication and let you receive a copy of the newsletter for free. This will make minutes, notes and newsletters available and allow a much more free interchange of information. The Regional Web site is @ www.users.globalnet.co.uk/~bcunw
There are several free service providers. If you wish to have a email address try. Yahoo! Mail – free you@yahoo.com email.
On a personal note the RCO wishes to thank all those coaches that have given so freely of their time to help promote the sport within the region. In particular the unanimous support of the coaching panel convinces me that the direction being taken by the region and the 34 days spent off the water this year will bear positive fruits and provide for the needs of paddlers in the new millennium.
Derek Brooks Nov 1998.
N.W.REGION PADDLEABILITY REPORT 1998
SUCCESS! This year the North West Region was represented at the National Championship in June. Two canoeists from Chester and three from Salford represented the Region (see Newsletter No. 4 for photo and details ) I repeat my request from last year - if you know of any disability group, individual or centre please inform and encourage them to participate. Paddling 200 metres in a Poly Pippin or any kayak is not too difficult! OBJECTIVE - at least 15 people next year
This year's D.A.T. course took place at Salford Quays as programmed in June NOTE - Jon Davies and I have a target of ensuring that each club in the North West has at least one member who is D.A.T. trained. If you can identify any shortfall in this area please send a representative to next year's course - Chester July 16/18 1999
All coaches will be aware of a major change in Coaching Service philosophy – namely 'Coaching Update'
The BCU is adopting the policy of many other National Governing Bodies regarding the maintenance of coaching qualifications.
In future BCU coaching members will be required to attend coaching update sessions in order to maintain their qualifications. Some suggestions for coaching update modules are to be found at the end of this year's Regional Calendar. The requirement is to attend 3 modules over a three year period (April 1999 – April 2002)
Please note that after discussion with Mike Devlin, it is also possible for coaching members to attend a Disability Awareness Training weekend and access two or even three coaching update modules 'in one sitting' (July 16/18 1999)
I have applied to the National Disability Committee and the Jubilee Foundation for funding to assist in the purchase of an expedition fleet in conjunction with Oakwood School/Youth Club, Salford. The first application has been successful. I await the Jubilee application result in the New Year
PADDLEABILITY TIMETABLE 1999
MAY 15-16 Entries by April 30
JUNE 5-6 Entries by May 21
JULY 3-4 Entries by June 18 Holme Pierrepont
SEPT. 5-6 Entries by August 27
Roy Hitchings, 1998
********************
Access Officers Report Year to November 1998
I want to suggest a wide interpretation of Access work.
It is about making every suitable river and water body available for canoeing. It is not just about conflict between anglers and canoeists. It is about addressing all the problems that stop suitable and sustainable rivers being paddled.
Suitable in size and sustainable in avoiding damage to conservation interests. We must hand our rivers on to the nest generation in a more natural condition with greater biodiversity. Not degraded by recreation use.
Also sustainability includes not loosing the goodwill of those on whom we depend on the river bank.
Some suitable rivers are unusable due to manmade problems, particularly in urban areas. We should be encouraged because there are pressures from others to reduce these problems and we can benefit. Water quality is improving because the population wants and is paying for improved sewage treatment and cleaner rivers.
Weirs are a problem. Taking a long view I can see that some thing will happen to every weir over twenty years. Fall down, knock down, or be rebuilt.
If we educate and lobby all those organisations involved in rivers and riverside development we can ensure that changes are to our benefit, or at least neutral. If we do nothing the changes will be to our disadvantage.
We need paddlers to work locally and build relationships with local authorities, Environment Agency and other organisations.
Please volunteer if you would like to help.
Access Officers New volunteers.
Carl Lowther - Lower Lune.
Mark Burch - Goyt
Burrs Activity Centre - Irwell
We require access officers for the following canoed rivers :- Croal, Dane, Etherow, Roch, Tame, Weaver, Wheelock and Wyre.
An Access Seminar was held on l4th November. Attendance was 2 Local Access Officers, 5 Access Workers, 7 Club Representatives and 9 Environment Agency Staff.
Another seminar will be held next year.
Need for Access
A questionnaire to determine the north west members opinions produced only a handful of responses. Only the Ribble and Invell access officers report receiving queries. Answered three queries about water to paddle from visitors to the region.
The government is carrying out a review of fisheries legislation, canoeists need to get involved and lobby to avoid further disadvantage.
Access work can only be done at a local level, we need local paddlers to help, please get in touch.
Remember the E.A. phone numbers.
Pollution- 0800 807060
Water levels- 0930 107702
C.H.Cleaver Access and Environment Officer, 39 Cavendish Road, Hazel Grove, Stockport Cheshire SK7 6HX Evening Telephone 01625 878838
******************************
WILD WATER RACING
In terms of individual achievements, the North-West Region has had another highly successful year:
National Championship Series 1998
National Champion Ian Tordoff Chester
Under 23 Peter Keron Lancaster
Under 18 Joel Wilson Chester Elizabeth Holmes Chester
Under 16 Andy Bolton Chester Nicola McGee Lancaster
Under 14 Jonathan Schofield Clitheroe
Veteran Jill Bolton Chester
English Open Championships 1998
The above paddlers also won the same classes in the English Open on the River Washburn
Youth Series (Wavehoppers)
Under 14 Olivia Hewitt Lancaster
Inter-club Champions 1998
Manchester Canoe Club
Particular praise should go to 17 year old Joel Wilson who took part in three World Championships (26th in Senior WWR, 5th in Junior WWR, 3rd in Junior Marathon)
In addition, it should be noted that North-West paddlers make up a large proportion of Division A (Men's K1 28%, Women's K1 54%, C1 40%, C2 22%).
During the year we have held five Division B races on the region's rivers (Irwell, Goyt, Mersey, Dee), including the Youth Championships, and have run two Division A races on the Tryweryn.
Next year
These achievements should not hide the fact that we need to strengthen the base of the WWR pyramid. Much of the current success is a direct reflection of the work within the region by Andy Parry, during his time as National Development Coach (NDC). Since he gave up the post there has been very little 'new blood'.
We need to work with the Paddlesport Development Officer and new NDC to ensure:
| | |
| --- | --- |
| | more clubs try WWR (using BCU Wavehoppers) |
| | more people obtain their Level 2 WWR Coach qualification (see course below) |
| | more races are run within the region |
Dates for your Diary

26 December Boxing Day Race River Goyt Marple

10 January Div B Race River Goyt Marple

23-24 January Level 2/3 Coaching course Burrs

6 February Div B Race River Derwent Matlock

13 February Div B Race (sprint) River Irwell Burrs

14 February Div B Race River Mersey Sale

March Div B Race River Dee Chester

Remember

- when you've tried WWR, you'll realise:

It's not - a matter of 'slogging your guts out' for twenty minutes down a river

It is about - using your ability to read water and pick the fastest line
- controlling your boat so you don't spin out
| | |
| --- | --- |
| | getting some healthy exercise (better scenary than the gym) |
| | having fun speeding down rapids |
If you are interested in trying Wild Water Racing contact : Jill Bolton on 01925- 823897

*************************

North West Tours 1999 - (

with organisers names/addresses/tel nos)

Dee Tour - 24/25 April. Canadians. Grade 1. 12km

Mr C.K.Mills,

10 Crossley Drive,

Lower Heswall,

Wirral, L60 9JA

Tel: 0151 342 5170

Ribble Tour - 7 November. Grade 1 / 2 9m

Mr A Allen,

Wigan Canoeing Group,

21 Shefford Crescent,

Winstanley, Wigan, WN3 6LF

Tel: 01942 222150

Burrs Tour – 2 / 3 October Up to Grade 3.. 6 m

Joanna Firth

Burrs Activity Centre

Burrs, Woodhill Road

Bury, Lancs

0161-764-9649

Oakwood High Youth Club

(Oakwood High School, Park Lane, Salford, M6 7RQ, Tel 0161 736 3944)

Paddleability: Sea Kayaking off Llandudno, North Wales.

As part of the canoeing development of Oakwood High Youth Club, we decided to target sea kayaking.

Money has been raised as a joint project with B.C.U. NORTH WEST and ourselves to buy a stock of sea kayaks.

We suddenly thought, if we are going to spend a lot of money, we should try some out. So we did! Jonathan Davies, Stuart Gibbons, David Tweddle and myself took three of our members, all with special needs, sea kayaking off the North Wales Coast. One of the group has been diagnosed as hyperactive and has been prescribed ritalin to slow him down. It all adds to the excitement!

As someone who has not paddled a sea kayak before, I found the initial experience strange. The members were of the same opinion. Despite a few rescues, uncertainties and obvious anxieties on the part of the group, all decided it is worth trying again. A programme is being put together. We are hoping to go exploring The West Coast of Scotland in June and possibly Scandanavia in the yer 2000.

We wish to acknowledge help received from Soreens and Warburtons.

If any canoeist out there is interested in becoming involved in our programme I can be contacted on 0161 736 3944 (work) or 0192576 5079 (home).

Mike Appleyard

RIVER IRWELL – SPATE CONDITIONS

On the afternoon of Saturday 24th October 1998, a series of events led to empty kayaks, being allowed to travel downstream from Summerseat towards Bury town centre and beyond. Responding to six phone calls from the public, the police concentrated a large amount of manpower and resources including a helicopter with thermal imaging apparatus on the length of the river Irwell, in search of paddlers in distress.

In order to avoid a similar exercise happening again, can paddlers please note that the river Irwell is a flood river, and responds quickly to heavy rainfall higher up the valley. Do not paddle in spate conditions unless you know the river well, and are competent to do so and perform rescues if required in those conditions. Also if possible have bank support, and if a mishap does occur and unmanned equipment is allowed to proceed downstream, please inform the police of this immediately. Also if possible contact Burrs Activity Centre if the centre is downstream of the incident and our staff will attempt to rescue the equipment if at all possible.

Burrs Activity Centre & Bury Canoe & Kayak Club have recently become the BCU N/W Access officers for the River Irwell, so if you require a river guide, information or river level knowledge then do not hesitate to contact the centre. It may be on ansaphone, leave a message and we will return your call as soon as possible.

BURRS ACTIVITY CENTRE 0161-764-9649

*******************************

WINTER ACCESS AT HALTON

The 1st November sees the start of the winter season at Halton rapids on the river Lune. Access dates are between the 1st November and the end of January. Access and egress to this excellent stretch of rapids can be gained from the car park adjacent to the old railway station building (see diagram), getting in above the weir and paddling upstream. For those of you not familiar with the site, Halton is a superb area for training at all levels, the bottom section being flat and slow moving getting rougher as you progress upstream. The site provides the opportunity for beginners to become familiar with moving water on the bottom stretches gradually moving up river as skill and confidence increases, until you can play around in the rapids, surf waves, break in & out etc with ease. The rapids are only a few hundred yards long so anyone getting cold or tired can easily paddle back to the car park for a coffee.

Members usually meet around 11 am on Sundays in the car park and there are often plenty of people around to give a helping hand (or paddle!). If you're new to paddling at Halton give someone a ring on the contact list and arrange to meet up.

NB. The weir at the access point is out of bounds and should not be shot as this can produce a dangerous tow back.

M6
















CANOE POLO YOUTH LEAGUE
UNDER 18 LEAGUE
RESULTS FROM TOURNAMENT 2 - 21ST NOVEMBER 1998
At Tournament 2 we welcomed two Teams to their first Tournament of the Season - Manchester Warriors who have quite a few brand new players this year after losing several of last year's team to University, and Ribble whose Team of four was made up entirely of members of Southport Scouts. Neither of the Viking Teams attended this Tournament.
Prior to the Tournament 18 people had attended a Grade 3 Referees Course at Merseysport in Liverpool, given by Bob Bury, Chief Referee, who then carried out practical assessments during the full Tournament with the assistance of Dave Reynolds from Friends of Allonby. Hopefully this will result in a good number of newly qualified Referees being available for future North West and National League Tournaments. I am very grateful to Bob for spending a very long day with us all before facing a two hour drive back home to Yorkshire after the Tournament. My thanks also goes to Jonathan Davies, North West Paddlesport Development Officer, for funding Bob Bury's travelling expenses, and Rob Sutcliffe, Manager of Merseysport, for again providing such a great venue for our Course.
The Tournament itself was played in a very friendly manner and all the Teams appeared to enjoy themselves. Clearly Ken Horrocks from Middleton Scouts has been giving his lads extra coaching sessions as they produced an avalanche of goals this time, and gave Friends of Allonby Colts a very good run for their money during the "match of the day". Despite having only four players, Ribble did extremely well on their first outing, and Manchester Warriors visibly increased in confidence during the Tournament as they experimented with a range of tactics against teams with very different styles of play.
A full set of Results from Tournament 2 is now enclosed. Many thanks to the five Teams and their supporters who attended the Tournament and I look forward to seeing you again at Tournament 3 or 4, as appropriate. Tournament 3 will take place at Irlam on 9th January 1999 and I will send out copies of the Game Plan with the results of the next Under 16 Tournament.
Gerry McCusker
Results from Tournament 2 held on 21st November 1998
Game Team 1 Result Team 2
I Ribble 3 - 3 Manchester Warriors
Middleton Scouts 0 – 1Friends of Allonby Cubs
3 Friends of Allonby Colts 5 – 0 Ribble
4 Manchester Warriors 0 – 9 Middleton Scouts
5 Friends of Allonby Cubs 1 – 3 Friends of Allonby Colts
6 Ribble 0 – 6 Middleton Scouts
7 Friends of Allonby Cubs 7 – 0 Manchester Warriors
8 Middleton Scouts 4 – 8 Friends of Allonby Cubs
9 Friends of Allonby Cubs 6 – 0 Ribble
10 Manchester Warriors 0 – 3 Friends of Allonby Colts
11 Middleton Scouts 5 – 0 Ribble
12 Friends of Allonby Cubs 5 – 0 Manchester Warriors
13 Ribble 0 – 4 Friends of Allonby Colts
14 Manchester Warriors 0 – 9 Middleton Scouts
15 Ribble 0 – 6 Friends of Allonby Cubs
16 Friends of Allonby Colts 1 – 0 Manchester Warriors
League Table after Tournament
Position Team P W D L GF GA GD PTS
I Friends of Allonby Colts 13 13 0 0 60 10 +50 39
Friends of Allonby Cubs 13 9044616+3031
Middleton Scouts 12 4083439-520
Viking 'X' 6 3121112-113
Viking 'Y' 6 1141119-8 9
Ribble 7 016335-32 8
Manchester Warriors 7 016337-34 8
RESULTS FROM OUR FIRST UNDER 16 TOURNAMENT
Our very first Under 16 Tournament on 7th November 1998 was attended by all six Teams in the League who all seemed to thoroughly enjoy themselves.
The Tournament was played in a very friendly but competitive spirit, and I was particularly pleased to see so many parents there applauding good play by all the Teams, rather than just their own lads.
I would particularly like to thank Peter Mitchell and his two Viking Teams for joining our new Under 16 League and making the long journey up from Derby to attend our North West Tournaments. One of the Viking Teams actually changed its name during the course of the evening from Viking 'H' to Viking 'J', but I managed to keep tabs on them - just.
Game Team 1 Result Team 2
1 Viking 'J' 1 – 3 Viking 'I'
2 Manmix 0 – 5 Middleton Scouts
3 Friends of Allonby Pips 3 – 2 Friends of Allonby Pups
4 Viking 'J' 4 – 0 Manmix
5 Friends of Alonby Pups 1 – 2 Viking 'I'
6 Middleton Scouts 1 – 5 Friends of Allonby Pips
7 Friends of Allonby Pups 4 - 1 Viking 'J'
8 Viking 'I' 7 – 0 Manmix
9 Friends of Allonby Pups 1 – 0 Middleton Scouts
10 Friends of Allonby Pips 2 – 3 Viking 'I'
11 Middleton Scouts 0 – 3 Viking 'J'
12 Friends of Allonby Pups 4 – 0 Manmix
13 Viking 'J' 0 – 3 Friends of Allonby Pips
14 Middleton Scouts 0 – 4 Viking'I'
15 Manmix 1 – 6 Friends of Allonby Pips
LEAGUE TABLE AFTER TOURNAMENT
Position Team P W D L GF GA GD PTS
1 Viking 'I' 5 5 0 0 19 4 +15 15
2 Friends of Allonby Pips 5 4 0 1 19 7 +12 13
3 Friends of Allonby Pups 5 3 0 2 12 6 +6 11
4 Viking 'J' 5 2 0 3 6 10 -1 9
5 Middleton Scouts 5 1 0 4 6 13 -7 7
6 Manmix 5 0 0 5 1 26 -25 5
Thanks to Gerry McCusker for the above articles
1998/99 NORTHWEST REGION COACHING CALENDER
Bold Regional courses
BCUNW Web Site www.users.globalnet.co.uk/~bcunw
email bcunw@globalnet.co.uk
Date Discipline Type Level Venue Provider
05/02/98 Remote area First Aid Cumbria Bill Hanham
06/02/99 Kayak Training * test Chester Riverside Adv.
06/02/99 Contracted Course provider and Assessor training Debdale O. C. Pat Mee
06/03/99 Kayak Coach Training 2 Chester Riverside Adv.
06/03/99 Canoe Coach Assessment 3 Salford Quays Stuart Gibbon
19/03/99 Kayak Coach Training 3 Burrs A. C. Paul Heaton
19/03/99 Kayak Coach Assessment 3 Burrs A. C. Paul Heaton
19/03/99 White Water Safety Initiative Stuart Gibbon £15
26/03/99 Kayak Coach Training 2 Wirral Wirral O. P.
06/03/99 Coaching refresher. New wave coaching methods. level 1 and 2 coaches Riverside Adventure
07/03/99 Kayak Coach Training 3 N. Wales T. Hailwood
11/04/99 Kayak Coach Assessment 2 Manchester Pathways
17/04/99 Kayak Coach Training 2 Manchester Pathways
17/04/99 Canoe Coach Training 2 Salford Quays Stuart Gibbon
18/04/99 Kayak Coach Training 1 Chester Riverside Adv.
18/04/99 Kayak Coach Assessment 1 Chester Riverside Adv.
24/04/99 Kayak Coach Training 2 Salford Quays Stuart Gibbon
24/04/99 Kayak Coach White Water Safety N. Wales T. Hailwood
01/05/99 Chester Paddlepower and Coach update John Davis/I McMullen/Terry Hailwood
07/05/99 Kayak Coach Assessment 1 Bala Ian Bell
07/05/99 Kayak Coach Training 2 Bala Ian Bell
07/05/99 Kayak Coach Assessment 2 Bala Ian Bell
08/05/99 Kayak Coach Training 2 Winsford Flash T. Hailwood
08/05/99 Kayak Coach Training 1 Debdale O. C. Paul Heaton
08/05/99 Kayak Coach Assessment 1 Debdale O. C. Paul Heaton
08/05/99 Kayak Coach Training 2 Chester I. McMullen
15/05/99 Sea Coach Training 3 Wirral O.P. Len Hartley
16/05/99 Kayak Coach Training 1 Manchester Pathways
16/05/99 Kayak Coach Assessment 1 Manchester Pathways
22/05/99 Kayak Coach Assessment 2 Burrs Joanna Firth
22/05/99 Kayak Coach Training 2 Burrs Joanna Firth
22/05/99 Canoe Coach Training 2 Winsford Flash T. Hailwood
24/05/99 Kayak Coach Assessment 2 Debdale O. C. Paul Heaton
05/06/99 Kayak Coach Training WWS Salford Quays Stuart Gibbon
25/06/99 Kayak Coach Training 2 Merseyside Dave McGarry
04/07/99 Kayak Coach Assessment 2 Winsford Flash T. Hailwood
11/07/99 Merseyside Paddle Power and Coach Update Ian Bell/Dave McGarry
16/7/99 Disability Awareness Training – residential course (16-18 July) Chester Riverside Adventure
18/07/99 Ninja coaching for moving water and playboating D Brooks/D Herd
18/07/99 Kayak Coach Assessment 2 Chester I. McMullen
01/08/99 Canoe Coach Assessment 2 Winsford Flash T. Hailwood
01/08/99 White Water Safety Stuart Gibbon
04/09/99 Kayak Coach Training 2 Debdale O. C. Paul Heaton
12/09/99 Kayak Coach Training 1 Chester Riverside Adv.
12/09/99 Kayak Coach Assessment 1 Chester Riverside Adv.
18/09/99 Kayak Coach Training 2 Chester Ian Bell
25/09/99 Sea Coach Assessment 3 Wirral O.P. Len Hartley
25/09/99 Kayak Coach Assessment 2 Merseyside Dave McGarry
26/09/99 Training 1 Manchester Pathways
26/09/99 Assessment 1 Manchester Pathways
02/10/99 Manchester Paddle Power and Coach Update Burrs Pat Mee
09/10/99 Coaching Processes Chester Riverside Adv.
09/10/99 Kayak Coach Training 2 Chester I. McMullen
07/10/99 Canoe Coach Training 3 Salford Quays Stuart Gibbon
07/10/99 Kayak Coach Training 2 Manchester Pathways
23/10/99 Kayak Coach Assessment 2 Chester Riverside Adv.
19/11/99 Kayak Coach Training 3 N. Wales T. Hailwood
19/11/99 Kayak Coach Assessment 3 Chester I. McMullen
28/11/99 Kayak Assessment * test Chester Riverside Adv.
01/04/20 Clitheroe Paddle Power and Coach Update Bill Hanham/Dave Herd
No other courses will be authorised that conflict with calendar dates
No events should be organised that conflict with Regional Paddlefest and Coach updates
Coach up dates will be run at a minimal cost of £5 for those coaches who book 1 month in advance. For those coaches booking after this date the cost will be £20
Coach Update units
Risk assessment and Injury prevention
Child Protection
Aquatic First aid
River Safety Initiative £15
Hidden secrets, coaching paddlers not blades.
Star test standardisation
Paddle Power workshop
Please inform your LCO of your requirements
Bill Hanham
294
Blackpool Old Road Poulton Le Fylde Lancs
0
1253882405
John Davies
Riverside Adventure. 23 Cambrian Road. Chester
0
1244390451
Dave Herd
23
Church Close Waddington Clitheroe Lancs
0
1200428108
Derek Brooks
22
Sherbourne Ave Westminster Park, Chester. CH4 7QU
0
1244675870
Dave McGarry
130
Buckingham Road, Moghull Merseyside L31 7QR
0
1512874644
Ian Bell
7
Heyes Drive, Wallasey, Merseyside L45 8QL
0
1516381555
Joanna Firth
Burrs Activity Centre, Burrs. Bury.
0
1617649649
Len Hartley
19a
Dove Dale Rd, Wallasey, Wirral, Merseyside.
0
1516380476
Stuart Gibbon
15
Quays, Salford, Manchester.
0
1618777252
Terry Hailwood
78
Manor Way, Crewe. Cheshire.
0
1270212787
Pat Mee
83
Newsham Lane, Hadfield, Glossop, Derbyshire SK13 2AR.
0
1457864817
Paul Heaton
Debdale Centre, Hyde, Manchester.
0
1612235182
Ian MacMullen
108
Sealand road Chester
0
1244372183
Roy Hitchings
64
Laidon Avenue, Wistaston, Crewe. Cheshire.
0
127069040
Additional viable closed courses will be authorised when the advertised calendar dates are full.
All coaching qualification courses require a £0.50 registration fee per candidate payable to North West Region.
Send appropriate amount to Roy Hitchings
BCU North West Region Committee Members
Chairman Vice Chair
Andy Cook Len Hartley
2 Ravenscroft Ave 19a Dovedale Road
Ormskirk Wallasey
L39 4TZ L45 OLP
RCO Secretary/Newsletter
Derek Brooks Barbara Hitchings
22 Sherbourne Ave 64 Laidon Ave
Westminster Park Wistaston
Chester Crewe
CH4 7QU CW2 6QH
Regional Disability Officer Paddlesport Development Officer
Roy Hitchings Jon Davies
64 Laidon Ave 23 Cambrian Road
Wistaston Chester
Crewe, CW2 6QH CH1 4HT
Treasurer Access
Bev Davies Chris Cleaver
23 Cambrian Road 39 Cavendish Road
Chester Hazel Grove
CH1 4HT Stockport, SK7 6HX
Lifeguards Wild Water Racing
Graham Beckram Jill Bolton
C/o Sozo Ltd Little Heath
Tech House Delenty Drive
Lissedell Street Birchwood
Salford, M6 6AP Warrington, WA3 6AP
Sea Polo
John Ramwell Stephen Marley
5 Osprey Ave 28 Dearden Clough
Westhoughton Edenfield
Bolton Bury
BL5 2SL B10 ORH
Members Rep
Ian Williams
17 Raby Park Road
Neston, Wirral
NEWSLETTER CIRCULATION
If you wish to continue receiving copies of the newsletter please indicate below and return this form to :
B Hitchings, 64 Laidon Ave, Wistaston, Crewe, CW2 6QH or
Email bhitch0706@aol.com
1. I require a mailed copy of the newsletter
Please email a copy to
Non return of this form will indicate that you wish to be deleted from the mailing list.
Thank you for your assistance.
Barbara Hitchings
October 1998
Canoe Polo Youth Leagues
Tournament Schedule for 1998/99 Season
Below are the details of the Tournament Schedule for the U18 league together with a tentative schedule for the U16 league.
Under 18 League
Unfortunately Bury will not be joining us this season as they will be playing in three other Polo Leagues – National div 4, National Youth and North West Open Leagues. In addition, I regret to advise that Hungerhill School from Doncaster have not confirmed an entry so far. This means that the Under 18 league will comprise of seven teams this season as follows :
Middleton Scouts Manchester Warriors Ribble Viking "X"
Viking "Y" Friends of Allonby Colts Friends of Allonby Cubs
In order to provide a reasonable number of games during the season each Team will play the other six Teams on three occasions rather than twice as last year. This will provide a total of 18 games for each Team which is the same number that would have played if we had a ten Team League playing each other twice.
There will be four Under 18 Tournaments during the Season, all to be played at Irlam, with each Team attending three of them as follows :
Tournament 1 Tournament 2 Tournament 3
3rd October 1998 21st November 1998 9th January 1999
Viking 'X' Friends of Allonby Colts Viking'X'
Viking 'Y' Friends of Allonby Cubs Viking 'Y'
Friends of Allonby Colts Middleton Scouts Midleton Scouts
Friends of Allonby Cubs Ribble Ribble
Middleton Scouts Manchester Warriors Manchester Warriors
Tournament 4
27th March 1999
Viking 'X'
Viking 'Y'
Friends of Allonby Colts
Friends of Allonby Cubs
Ribble
Manchester Warriors
The first three Tournaments will each have 16 games, and the Final Tournament will have 15 games.
Under 16s League
At the moment it looks as though we will have just four Teams in the Under 16 League although there is still a small possibility that the number could rise. The four are :
Middleton Scouts, Manmix, Viking 'Z', Friends of Allonby Pups
Even with only four teams, this represents a very good beginning for our new League and I am sure all the youngsters will enjoy the competition.
At this stage I am not yet in a position to finalise the Tournaments Schedule in detail other than to advise that the dates each team will attend will be two or three of the following:
7th November 1998, 12th December 1998, 27th February 1999.
It is actually not possible to arrange a practical Game Plan with only four Teams unless there are a number of short breaks between certain games when one of the Teams has to play in two consecutive games. To get round this particular problem I will try to arrange for a number of 'Guest Teams' to attend the Tournaments during the season to play friendly games with our four Under 16 Teams. These guests could possibly be other Youth Teams from another League eg Yorkshire and Humberside, Ladies Teams from the North West League, or pure Scratch Teams that I will round up from somewhere. The results of these extra games will not affect the League positions attained by our own Under 16 Teams so our youngsters can use them as purely training games in which to experiment with certain styles of play and/or tactics.
I will confirm the Tournament Plans as quickly as possible, but, in the meantime, please note that all four teams will definitely be playing on 7th November 1998.
Referees Course
As quite a few people have indicated that they are interested in attending a Referees course I will try to arrange a Grade 3 Course in the not too distant future, at a convenient venue for everyone. I have recently approached Jonathon Davies, North West Paddlesport Development Officer, to establish whether he is able to help fund some of the cost of providing the Course, and I should receive his formal response within the next seven days. I will advise you of the outcome within the next few weeks.
The above article was produced by Gerry McCusker, Friends of Allonby Canoe Club
Tendonitis – A Kayaker's Problem
Tendonitis – A common problem among kayakers whether they are experienced,
technically correct or not.
How do we avoid it? – My advice is simple
Stretch, warm up and down

Have a good technique

Choose equipment which is sized correctly

Use the right paddle for the right job
Most common causes are due to poor choice of equipment it has only been in recent years that we have had a choice in sizes in the ranges of paddles on the market.
The paddle being one of the most important pieces of equipment we will ever spend money on it is better to spend more money on a good paddle than on a new kayak.
Remember it is you steering, brakes, power and self-rescue. For years the only
difference between paddles was their length, but today we should consider not only length but blade size, blade offset and shaft diameter.
What effects do these have?
Shaft Diameter – have a look at your own hands. Are they large or small? Well, your paddle shaft should match. Large shafts are about 28 – 30mm in diameter while small ones are about 25 – 26mm in diameter. It doesn't sound much, but imagine trying to hang by your hands on a large bar trying to do a pullup – say 100mm in diameter then try it on a smaller diameter bar say 30mm. Which one is easier to hang onto? The smaller one. It means that your forearms are not as stressed.
Blade Area – this is important if you are of smaller build and muscular mass or you have a heavily loaded kayak. Smaller areas allow you to pull the blade through the water without it fluttering or you straining, thus being more efficient which means those waves will be easier to catch or you can paddle further in a day.
Blade Offset – normally around 87 – 90 , when you rotate your wrist to place your blade in the water you stretch your forearm tendons to their maximum. Offsets of 45 – 60 are now common, which means that your tendons are not being stressed to their max. One manufacturer in the US has gone to 60 being their standard offset, others are following. Sea kayakers have used anything from 0 – 90 since day dot!
Paddle Length –short lengths allow for a high stroke rate, while long lengths allow for a slower stroke rate. Using these guidelines sprinters, play boaters and river runners should be using shorter paddles (196 – 208cm), while sea kayakers, down river racers and multisporters should be using longer paddles (210 – 225cm). Some exceptions to
the rules do apply, especially if you are very tall then go for a slightly longer paddle or if you paddle a double sea kayak (like a Sea Bear Pack Horse) which is very wide, you will also want a longer paddle. Stretching while paddling as you push forward in your stroke with your top hand can open your fingers from around the shaft, relaxing your tendons and muscles in your forearm.
Stiffness of paddle shaft – the amount of flex in a paddle shaft can also affect the
tendons by not having enough "give". Fibreglass shafts have more flex and are stronger than carbon shafts, which are lighter. Carbon shafts come in various degrees of
stiffness, so check before you buy. These points could be debated for years (and have been debated for years!), but use them as a guideline and hopefully you will be problem free.
There are some good paddles available for women and teenagers. For example the Werner Ocoee 0.8 which has a paddle shaft of 25mm and a blade area equal to 80% of the standard blade. Another option could be the Rock n Roll Femme (available from Down Under) which is around 80% 0f the standard blade. Winged paddles are also good for sea kayaking, but be aware of the blade area and shaft stiffness.
Brett Whitley
(A full time whitewater and sea kayak instructor. Sponsored by Down Under
Beginners Polo Nights
Judy Noah
Have you ever wondered what those Polo players get up to in the Pool?
Why do they get so excited at the sight of a ball?
And are there any rules?
Well, here's your chance to find out.
We are running a number of beginners' nights in September and October. All paddlers no matter what their skills or experience are welcome. (We provide all the equipment). For further information contact either Pat Roche or Judy Noah on 0161 881 6221.
Beginners Slalom - Tuesday evenings - phone Peter King on 01663 746690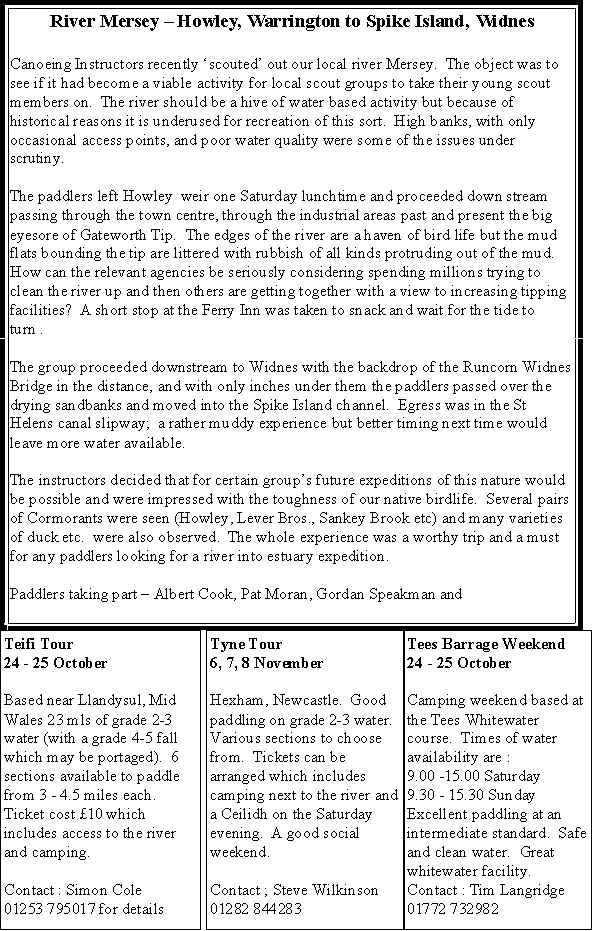 North West Paddlefest, Chester
This event was organised by the BCU for paddles and clubs in the North West. Over the weekend paddlers were able to take part in a Div 4/5 slalom, mini rodeo, open boat events, canoe polo, a sprint race and a tour. Coaching was available for all recreational and competitive disciplines and on the Saturday evening a Ceilidh and bar was provided at the campsite. All this for the £ 15 per adult and only £ 2.50 for the under 18s and all students.
Where were you?
The slalom event attracted 76 competitors with paddlers travelling from as far as Essex, Southampton in the south and Carlisle in the north. But the regional paddlefest only attracted 25 paddlers coming from 2 clubs and one centre!!
Do Paddlers want this type of event?
If so did we advertise the event sufficiently? If you are reading this you probably read the advert for the fest in the previous two additions. Tickets and posters were sent out to 20 clubs prior to the event.
Or was it a bad time of the year? (Winter is cold, Spring the schools have exams and in the Summer everyone goes on holiday)
Is there a good time?
For those that came to the event a good time was had by all.
A BIG thankyou to the following Clubs and Centres for helping to set up and run this event:
Ribble, Chester (Top Performance Club) Warrington (Top Community Club) Friends of Allonby (Top Performance Club) The Burrs and Riverside Adventure.
This event ran at a Financial Loss and is due to run at the Burrs next year. Do you want it? Replies and solutions to the next newsletter please.
Jonathon Davies P.D.O. 01244 390451
Special thanks to :
Chester City Council and the Local Residents of Handbridge for access to the Green. The Environment Agency for Access to the Weir. Chester Chain Company Ltd (01244 680109).
St Johns Ambulance, and to all the volunteers, without whose help this event would not have been possible.
Access to Paddle
The North West Region Access Service working to make more waters available for canoeing.
PADDLERS. We would like to know what you want. Is there enough water available for canoeing in the region? Please write to me with any comments, suggestions or
offers for help.
We do need you help and have vacancies for a number of Local Access Officers.
SEMINAR. We are holding an Access Seminar on Saturday 14th November, at the Burrs Activity Centre and Club Representatives and anyone else interested in
contributing are most welcome.
Please contact me for a place if you are interested. Subjects will include :
What do canoeists want?
What do we want to deliver to canoeists? The vision for 2020.
What are the problems?
The Law (Lead by EA)
Should canoeists pay for access?
What do the EA feel they can do for us? (Lead by EA)
What do we want the EA to do for us?
LEAPs, why should we bother? (Lead by EA)
What organisations can help or hinder us?
How can we get more paddlers to help us?
What are we going to do to deliver the vision?
WATER LEVELS. The Environment Agency operate a water level information
telephone line. Ring 0930 107701 for information on the Derwent, Ribble, Irwell, Goyt, Weaver, Dane, Eden, Lune, Kent. Charges are 50p per minute.
EMERGENCY. And of course report pollution or poaching on 0800 807060.
Report from Chris Cleaver, BCU Access and Environment Officer, Eve tel: 01625 878838