HASTINGS BONFIRE 10TH OCTOBER 1998
PRE BRIEFING ISSUED TO ALL MARSHALS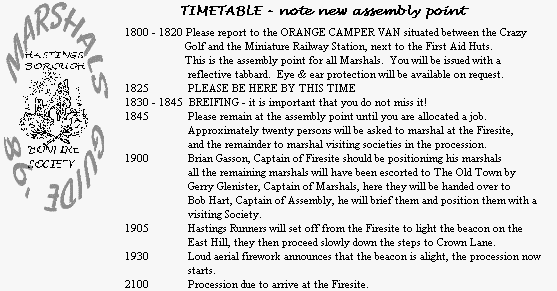 WHAT YOU HAVE TO DO
There should be enough Marshals to allow for more than one to be allocated to some of the Societies, Bob Hart will look at the situation on the night and decide where more than one of you is needed, in addition, each visiting Society will be required to provide two Marshals from their own ranks, these will be given yellow sashes to wear so that they will be clearly visible, this means that there will never be less than three Marshals to each Society.
I would suggest that as the procession forms up you get to know these other Marshals with a view to working as a team, and you should identify the person in charge of the Society as you may need to find them quickly. There will be a small number of people carrying radios, you may need to contact me or someone by radio if anything goes wrong.
It is the responsibility of Marshals to deal with Society related incidents, the Police only need to be envolved if things get out of hand. Remain calm at all times, be courteous but firm, preventing trouble is better than dealing with it after it has happened. Act as a team with other Marshals, never be agressive, this will make the situation impossible for anyone to resolve.
For minor incidents approach the offending person and politely ask them to stop. If your request is ignored then you should approach the person in charge of the Society and ask them to speak to the offender, if it becomes necessary, contact me by radio and I will come to you and attempt to find a solution to the problem.
For major incidents resulting in injury or likely injury you will need to envolve the Police, they are better trained and equipped to deal with situations like this, they will also, if necessary, be able to call an ambulance, please assist them if required. There will be a trained First Aider at our radio base should you need help. I need to be advised of all such incidents.
GAPS IN THE PROCESSION If gaps occur between your Society and the one ahead please let me know immediately, we need to halt or slow down the front of the procession, I will need to know when everything has caught up again so that it can be restarted, but please try to prevent gaps from forming in the first place.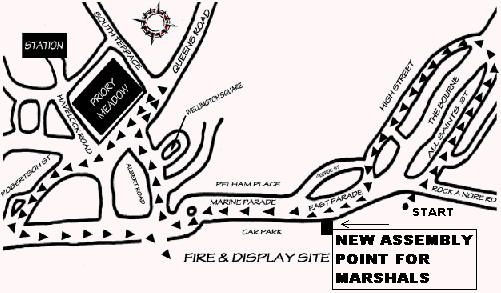 FIREWORKS - NONE IN THE PROCESSION
At the request of our Insurance Company we have had to imposed a ban on fireworks in the procession, all attending Societies have been made aware of this ban.
If any person in the procession attempts to use fireworks, please approach them and ask them to stop, if they take no notice then ask the person in charge of the Society to speak to them, they should be reminded that the discharge of fireworks on a public highway is an offence and that the Police are monitoring and recording almost the whole of the procession and the Firesite on CCTV in Eastbourne, If there is still a problem then contact me by radio and I will attempt to impose the ban.
Throwing fireworks is a serious offence - we cannot allow any type of firework to be thrown into a crowded area, over peoples heads, at spectators or the Police, please don't confuse throwing with placing fireworks on the ground which used to be allowed in the procession before our ban on the use of fireworks.
ANY FIREWORK THROWING INCIDENT BY ANYONE IN THE PROCESSION MUST BE DEALT WITH IMMEDIATELY AND REPORTED TO ME.
Firework throwing by members of the public should be reported to the police, they will deal with it.
INJURIES CAUSED BY FIREWORKS - Please inform the police immediately, they will take over and call medical assistance if required. PLEASE INFORM ME BY RADIO and remain on the scene until I arrive.
Firework throwing is not taken lightly by any Society, all members are aware of the dangers and most act responsibly, offenders are not popular and are likely to be expelled from their Society. Try to identify the person and report them to the leader of their own Society before you inform me.
TORCHES
What is a torch? cut a piece of wood from a tree, about a metre in length will do, wind a strip of sacking around the thickest end and fix it with nails or wire, dip it in a mixture which includes boiling motor oil and pitch, let it drain for at least a week, and you have the type of torch that we use in Hastings.
At any one time there will be up to 500 lighted torches in the procession and it is up to us to make sure that they are used in a safe and responsible manner.
Distribution There are three distribution points, the first is at the bottom of High Street, the second is at Russel Street, old torches should be discarded at The Indoor Market/Wellington Square junction, the final distribution point is on The Seafront close to Robertson Street traffic lights.
Each Society will appoint its' own Torch Marshals, it will be their job to collect and distribute torches, you will probably be asked where the next distribution point is sometime during the evening.
Old Town safety HBBS will use 20 torches in the procession around the Old Town, and in addition each visiting Society will be allowed lighted torches in their banners, prior to that, Hastings Runners will carry lighted torches to the East Hill, these are the only lighted torches allowed in the narrow streets of the Old Town. No one must be allowed near to a Net Hut or overhanging building with a lighted torch.
Once the procession reaches The Seafront, at the bottom of High Street, torches will be distributed to all Societies for use by their members for the remainder of the route. Torches are best carried upright rather than resting on shoulders as burning oil can drop onto clothing.
Swinging torches around is not acceptable and must be stopped - apart from hitting someone the wood can burn through and the end become detatched.
If a torch is not burning properly it is normal to bang the end on the ground, please ignore this.
Used torches should be placed in the gutter clear of any parked vehicles, they will be picked up at the end of the procession and placed in fire carts.
Members of the public should not be allowed to handle torches, if anyone wants one moved please do it for them.
THE FIRE SITE
The marshals at the Firesite will have kept the way in clear, all Societies will surround the fire, it is important that they keep moving so that all Societies are able to get into position smoothly and without hold ups.
When the Societies are in position around the fire please stay behind them, preferably within 5 metres of the barriers, there is a risk that you could be injured when the torches are thrown onto the fire if you get in the way, and fireworks will no longer be banned.
Spread yourselves around the barriers, your main job here is to prevent members of the public from entering the firesite.
The firework display will follow the lighting of the fire, AT THIS TIME ONLY THE PYROTECHNICS CREW WILL BE ALLOWED INSIDE THE EXCLUSION ZONE BEYOND THE 5 METRE PATROL AREA. This is important, the type of fireworks in the main display are extremely dangerous and only compitent people are allowed near to them - STAY CLOSE TO THE BARRIERS, DO NOT ENTER OR ALLOW ANYONE ELSE TO ENTER THIS AREA.
DO NOT ATTEMPT TO FOLLOW ANYONE BEYOND THE 5 METRE LIMIT, IT IS TOO DANGEROUS - THERE ARE MARSHALS APPOINTED TO DEAL WITH THIS SITUATION.
Our radios will not be used during the firework display or in the firework exclusion zone.
When the firework display has finished please make your way to the fire, we need to prevent members of the public from coming too close to it. I will be in this area and will tell you when you can stand down.
Please return your tabard and eye protection to the assembly point before leaving.
BASIC BONFIRE FIRST AID
A very short list of things you can do with no equipment whilst waiting for a First Aider to arrive.
BURNS Probably the commonest thing, the rule is cool and cover. use whatever liquid you can find, if there is little then dampen a cloth and cool that way. The cooling should go on for 10 minutes by which time we hope a first aider will have arrived.
IN THE CASE OF EXTENSIVE BURNS still try to keep cool, probably with damp pads but don't keep prodding, do not remove any clothing. lay the person down with their feet slightly raised, cover them if they get cold.
PERSON ON FIRE Knock them to the ground and roll them over, if needs be put the flames out by rolling on top of them, preferably use a blanket.
CUTS The rule is PRESSURE / PAD / ELEVATE. Press on the wound with whatever you can find to stop blood flow and raise the injured part above the heart. Sit or lay the person down.
UNCONCIOUSNESS (Serious) Arrange help quickly! Lay the person down and try to get them on their side. Make sure that the head is tilted back as far as possible and that the mouth is facing down so that any vomit runs out. if posible cover them so that they don't get too cold.
REMEMBER THE RADIO There is a trained First Aider at the radio base.
WILL IT BE CALLED OFF?
NO! The procession will go ahead whatever the weather so you will be needed.
There will be meetings with the authorities twice during the day and if the weather is bad it is always possible that the fire or the fireworks may be cancelled but the procession will take place even if this happens.
If you are still not sure you can hear a recorded message on the day by calling 01424-431627 or you can visit my web site at http://www.users.globalnet.co.uk/~bonboy for more information.
THANK YOU FOR HELPING US we cannot run this event without your assistance, I hope that you enjoy yourselves and that you will help again in future years
Gerry Glenister,
Captain of Marshals.
Please be warned, there may be changes to the above information before the night.