Other Games

Welcome. Here's a few more games.
Bad Toys Pretty good set. Works in a similar way to the Wolfenstein 3-D engine, but set in a factory-floor type environment. 3 level shareware version. Sort of bouncy and jolly!
The Catacomb Abyss Perform your feats of wizardry and prowess against what appears to be the work of the villainous Nemesis.

Dare To Dream An adventure game, somewhat reminiscent of an early 'Broken Sword'. 'Tyler is caught in his dreams. He discovers something terrible, and he must stop it. First, however, he must escape his dream...' Directed by Cliff Bleszinski. This is the shareware version. The registered set has 2 more levels.
Deadline - Beta Version Made in 1993 by Microflash, and is similar in many ways to a Wolfenstein 3D add-on. Has a futuristic scenario. No sound on this version.
Duke Nukem (261Kb) Shareware version of Apogee's follow-up to Commander Keen. Here's what they said about it back in 1991.
Duke Nukem is an arcade/adventure game like none ever seen on an IBM PC. It features huge four-way, dual-scrolling playfields with realistic graphics, and animation that updates 48 frames per second! Over 1Meg of total graphics.
Duke is an amazing hero, who does flips and clings to ceilings. Help him save the world on his first action-packed adventure.
Other features include: Large animated enemies, built-in hint mode, joystick support, self-running demo, arcade sound effects, save/restore, and much more.
Ken's Labyrinth 3d action thriller. 'Aliens from the planet Zogar have kidnapped your dog Sparky, and you must save him.' 10 big levels. Full Version
Nitemare3D Similar in many respects to a Wolfenstein 3-D add-on. 'Enter the house of the evil D. Hamerstein in search of Penelope...'. Set in a haunted house, a 3-D adventure created by David P. Gray. This is the DOS version. Those who are interested in the Windows 95 version, please click here.
Operation Body Count Playable demo. An exciting shooter in the tradition of Doom. There's a screenshot shown below.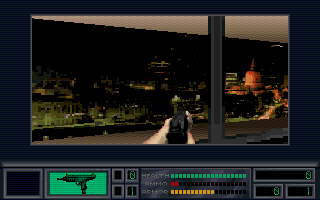 Outlaws 3D shooter, set in the Old West. There's a playable demo but be warned, it's a hefty 14Mb. I bought the full version from The CD-Rom Shop.
Pinball 2 Try out your pinball skills with this shareware set from Epic. You can buy additional packs. Each one has 4 different machines.
Spectre-VR Playable demo. See a virtual world from your battle craft, a 'Spectre', roaming around a computerized area. Shoot your enemies, collect ammo and flags, and race on to higher levels.
Fan Clubs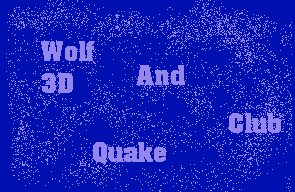 Doom and Star Craft featured too.
Links
ftp.3dgamers.com Lots of games to download.

Jumbo Games galore.

Gem's Games Freeware, shareware and demos.

Back to Wolf3D