Princes Street.
---
In the original design of Edinburgh's New town, Princes Street was planned to be a subsiduary to the main central street - George Street. The unobstructed views across to the Castle and the Old Town were probably the main reason for the failure of this plan and nowadays Princes Street is recognised as one of the most beautiful streets in the world. This fame is almost entirely due to the South side of the street, the North side is unfortunately a rather strange mixture of architectural styles where very few of the original buildings remain, most having been replaced by featureless (or downright ugly) department stores.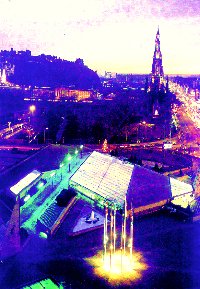 I'll get a description of the North side out of the way before starting on the more interesting stuff! At the East end of Princes Street stands one of the most impressive buildings - Register House, with a fine equestrian statue of the Duke of Wellington in front, facing up the line of the North Bridge and into the Old Town. Register House is one of the finest buildings of the architect Robert Adams and was built to hold Scotland's archives, these have now expanded beyond the capacity of the building but this is still the starting point for anyone wishing to research their Scottish ancestry. The working entrance is up West Register Street at the left of the building and it is well worth a slight detour up there to visit the Cafe Royal, this pub is justly famous for the series of Doulton tiles on its walls which were originally made for the Edinburgh International Exhibition of 1886.
The only other building on the North side that I would consider worth a visit is on the corner of South St. David's Street, opposite the Scott Monument. This is Jenner's - the oldest independant department store in the world, and a fine example of what Princes Street architecture should look like. (In my not so humble opinion!) Incidentally, if you should be in Edinburgh near Christmas it is worth visiting Jenner's just to see the tree in the main hall - I'll say no more than to bet that you don't have one that size in your living room, even if your name happens to be Bill Gates!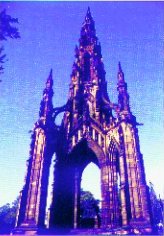 The South side of Princes Street may have fewer buildings but it is vastly more interesting! The wide open views to the Old Town owe nothing to the present century by the way, way back in 1816 a parliamentary statute was obtained to protect against the possibility of any new building threatening the field of view to the South.