EASTERN ISLE OF WIGHT FORTS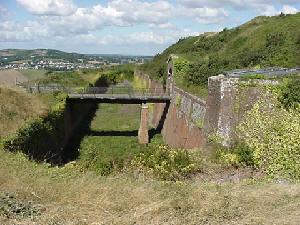 These are mostly small Palmeston forts built during the mid 19th century to protect the harbours and the Solent.

There were 7 gun batteries, Sandown Barrack, Culver, Nodes Point, Redcliff, Steynewood, Yaverland and Puckpool and 2 larger forts, Bembridge (Photo Palmerston Forts Society) and Sandown.

Sandham Castle was built in 1537 close to where Sanddown Fort stands but survived for less than a century as the cliffs eroded into the sea. The stone was used to rebuild a second castle in 1649, but again erosion caused the castle to be demolised in 1864.

Sandown Barrack Battery stands on the edge of a cliff, 150 feet above the sea and about a mile west of Sandown Fort. It is now a flower garden with a tea shop situated in the old guard room.

Sandown Fort was constructed of granite and iron close to the beach in the centre of Sandown Bay. Its defences were strengthened by the construction of supporting batteries at Yaverland, Sandown Barrack and Redcliff. The fort was sold in about 1930 and after partial demolition and use as a private zoo only a small part of the original structure is still visible.

Sandown Barrack Battery. 1863, accessible.
Culver Battery. 1904, near viewing point over Culver Cliffs.
Nodes Point Battery, Unknown
Redcliff Battery. 1863, nothing remains as coast has eroded.
Steynewood Battery, 1896, private, no access.
Yaverland Battery. 1863, some structure remains and can be seen.
Puckpool Mortar Battery. 1865, remains can be viewed.
Bembridge Fort. 1867, private, still standing.
Sandown Fort was built in 1862 and is now used as a zoo.





Directions
Puckpool is north of Bembridge, the others are between Bembridge and Shanklin.