THE SPITHEAD FORTS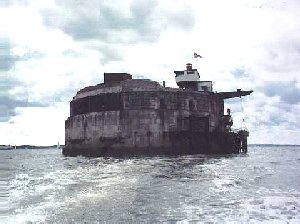 The Spithead forts were built in the Solent in the 1860's to protect Portsmouth from bombardment from the sea, at the same time as the Gosport and Portsdown land forts were built. Horse Sands, No Mans Land and St Helens Forts were built 1865-80, and Spitbank was started 2 years later. Ryde Fort was abandoned shortly after constructon started becouse of unstable foundations.
Horse Sands and No Mans Land are identical at 200 foot in diameter and fully armour plated. The other 2 are slightly smaller at 150 foot diameter with iron plating on the front only. They had complements of 30 men. They cost 2 to 3 times as much to build as the land forts, due to the difficulties involved in constructing foundations 20 to 30 foot under water on sand banks.

Spitbank Fort is open April - October. Horse Sands, No Mans Land and St Helens Forts are privately owned.
Directions
In the Solent between Portsmouth & the Isle of Wight. Boats to Spitbank Fort leave from Southsea promenade.
Scroll down for other photos