SOUTHAMPTON CASTLE & CITY WALLS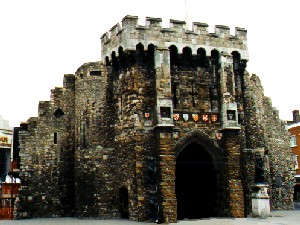 Half of the 14th century town walls remain, along with the 4 towers. The Norman castle that was started by 1150 and was then built up as a shell keep on a large motte in the 12th & 14th centuries on the western side of the town has vanished apart from sections of outer defences and a reduced mound. It was allowed to fall into ruin in the 17th century and its stone was used in the 19th century to build a mock Gothic castle, although this only stood for 17 years. The main entrance to the town, the Bargate (left), still stands.
Open.
Directions
The centre of Southampton.
Scroll down for other photos