---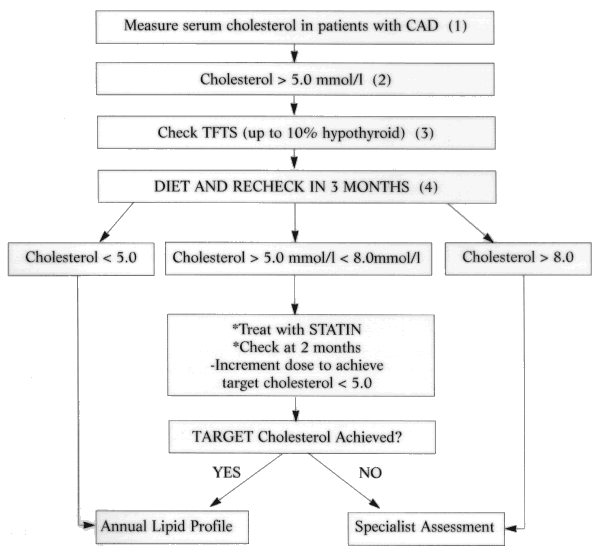 ---
---
By mid 1994 a number of secondary prevention trials using HMG-CoA reductase inhibitors in post AMI patients had been published. In general these studies showed that for each 10% reduction in cholesterol a 20% reduction in morbidity and mortality is obtained. The same was shown by the older "non-statin 10 trials. The Scandinavian Simvastatin Survival Study (4S) trial was the first single trial to show that cholesterol reduction in post AMI patients will reduce morbidity and mortality (including total mortality).
The CARE study progressed understanding by addressing the issue of secondary prevention as it applies to the majority of patients with average (not high) cholesterol values.
Brief synopsis of "CARE" study
Brief synopsis of ASPIRE study:
Scandinavian Simvastatin Survival Study Group. Randomised trial of cholesterol lowering in 4444 patients with curonary heart disease. Lancet 1994, 344, 1383 - 9.
Frank M et al. The Effect of Pravastatin on coronary events after myocardial infarction in patients with average cholesterol levels. New Eng J Med 1996, 335, 1001-1009.
---
Bradley Cheek 1999