Cuckfield Medical Practice is an NHS UK General Medical Practice in Cuckfield, West Sussex.
The Practice covers a wide area which includes the outlying rural communities of Bolney, Handcross, Twineham and Warninglid as well as Haywards Heath and Burgess Hill. Total practice population is 6,000 patients.
Having been Fundholding for the past six years the practice is now preparing to become integrated into the Mid Sussex Primary Care Group as from April 1998.

We have 3 enthusiastic GPs and practice from our own purpose built surgery premises on the edge the village. We are dedicated to providing personal care to all our patients.
We believe that our practice provides an excellent service to our patients, especially in the following areas :-

1/. Use of Information Technology
(a) in improving patient understanding
(b) in making the administration more effective.

2/. As a mark of support for our team in their efforts to make health services available to as many people as possible, in as friendly and helpful a manner as possible, and as a recognition for having been highly commended twice before.

3/. To justify making changes to our working environment based on both patient feedback and changes in demand.

We are a very innovative team with high standards. The use of new technology allows us different and uncharted methods of communication with our patients, including an anatomy demonstration facility during consultations.
An information display setup in the waiting room gives patients access to information about the practice whilst waiting for their appointment, as well as general health information and local community news.
Behind the scenes we operate an electronic office with direct links to the Health Authority for rapid and efficient transfer of information.
The electronic appointments system (FrontDesk) allows the reception team to accurately track each surgery, and gives feedback to the patients about current waiting times.
We have been users of AAH Meditel's System 5 medical software since 1986.

We have a very friendly and helpful reception team, who are always able to greet the patients with a smile , and give accurate information as to the status of appointments. They all wear name badges, and give their names as a point of reference on the telephone . They were unanimously commended in our last patient survey.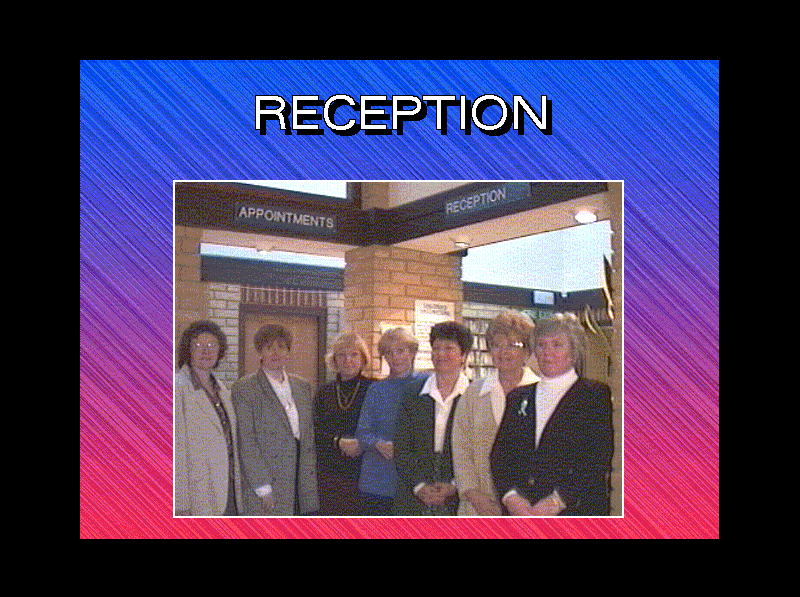 Our in house Ophthalmology service continues as a great success with our patients, and has become stretched to the limit. We are moving away from the traditional hospital Out patient based system to a more community based friendly service in our own premises.

The Practice was awarded a Special commendation by the citizens Charter office for three years in succession.

We have an electronic appointments system in the practice so that all appointments are kept on the practice computer. This is a major advantage in that we are able to offer speedy appointment booking to patients.

We are also able to audit our appointments and regularly publish details of the average waiting time to see each doctor, as well as an audit of the workload statistics of the doctors and nurses. One aspect of appointments that always vexes us is the number of appointments to offer our patients. Some weeks we find that there is a major demand on appointments, and that we are unable to offer an appointment to the patient to be seen on the same day. On other occasions we find that there are spare spaces in surgery that are not booked up.

Our annual appointment audit demonstrates that between us we have been offering 10% more appointments every year for patients to see the Doctor, although in the last 12 months there has been an uncontrollable surge in the numbers of appointments requested, resulting in the 3 Doctors offering some 4000 (23%) more consultations in the year to March 1998.
This has also been reflected in the Nurse appointments, and has proved to be a serious problem to the administration of the practice. We practice from brand new purpose designed premises in Cuckfield , and are able to offer the type of service that a modern medical unit should provide - such as a nurses treatment room, minor operations room, counselling room, and others besides - all from a modern spacious building.
As part of the regular Clinical audit undertaken by the practice, we keep a close eye on our performance figures for our Asthmatics, Diabetics, all minor operations carried out in the surgery, Cervical Smears, Vaccinations and Health Promotion targets. All results are published in the Practice Annual report, and from a clinical point of view, the partners meet on a regular basis to agree audit aims and goals, and to set further aims.
One outstandingly important aspect of standards in General Practice is the quality of care offered by our Reception staff. These are a group of dedicated part time ladies who are the first line of contact between the practice and the patient. A surly or disrespectful receptionist can damage the entire Doctor Patient relationship before the Doctor ever sees the patient. A survey carried out by the practice suggested that 100% of patients surveyed thought that they always had a helpful and courteous service from the reception staff. 80% of people asked thought that it was not difficult to get an appointment when they wanted, and 20% that it was. This means we have achieved our aim that 100% of our patients should feel that the service is helpful and courteous, and that 80% of patients should be able to feel that they can have an appointment when they want, although we are not too complacent since the sample number was small.

In association with our Practice Charter, we have a formal complaints procedure which has, over the years been used on a few occasions. In all cases the complainant has been approached by the practice and a face to face meeting has generally resolved any difficulties on either side. At initial registration with the practice , the patient is asked to fill in a questionnaire and is given literature about the practice which sets out the services that we offer, and explains the best way of using them.

The Doctors try to encourage their patients to stay with the same Doctor once they have registered, but internal referrals between the Doctors are common due to the particular specialist interests of the Doctor concerned. We are able to cut down on hospital referrals by making an internal referral to a specialist partner. This results in earlier treatment, and if hospital referral for surgery is required, the patient is prepared for the encounter in terms of medical investigations and also is fully informed of the likely course of events when they attend the hospital.
We have left the old didactic approach, beloved of so many older members of the profession, and have a very open framework for our consultations . We expect to inform patients and educate them during the consultation, but prefer to share the management with them. A decision to commence a course of treatment is a joint decision, with the patient taking an active role in the decision making process. Although time consuming, this policy is efficient in terms of compliance with treatment and management plans. For instance, in our Asthma clinics patients are expected to partake in their own management , and are issued with treatment plans giving them a framework around which to manipulate their medication.

The Practice Charter sets out our practice aims, standards and also our expectations. It is easily available in the surgery as a document, and is on a wall display in the waiting area. We have also taken extracts of it and incorporated them on the VDU information system in the waiting room.
With the increasing workloads each year (10% over the last 2 years) we have found occasions when there is tremendous pressure on the reception staff to offer appointments which sometimes are simply not there to offer. These are the times when patients can become aggressive and reception staff have a taxing time trying to offer a solution acceptable both to the Patient and the Practice. Over the last few years we have sent members of the reception staff on various courses designed to improve both telephone skills and dealing with difficult patients. The results are a friendly and helpful reception team, headed by the Practice Manager, who are all easily identifiable by their name badges, and who are the exact antithesis of the traditional "dragon" at the desk .
It is of great importance that the first contact a patient has with the Practice prior to seeing the Doctor is as simple and helpful as possible. We stress to the reception staff that the entire organisation is judged on this interaction, and we have a training session, as part of the Vocational Training scheme for training Doctors to become General Practitioners, which involves the trainee GP sitting in the waiting room and observing for an entire surgery. The subsequent plenary session involves us all.

Our staff are aware of the range of services that we provide - indeed they are widely published around the building. Unlike a normal commercial customer though, most of these services are only accessible through one of the Doctors. This means that we try to make patients aware of what help they might expect to be offered, and how to be offered it. Patients can then request a service if it is not offered to them.
There is now in place a well publicised mechanism for feedback in the form of the Patient group, the members being representatives of various organisations in Cuckfield who canvass opinion before meetings. It should also play an important role in quality control, and has to be the next step forward as the complexity of our organisation increases.

When a patient arrives for their appointment, the fact is recorded by our reception team, and will appear on the GPs computer screen. Since we have abandoned our use of manual written notes, the amount of filing carried out by our team has been cut to about 10%, and we never have the problem of seeing a patient in surgery with the wrong notes. This has created a much happier team, and vastly reduced the boring task of filing. The time liberated has been used to good advantage, and it has also allowed more patient contact time for the receptionists.

Each member of the reception team has now been given a specific task for which they are solely responsible. Insurance reports, Solicitors reports, Vaccinations, Immunisations and Heath Promotion targets are all managed by specific members of the team whose sole responsibility it is to ensure that the Practice reaches its targets as set by the government. Although perhaps not obviously relevant to the patients, this change has given us all a sense of mission, and satisfaction as we exceed all targets. The result is a happy contented team who are able to relate to the patients in a friendly and helpful way.

Since 1992 we have had a scheme in place with our own dedicated Ophthalmologist. Out patient clinics run 1 - 2 times per week, and there is a waiting time of 2.7 weeks for an appointment . This has proved to be a very popular asset to the practice, and all feedback so far has been strongly in favour of the scheme, with comments that people would like to see other such speciality clinics run from the surgery. This has all been made possible by the GP Fundholding scheme introduced in 1991, with which we became involved in 1992. This has allowed us to establish the schemes above, and has encouraged us to form a Primary Health Care Nursing team.

Normally an affinity to computer technology is associated with a corresponding loss of contact with the client. As a Medical Practice within the NHS, we are tied to close links with our patients. We have used the new technology for all its worth. This has resulted in the "paperless" consultation. Consultations at our practice have been analysed using video analysis techniques, and show that a hybrid type of consultation is emerging. We have described it as the 3 way consultation in which the Doctor interacts with the patient and the computer, the patient interacts with the Doctor and the computer, and the computer interacts with the Patient and the Doctor.
The use of electronic protocols defining practice set minimum standards of care in such areas as Asthma , Diabetes and HRT management is common, ensuring that all clinicians achieve at least the practice defined minimum standards.
An electronic Anatomy demonstration program allows the doctor to demonstrate, in full colour and often with short videos, a clear view of the nature of their problem.
It is encouraging to see that many practices have seen the benefits of this, and are investing in similar systems.
We were selected in 1995 to take part in the national "Prodigy" project, sponsored by the NHS management executive looking into decision support for GPs in prescribing, and providing patients with information printouts on various health related matters to take away.