Consultations with your doctor are by appointment only:

9.00 to 10.30am Monday to Friday
5.30 to 6.30pm Monday to Thursday
5.00 to 6.00pm Friday

The receptionist is available:

8.30am to 6.30pm Monday to Thursday
8.30am to 6.30pm Friday
8.30 to 1 0.00am Saturday (emergencies only)

Appointments may be made by telephoning or by calling in at the surgery. Please note that no appointments are made for Saturday mornings, which are for emergencies only. If you need to see a doctor on Saturday morning please phone as soon after 8.30am as possible. Haywards Heath 458738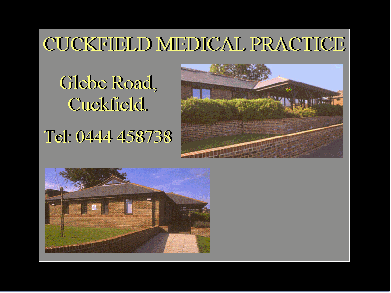 Surgeries

We hold three regular branch surgeries:

52 Sussex Road, Haywards Heath
By appointment only, 9.00 to 1 0.00am and 5.00 to 6.00pm

Rawson Institute, Bolney
Tuesday and Friday afternoons at 2.45pm

Seaforth Hall, Warninglid
Monday afternoon at 3.00pm

Please note that the Haywards Heath Surgery is strictly by appointment only and the village surgeries operate on a less formal basis. Your doctor is there to help you. There will be one doctor in the group who is your personal doctor. Whenever possible you should consult him when you need a doctor.

Home Visits

These take a long time, so please try to come to the surgery if you can. If you do need a home visit, please make the request before 10.00am if at all possible. This is particularly important at weekends and bank holidays, when chemists' opening hours are restricted. When the surgery is closed, a recorded message is left on the telephone giving details of how to contact the out of hours on call doctor. Please do not call unless you are in need of urgent medical attention.

Out of Hours Service

We are now part of an out of hours service, Mid Sussex Doctors on Call, which is a cooperative made up of most of the GPs in the Mid Sussex area. After 6pm in the evenings, and after midday on Saturday the On call service takes over. All calls are handled service, and patients are invited to attend surgery or a home visit is made. We have every confidence that this service is an improvement to the previous out of hours service in Mid Sussex both to patients and the Doctors alike.

Repeat Prescriptions

If you need to take tablets or medicines regularly, your doctor may suggest you have a repeat prescription. This will be authorised on the computer and you will be asked to produce your copy of the last prescription for re-authorisation.
Please allow 48 hours for processing of the prescription.
Your prescription can be delivered to Warninglid or Bolney if you indicate this on the request.
Please do not ring before 11.00am weekdays for prescriptions.

Computers

The practice has been fully computerised since 1988 and your doctor will use the computer during the consultation. It enables him to develop a very efficient register of all the patients and is an invaluable tool in preventive medicine, screening and education.

The Receptionists

We depend upon our practice manager to organise the administration of the office. She supervises eight part-time staff who are responsible for manning the telephones, typing letters, entering the data onto the computer and, of course, endlessly filing letters and reports.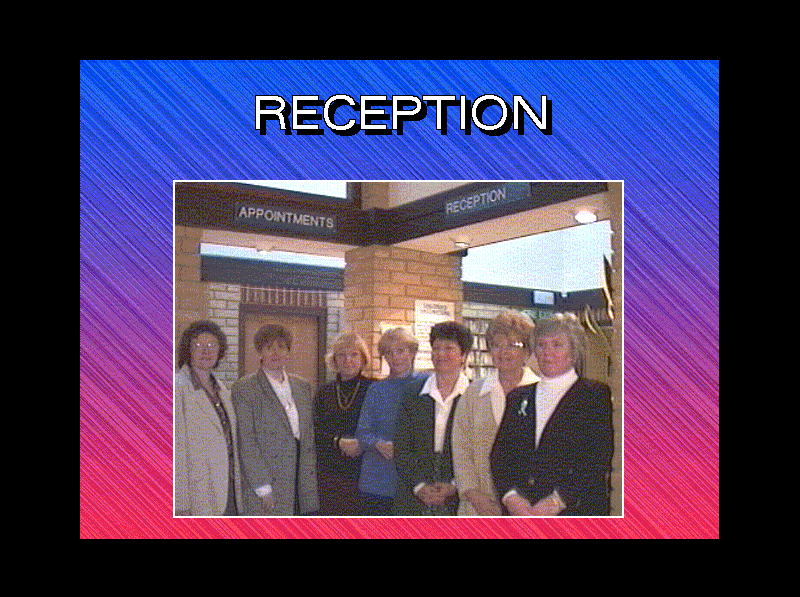 Primary Health Care Nursing Team

Our team of qualified nurses, which comprises of nurse practitioner, health visitor, district nurses, practice nurses, school nurse and community psychiatric nurse offer a wide range of skills to help you deal with every aspect of physical and mental health, both in the surgery and out in the community.


NURSE PRACTITIONER


Sue Davidson, who used to be our health visitor for many years, has completed further training to qualify as a nurse practitioner. She runs surgeries alongside the doctors and is qualified to take medical history, physical examination and diagnosis of many common conditions. Appointments can be made at reception .



Suggestions and Complaints

We are always pleased to receive constructive criticism from our patients, In the hope that it will improve the service that we can offer to you. If you have any suggestions or complaints, please address them to the practice manager in writing.

Patient Participation Group

Please enquire at reception if you would like more information about this patient-run group.

Private Practice

The partnership is prepared to look after a limited number of patients on a private care basis. The same general rules apply, but wherever possible you will be offered an appointment to see your doctor outside normal surgery hours, so that it does not interfere with the normal NHS commitment of the doctor.