The Store in Scrubbitts Park Road provides a trading post for garden materials and sundries and acts as a headquarters for the dissemination of information to members and for booking trips and events..
The Store is run by David Bagon. Store helpers are requested to assist in bagging up small quantities of bird food from the bulk supplies in quiet periods during their duties. Please do not handle bulk chemicals and fertilisers as Personal Protective Equipment (PPE) such as gloves and in some cases a dust mask must be worn.
Thanks to all those who have volunteered to help man the Store. Anyone else who would like to join the rota for manning the Store on Sunday mornings, contact Gary Harding, on <rotarhs@gmail.com> who is now running the Store helpers rota, for further information. It only involves about 3 mornings during the year and you will start by being on with an experienced member to show you the ropes. Most helpers find it enjoyable.
It is recommended that those on duty each week contact one another a few days before to ensure that no-one is left on their own running the Store.
The Store has closed for its Winter break and will re-opening on Sunday 3 February at 10am.
There will be a plentiful supply of bird food (7 varieties) in stock - plus of course composts, fertilisers, pesticides, and garden sundries when the Store re-opens.
Spare Show Schedules, Weeders Digests and replacement Yearbooks are available in Store.
Store sales of £10 and over will receive a 10% discount on the first Sunday of each month during the year.
Opening
The Store in Scrubbitts Park Road is open every Sunday from 10am until 12noon, except for a winter break during December and January. The Store is run by David Bagon, and is manned each week by volunteer members of the Society.
Sales
On sale are a wide range of garden products, chemicals and sundries; including granular, slow release and liquid fertilisers (both general and high potash) and a variety of composts, canes and stakes. A best seller these days is peanuts and seed for birds.
Stock
Most items required for the gardening season are available, including food for the birds. A lot of the materials are available in bags broken down from bulk supplies ensuring best value low prices. Any proposals for additional items should be put to David Bagon or discussed with Peter Hordern.
Tools for Hire
The following tools are available at the Store for hire at minimal charge on a weekly basis:
Long handled parrot beaked pruner
Fertiliser distributor( several)
Notices
The Store is also used as a venue for Society notices, including changes and additions to the Society programme. Details and booking lists are held for events. A copy of the Society Rules and the current list of members are available for inspection. Notice boards for the Society, other local organisations and members' articles for sale are labelled. There is a special table for information and booking for trips next to the sales table.
New Members
Facilities are available for new members to join the Society anytime the Store is open.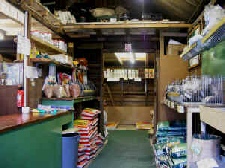 Inside the Store


Radlett Horticultural Society