Poperinge During The War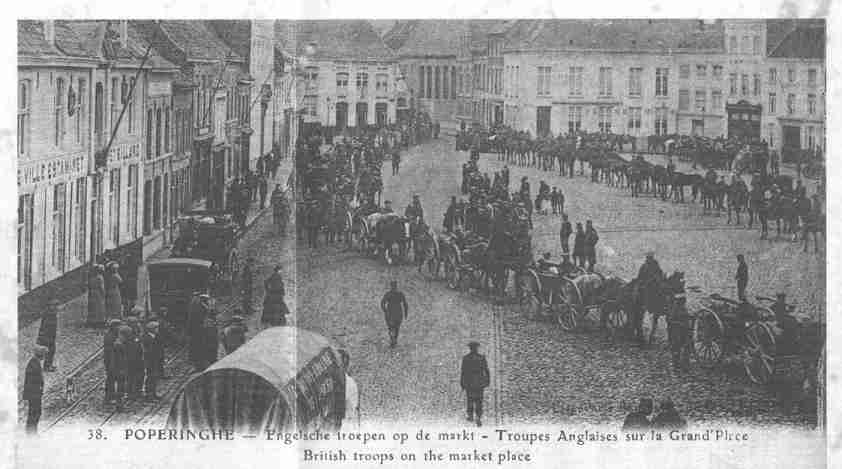 Poperinge was the Flemish town most British and Imperial soldiers encountered after crossing the Belgium frontier on their way to fight in the Ypres Salient. Hundreds of thousands of reinforcements marched through its streets, never to return. Those who survived long enough to revisit the town regarded "Pop" as a haven, a refuge from the unremitting misery of trench warfare.
It was not a safe place because it was shelled and bombed, but they could enjoy themselves in "Pop". The town was busy during the day and had lively night life. Aside from estaminets and coffee houses, shops, stores and stallholders sold souveniers, supplies and comforts - anything to relive the discomfort of life in the military camps or trenches.
Poperinge was also a place of rest and revival, whether billeted in the town or crammed into huts and tents in nearby camps, soldiers found shelter and sometimes even a bed in which to relax.
The hospitals and casualty clearing stations tended the wounded and healed the sick. For some, Poperinge was hell. Nearby war cemeteries provide testimony to the thousands of grievously wounded men who perished in and around the town.
Poperinge was also the place where Court-Martial were convened (see Shot at Dawn Page which covers activities around Poperinge).
TALBOT HOUSE.
On 11th December 1915 the army chaplains Philip Clayton (known as Tubby) and Neville Talbot opened an "Every Man's Club" where all the Tommies, regardless of their rank, were welcome. The club was called Talbot House after Nevilles younger Brother, who was killed in July 1915 and who became a symbol of a golden generation of young men whose lives were being sacrificed in the Salient.
---