TYNE COT CEMETERY and MEMORIAL.
(CWGC Ref 6/4)
Probably the most visited Commonwealth cemetery in the world, contains the graves of nearly 12,000 soldiers, of which 70% are unknown. The cemetery was opened two days after the ground was captured. An Advanced dressing station was located in one of the pillboxes. Contains the Tyne Cot Memorial , which bears the names of about 35,000 lost British commonwealth soldiers, between the dates 15th August 1917 and the end of the war.
The Tyne Cot and Menin Gate Memorials gives the names of those who fell in the fighting in the Ypres Salient and who have no known graves, there are some 89,000 names. 54,360 of these names are commemorated on the Memorial Arch at the Menin Gate, Ypres, and 34,857 here on the Memorial at Tyne Cot Cemetery (at the back of the photo), Passchendaele.
The following is a list in order of date of the Battles in the Ypres Salient in which the Corps and Regiments from the United Kingdom took part during the years 1914-1918.
The names of these Battles are given as they appear in the Report (Battles Nomenclature Committee) of the Committee appointed by the Army Council to classify the battles and other engagements fought in the war .
| | |
| --- | --- |
| | Ypres, 1914. |
| | Messines, 1914. |
| | Langemarck,1914. |
| | Gheluvelt. |
| | Nonne Bosschen. |
| | Ypres, 1915 |
| | Gravenstafel. |
| | St. Julien. |
| | Frezenberg. |
| | Bellewaarde. |
| | Mount Sorrel. |
| | Messines, 1917. |
| | Ypres, 1917. |
| | Pilckem. |
| | Langemarck, 1917. |
| | Menin Road. |
| | Polygon Wood. . |
| | Broodseinde. |
| | Poelcappelle. |
| | Passchendaele. |
| | Messines, 1918. |
| | Kemmel. |
| | Scherpenberg. |
| | Ypres, 1918. |
| | Courtrai. |
There are six men or commemorated on the Memorial who won the VC, these are
Graves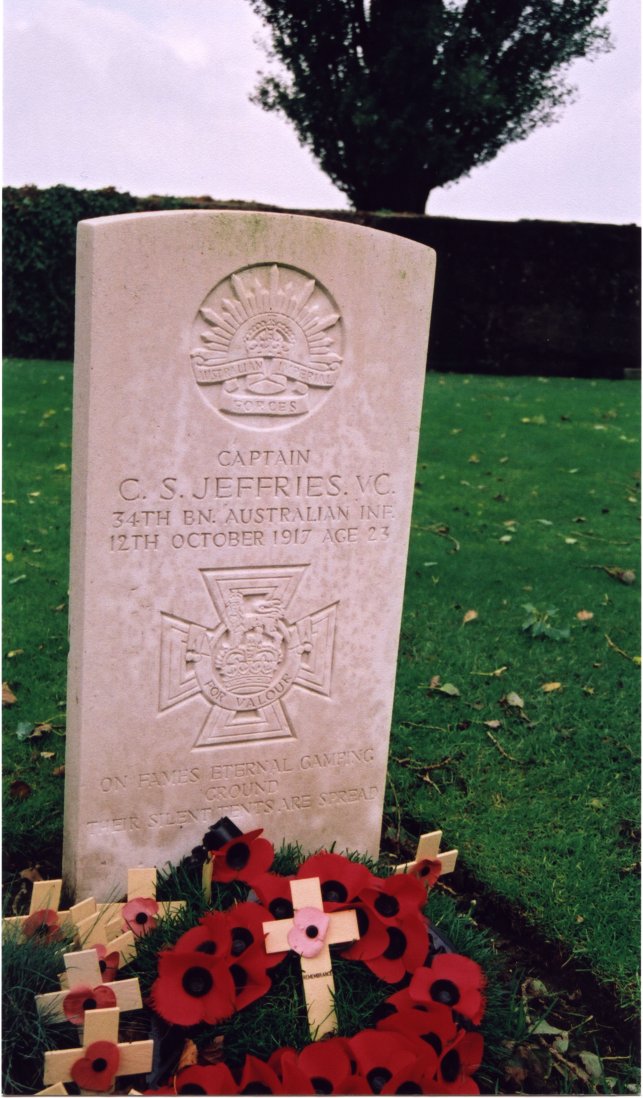 Captain Clarence Smith Jeffries VC - courtesy of Wes Keys (Australia)
Sergeant Lewis McGee VC
Private James Peter Robertson VC
Memorial
Temporary Lieutenant Colonel Philip Eric Bent DSO VC
Corporal W Clamp VC
Lance Corporal Ernest Seaman MM VC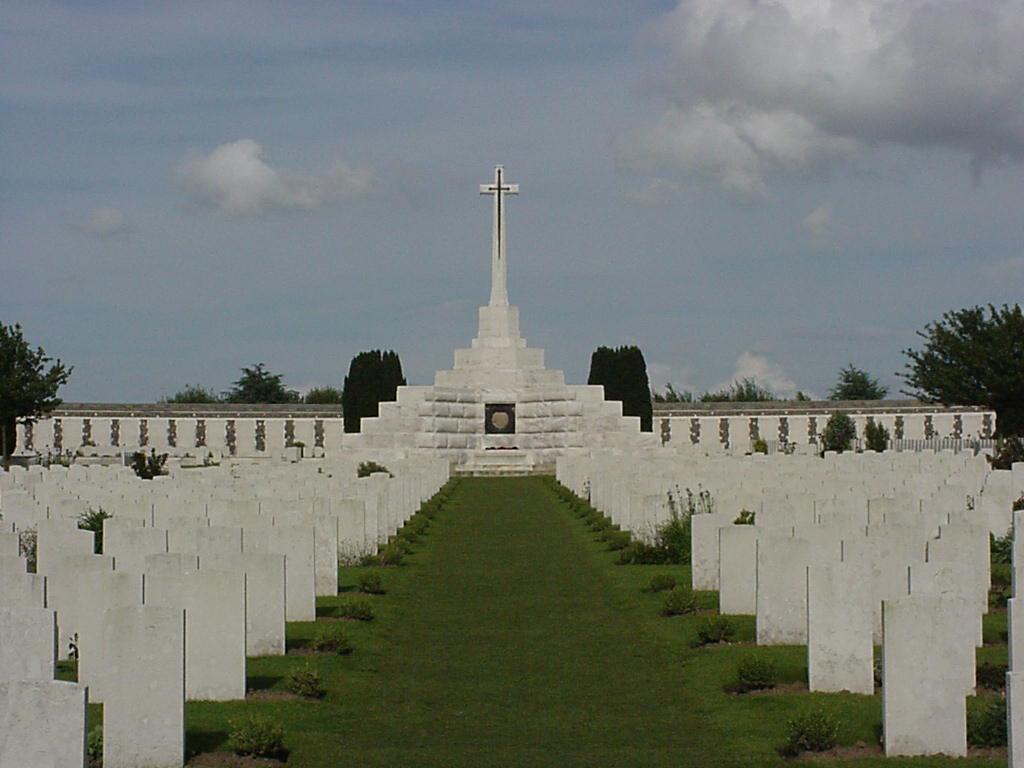 Cross of Sacrifice on a pill box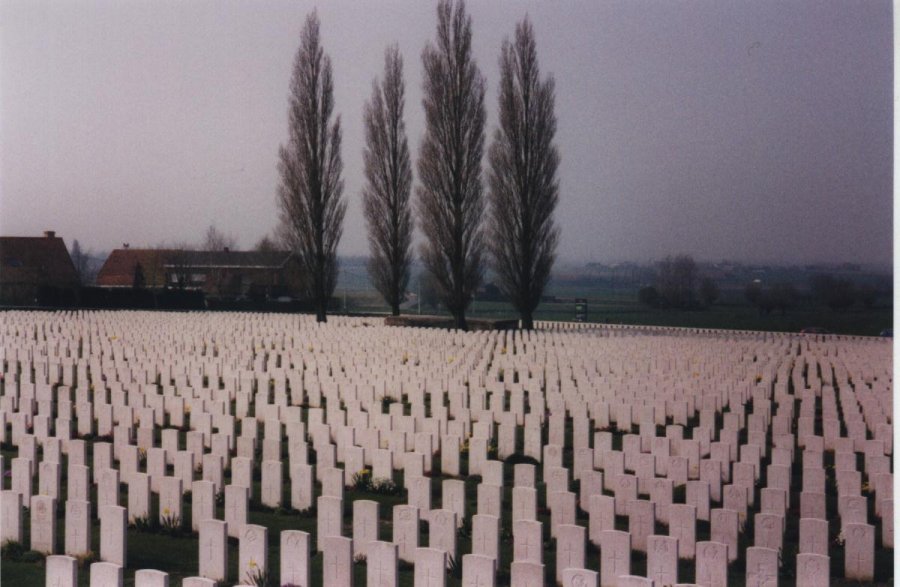 Some of the many headstones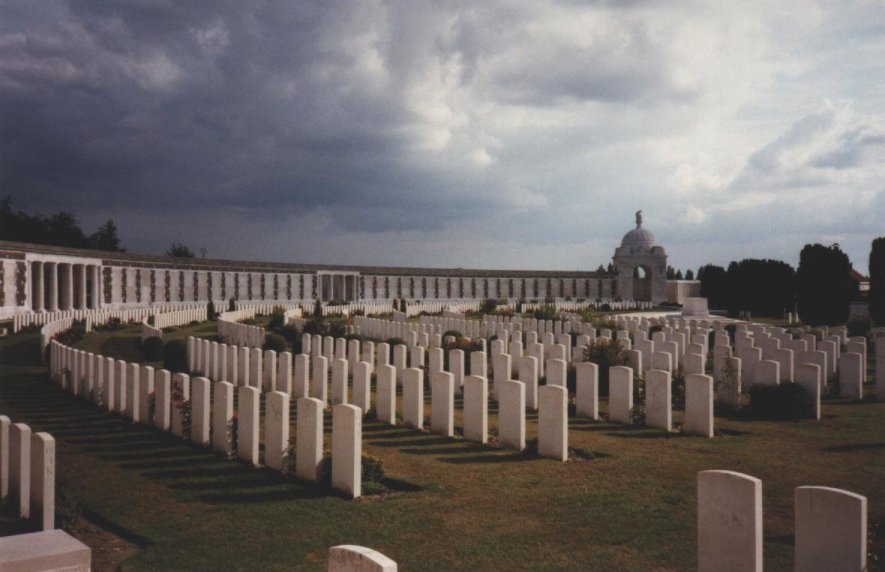 Part of the Tyne Cot Memorial