Title: Anaelog 1.77

Series:
Description: Superior anaesthetic logbook
Comment:
Anaesthetic databases were one of the first medical programs available for the Psion and SCATA provided the excellent program. The program was in fact so good that nobody really bothered to write an alternative. Their series 5 offering was unfortunately not that much of an improvement and therefore Jim Berrington obviously thought that he could do better.
Anaelog is simple to install and is a menu and dialog box driven program so there should be no unfamiliar territory. each operation and procedure are simply entered and if a choice isn't available that then it is a simple matter of adding a new one. Having entered your operation and procedural data you can check up and how you have done by accessing the various reports available.
An essential function in all this is to be able to export this data to your PC to make it easy for your supervisors to see what experience you have had. Jim has made what can be a painful process relatively easy giving you step by step instructions along the way.
Jim has now added a shareware version which makes the program practically essential for anaesthetists. There are better reporting facilities so you can view your operations and procedures in various ways and also you can now output your reports to a text file for importing into word. Jim has been quite clever so that the text output formatting is quite legible.
7/12/98 Updated to version 1.75 which precludes both previous versions. I have not yet had a chance to review updated version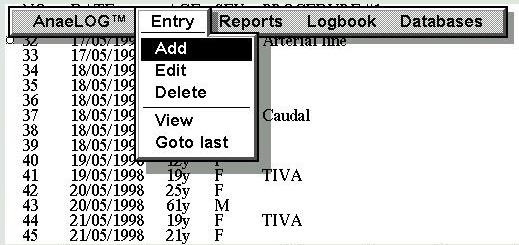 Rating:
Price: Shareware £10
Download