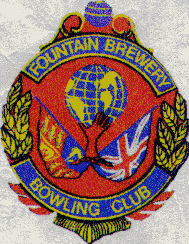 Fountain Brewery Bowling Club

1910 - The Club was founded. Its first bowling green was situated at Harrison Park, Edinburgh. The first Club President is unknown due to a fire in the Harrison Park premises which destroyed most of the Club's records. It is known that A. Strachan was the first club champion.
1927 - The first recorded President J.Brunton.
1955 - Moved from Harrison Park to our current premises in Slateford Road.
1965 - Winners of the Edinburgh & Leith 1st XV1 Sharp Trophy
1973 - Winners of the WEBA Fours.
1979 - The Womens and Junior Sections were established. Sadie Smith became the first Womens President and Elaine Waldie was the first Womens Champion. Her thirteen year old son, John Waldie won the the Junior Championship, making it a family double.
1985 - Winners WEBA Fours.
1987 - Winners WEBA Seniors League. Winners WEBA Seniors Triples.
1990 - Winners WEBA Triples
1991 - Winners WEBA Fours.
1998 - Ross Gallagher became the Mens Champion for the 6th time. Ann McIntosh won the Womens Championship for the 4th year in a row.
1999 - The Club changes its constitution to allow female members to become full members.