Le Palais Ideal
du
Facteur CHEVAL

Born in 1836 Ferdinand Cheval, worked as a postman (facteur in French). His daily route involved covering 32 kilometres on foot, and as he travelled in the hot sun of the Rhone valley his mind wandered and he had visions of fabulous palaces. For most people this would be enough, but not for Ferdinand Cheval, and what he went on to do pushed him to the forefront of what we now know as "naive" or "outsider" art. Each day on his round if he saw stone or pebble that caught his eye he would put it to one side and when he had finished work he would take his wheelbarrow and collect them and in April 1879 he started work on his "ideal palace". For the next 30 years, working alone, he built what he saw in his visions, a mad, fabulous fantasy palace. A mix of oriental and occidental (and certainly accidental) this building is a must, I've included a couple of pictures but these in no way convey the true magic of this place- visit it!!
| | |
| --- | --- |
| | Ferdinand Cheval and his wheelbarrow. One of the many inscriptions in the palace says "1879-1912: 10,000 days,93,000 hours, 33 years of toil" |
He died in 1924 and is buried in the nearby cemetery in a tomb he built himself in the years 1914-1922.

The palace was listed as a historic building in 1969.

Hauterives is 25kms. north of Roman-sur-Isere and the palace is open every day except Christmas day and New Years day.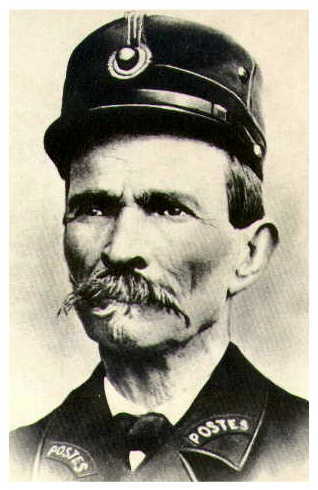 Ferdinand Cheval 1836-1924