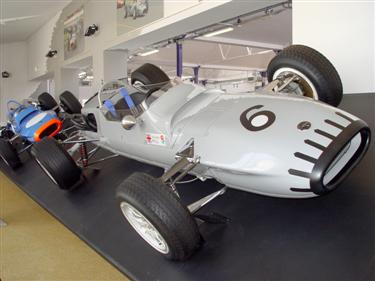 Graham Hill drove this Matra
The firm of Matra's core activity was as France's leading aerospace company. Their expertise in aerodynamics and monocoque assembly led to them supplying racing car bodies and in 1964 starting to build complete cars. Starting in Formula Three they soon achieved success and the move to Formula Two and then to Formula One was crowned in 1969 when Jackie Stewart won the World Championship in a Matra-Ford. The company then turned it's attention to the Le Mans 24 hour race which it won in 1972, 1973 and 1974. There was a return to Formula One in 1970 but over the next couple of seasons they produced no Grand Prix wins, the V12 engine however lived on and gave Jacques Laffite a few victories powering the Ligier team in the late 70's and early 80's. Since then the company has become a leading research and design centre working for many manufacturers, especially Renault, for who it designed and built the mould-breaking "Espace".
Espace Matra is the firms museum and contains many examples of it's racing and road cars.