The Steve G - Scrapheap
previous period April to December 2002
Chronological History of the Information Newsdesk Update
period January to December 2003
next period January 2004 to May 2005
return to The Steve G Scrapheap Homepage
21st December 2003 - Christmas Special 2003: The Cold War (text revised on 27th Dec 2003)
This years 2003 Christmas Special consists of the three teams as shown below. The filming of the build was carried out by RDF in Los Angeles but due to a distinct lack of snow on the mountains for the actual challenge everyone had to go 'on hold' until the snow covered the ground. This meant that a period of time elapsed between the build and the actual challenge and may explain why Mickey 'C' (see below) could not commit himself to the revised challenge day date.
The British Blizzards consist of Grayham 'Gray' Stratford, Mark Haile and 'Mickey C' Cullum for the build, led by (but not team Captain) Hadrian 'H' Spooner ( who you will see again very soon Scrappy Races ). Harry Rouse replaced Mickey 'C' Cullum for the actual challenge due to Mickey 'C' having work commitments.

The American Icebergs consist of Tom Edwards and Cyrille 'Catman' Catellier, led by team captain Chris Martz aided by Robert 'Otto' Bakemeier

The Siberian Snowstormers consist of captain Yuriy Kimayev, Siarhei 'Sergey' Vinogradov, Valery Matskevich and Arkadijs 'Ark' Lindems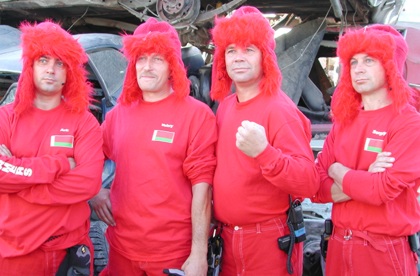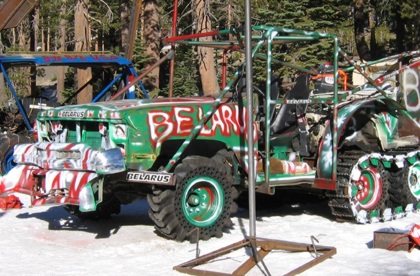 This 2003 Scrapheap Challenge Christmas Special, named The Cold War, is a three team battle and they have 20 hours to each build machines that can climb snow covered mountains, descend a tricky obstacle course, and then to smash through a wall of snow and ice. The three teams represent the UK, the USA and Belarus, which is basically Russia however Belarus declared independence on August 25th 1991. The final edit cuts for this special episode are still being made by RDF Media in the USA as we speak due to them having to wait for snow for the challenge to take place. The show is being aired on UK channel 4 television at 5.15pm on Sunday 21st December 2003 and is a 1hr 35min episode so sit back grab and secure the remote and enjoy. Having been privileged to represent the UK myself in the 2000 Christmas special I look forward to this episode with fond memories.
Do not forget that Scrapheap Challenge will be back in 2004 with another 13 episodes so keep an eye on this site for breaking news.
Merry Christmas and a Happy New Year to you all
Steve G
12th December 2003 - Scrapheap Challenge Christmas Special: The Cold War
.................... date of original posting, see above for details.
30th November 2003 - The reigning champions the Cat-alysts' returned in an all out Grand Final round against the Destroyers who are the 2003 Scrapheap Challenge series-6 winners and retained their title crown by winning the Grand Prix. It was one round each to both teams when in the final round two cars raced head-to-head but regrettably the Destroyers car began to misfire due to a poor battery connection leaving the Cat-alysts' to cross the line first and retain their title as Scrapheap Champions. I have also added a number of behind-the-scenes images from Grand Prix in Gallery 10 of the Photo Gallery below .......
but that is NOT the end for 2003, Next week, 7th December 2003 on Channel 4 at 5.35pm in the UK you have the 'Golden Sprocket Awards' where Lisa and Robert provide you with a sort of 'best of' program. This gives you the opportunity to see not only the best of the series but also a few of those out-takes that don't normally reach the screen.
The winner of the 2003 Guess the Challenge contest where during this year episodes people had the opportunity to guess what is to come using a hangman style competition, was won by Tom B from Ellesmere in Shropshire. Tom successfully guessed the title of episodes 8, 9, 10, 11 and 12 and for his perseverance a Framed and Signed print of the Megalomaniacs and myself during the Trans-Atlantic Special is winging it's way to you this week. Well done Tom.
For all you scrapheads out there don't forget that we still have a brand new program to come called Scrappy Races so keep you eye on my website that is dedicated to Scrappy Races to keep you informed when the transmission dates are released.
23rd November 2003 - So there we have it, the Destroyers are the 2003 Scrapheap Challenge series-6 winners after their triumphant win over Hot Property in the Tank challenge. The Destroyers may be the winners for 2003 but the big question is 'can they steal the crown from the reigning champions the Cat-alysts' in the all out Grand Final round next week on 30th November 2003 where they do battle at Rockingham Raceway in Northamptonshire for the big one ....... the scrapheap challenge Grand Prix. I was at the filming for the final round and will therefore be posting many behind the scenes images after the show on this webpage.
Next week I shall also be announcing the winner of the Guess the Challenge contest where during this year episodes people had the opportunity to guess what is to come using a hangman style competition.
During the early part of 2004 this website will be keeping all you scrapheap fans happy with a real 'behind the scene' look at how Scrapheap Challenge is made.
Don't forget that after Scrapheap Challenge you have the brand new show called Scrappy Races to look forward to. This is my own Steve G - Scrappy Races website ready for this new show, why not go and have a look at the 'teaser images' of the vehicles that will be in the races. If you want the low down straight from the makers RDF then have a look at what they have to say at RDF on the Scrappy Races
16th November 2003 - Well doesn't time fly when you are enjoying yourself. We have now already reached the 2003 series final where on Sunday 23rd November 2003 on UK television the Destroyers battle it out quite literally against Hot Property in a TANK challenge ...... with weapons. The winner of this years series final then goes on to compete against the reigning champions the Cat-alysts in an all out Grand Final round.
Next years Scrapheap Challenge 2004 has already been confirmed and you only have until December 1st 2003 to get those team entries in to the makers of the show RDF Media. If you want to apply then go and have a look at the application details .
12th November 2003 - The 1st semi-final round 'Fire Engines' between Hot Property and the Rockin' Rabble was won by Hot Property. This coming Sunday 16th November 2003 brings us episode 10 which is the 2nd semi-final 'Car Curling' between the Destroyers and the Cops and Bodgers. I have no idea what to expect with this one, but I do know that if you try to throw or push something heavy and you are on ice the most likely reaction is for you to go backwards instead unless you are well anchored down. This is a weird one to say the least ..... 'Car Curing'. When I first heard early this year that the makers RDF Media were planning this challenge I had no idea what it was about so I typed 'Car Curling' into the search engines but found nothing. I then contacted some Ice Curling groups in Canada and asked the question "What is the most unusual item that you have ever curled instead of a stone", and they all though I was mad. We shall have to wait and see what happens.
Also some new LINKS added. Bruce Simpson's Jet Engine Projects SHC expert in 2003, and Mark Nye Thermodynamics JYW expert.
2nd November 2003 - two images added to the Photo Gallery for the Speedboats back on the heap.
31st October 2003 - Blimey it's all happening. Having been away all week working in France and only returning today about three hours ago I have just caught up with last weeks excellent Jet Car challenge and the volume of forum activity. If you want to know more about what the team experts Bruce Simpson and Nick Haddock get up too don't forget visit Bruce's own website and also Nick's webpage .
On Sunday November 2nd 2003 we see the 'Cops and Bodgers' fresh from their Bomb Disposal win to come up against the 'Jousters' after their success in the Giant Darts challenge. This time in the last of the first round battles the teams have to make SPEEDBOATS. Let us hope that lessons have been learnt from the past about propeller rotation direction and a too high centre of gravity


So which team will be victorious and then progress onto the semi-final round to meet the Destroyers after their win in the Jet Car challenge last week ? The other semi-final round will be 'Hot Property' winners of the Ice Racer up against 'Rockin' Rabble' who won the Amphi Bike round.
Finally for the moment I can tell you that the winner so far in the Guess the Challenge contest is a 'Mr Tom B' who has successfully guessed the most challenges before they were announced.
19th October 2003 - Tonight's episode 'Giant Darts' included the first ALL female scrapheap team, the Iron Maidens, and they really didn't mess about in getting things done. At one point when Robert was doing an interview in the heap they decided that time was short so off they went in search of more goodies for the build leaving poor old Robert the Llew standing. This was in sharp contrast to the Jousters whose captain Tom just wanted to rest and drink. A good build by both teams. As a note for your calendar this is not the last you will see of an all female team as Angharad 'Harry' Thomas, scavenger for the Iron Maidens, goes on to captain a new team named the Green Goddesses with Nikki and Karen battling it out against many well know past scrapheap teams such as the Chaos Crew, Barley Pickers, Boat Buoys and Megalomaniacs in a brand new four part series called 'Scrappy Races' where they have to build a road going vehicle, careful choice of word there ;-), and race around the UK modifying their vehicle at regular stops for specific challenges. Watch this site for more information on transmission dates.
NEXT WEEK ....... on Sunday 26th October 2003 is an episode that you really WILL NOT want to miss, guaranteed to be an audible and visual feast for your senses. JET CARS ! what more can we say. The simplicity of it all yet the fantastic fun that you can get from it. For an insight into this challenge have a look at this webpage copyright to Bruce Simpson and also this webpage belonging to Nick Haddock.
15th October 2003 - A small addition to the Photo Gallery that includes some close up images of the Jet Pack machine in the Ice Racer challenge . Next week on the 19th October 2003 on UK television is a Giant Darts challenge between the all girl team called the Iron Maidens and the Jousters who are a team of medieval enthusiasts. Then the following week on 26th October 2003 is one episode that you WILL NOT want to miss, guaranteed to be an audible and visual feast for your senses.
29th September 2003 - A small addition to the Photo Gallery that includes images of the Backpack Cars. The screening dates have also been updated.
25th September 2003 - Scrapheap Challenge 2003 series-6 screening dates, UPDATED
I have updated the list of this years screening dates and they now included a 'hangman' style teaser for the forthcoming challenges. Click here to jump to the date listing below. If you think you can figure out the answers e-mail me at Guess the Challenge and I shall announce the winners who each get the first correct answers after the episode concerned.
23rd September 2003 - Bomb Disposal - Behind the Scenes Images
I was once again asked by the makers of Scrapheap Challenge RDF Media to act as the Behind the Scenes consultant. On this occasion it was for the Bomb Disposal episode and as such I was present throughout the build and the challenge to oversee the projects in hand being constructed by each team. This gave me the opportunity to take some behind the scenes photographs for your interest. You can find the images either in my Photo Gallery Links below or directly by clicking here.
If you have any question there are many things to be told. Contact me if you want the answers to those questions that beg to be asked. Click here to e-mail Steve G
Look out for more behind the Scenes image's later in the series-6 Scrapheap Challenge 2003.
13th September 2003 - Scrapheap Challenge returns tomorrow on 14th September 2003
Tomorrow on 14th September 2003 Scrapheap Challenge begins it series 6 episodes for 2003 on UK Channel 4 television. Getting excited ? you should be ! If you think you have seen it all already then think again and HAVE FUN. The new Channel 4 website for 2003 is now also up and running, along with the Scrapheap Challenge chat forum. There is now also a great new area called 'Club Scrapheap' where you can ask the engineering crew or the 'Scrapheap Cat' those special questions that you always wanted to know. Well worth a visit. You can find the website details in my links section below by clicking here. There is a full list of the transmission dates further down on this page and the actual challenges will be added each week as the show airs. The opening program for this week is ...... Wheelie Cars ..... great !
I have also today updated the links section to reflect the changes made to the various past Scrapheap websites which had had a few minor changes.
I personally shall be on vacation next week so there will be a delay in the update of this webpage however to not despair as all that you want to know about Scrapheap Challenge 2003 will be here on my return.
Have fun !
20th August 2003 -
BRAND NEW show called Scrappy Races with some of you old favourite teams back on screen
Well as I have been mentioning for some time now there is a BRAND NEW show due to hit your TV screens after the showing of this years UK series-6 Scrapheap Challenge 2003. This new show Scrappy Races takes the form of five of old and new favourite teams to battle it out in a race around the United kingdom in vehicles that they have built for the road ..... YES, ROAD GOING VEHICLES. Each team must race around the UK stopping at specific locations to modify their machines at a local scrapyard ready to take on the might of special challenging courses at each location. I was fortunate enough to see the filming in progress and witness first hand what will without doubt prove to be a winner series from RDF the makers of Scrapheap Challenge and Junkyard Wars amongst other well known programs. There must be a number of people who were travelling the UK roads during July 2003 that could not believe their eyes when they saw these Scrappy Racers on the UK highways.
Have a look at this official announcement by the makers RDF on the Scrappy Races series. The following text is an extract from that website
Scrapheap Challenge heads out of the scrapyard and onto the open road, as five of Britain's funniest bodging threesomes go head-to-head to build the Ultimate all-round Vehicle for a crazy 'race' around England, Wales and Scotland.

It's a thoroughly modern Wacky Races with a Scrapheap twist. Our teams' home-made scrap-built super-vehicles face not one but three rigorous challenges at some of Britain's most stunning and iconic locations from Welsh beaches to Scottish lochs. The ludicrous Scrappy Races motorcade of oversized, plug-ugly contraptions faces a round-Britain course through country lanes and along motorways - quite a sight for the unsuspecting public they meet en route!

The teams must bodge up and modify their vehicles at designated scrapyards along the way ready for some gruelling tests - tackling the UK's toughest 4x4 course in the Peak District, a dragster style speed event at Pendine Sands in Wales, and the grand finale - making their vehicles amphibious for a trip on Loch Lomond!

Scrappy Races is presented by Robert Llewellyn and Lisa Rogers and features five teams of Scrapheap Challenge favourites: Devon Farmers the Barley Pickers, the Boat Buoys (& Mr Bongo), biker Nosher and the Megalomaniacs, female scientists Green Goddesses and the Chaos Crew from Yorkshire.
Additionally the film crew and the teams were spotted at one of the challenge sites by the Western Telegraph local to the area concerned. The Western Telegraph wrote .......
Heaps of drama in the Scrappy Races
Jenny Hanson
31 July 2003
CONTESTANTS of a new TV programme called Scrappy Races - an offshoot of the popular series Scrapheap Challenge - paid a flying visit to Pembrokeshire last week.
And they used Halfway Motor Spares in Johnston as a base to prepare their weird and wonderful vehicles for a race on Pendine Sands.
Five teams - Chaos Crew, Barley Pickers, Green Goddesses, Boat Buoys and Megalomaniacs - are travelling the UK to compete on different types of terrain. Before each race the teams have to modify their vehicles, which range from a Volkswagen Beetle to a six-ton truck, to cope with the demands of different courses.
"It's a new series made by RDF Media Productions for Channel 4," said assistant producer Richard Higson. "The contestants had to create vehicles that reflected the spirit of their team and then complete a road test, an off-road test and an aquatic test. We came to the area to test the vehicles on sand."
The race at Pendine beach has been captured on film, but Richard would not reveal which team snatched victory.
"I can't tell you," he told the Western Telegraph. "You'll just have to watch the programme!"
Martin Lewis, of Halfway Motor Spares, said he enjoyed having the teams at the yard. "It was certainly an experience," he said. "I didn't realise how much went into things like this. There were 50 or 60 people here at one point!"
Scrappy Races is due to be screened this Christmas, so keep an eye out for footage of Johnston and Pendine.
The logistics to set up this incredible schedule of filming to transport crew and equipment all around the UK and to follow the teams in real time as they travel the UK soil was nothing short of a miracle. Having already known a number of those involved during my involvement with Scrapheap Challenge I have been allowed access to areas rarely seen and when the show airs on your screen you can be sure that I shall tell you all what happened. This will be supported by a number of images in the Photo Gallery after the show is aired. No special effects, no cheating tactics, just dam good old fashioned Scrapheap style teamwork in the brand new show called SCRAPPY RACES. For transmission dates watch Scrappy Races - The Steve G website which is a link to my own website on Scrappy Races.
Steve G
Scrapheap Challenge 2003 series-6 screening dates for UK Channel 4 television
Talking about transmission dates, I have for you all the dates for this years Scrapheap Challenge 2003 - UK series-6. I have listed below the actually preliminary dates but check Channel 4 near the time for confirmation and times.
I have updated the list of this years screening dates and they now included a 'hangman' style teaser for the forthcoming challenges. If you think you can figure out the answers e-mail me at Guess the Challenge and I shall announce the winners who each get the first correct answers after the episode concerned.
Episode 1 - 14th September 2003 - Wheelie Cars

Episode 2 - 21st September 2003 - Bomb Disposal

Episode 3 - 28th September 2003 - Backpack Cars

Episode 4 - 5th October 2003 - Amphi Bikes

Episode 5 - 12th October 2003 - Ice Racers

Episode 6 - 19th October 2003 - Giant Darts

Episode 7 - 26th October 2003 - Jet Cars

Episode 8 - 2nd November 2003 - Speedboats

Episode 9 - 9th November 2003 - Fire Engines, 1st semi final

Episode 10 - 16th November 2003 - Car Curling, 2nd semi final

Episode 11 - 23rd November 2003 - Tanks, 2003 series-6 FINAL

Episode 12 - 30th November 2003, - Grand Prix, GRAND FINAL, series-6 winners take on the present champions

Episode 13 - 7th December 2003, The Golden Sproket Awards aka 'Best Of ....'
The actual challenges have not been included within the above list but will be added as each show is aired. All I can say at this time is "if you think you have seen all that Scrapheap Challenge can offer, then keep watching my metal merchant girls and boys because your eyeballs are about to be treated to that 'special something' as experienced in the early series".
23rd July 2003 - A brand new show from RDF Media begins filming today. Watch this site for more information at the end of August 2003. On the 12th November 2003 the link was added above.
1st July 2003 - Scrapheap Challenge concludes series-6 filming during the next two weeks
Scrapheap Challenge concludes series-6 filming during the next two weeks to bring this years challenges to the editing room. This site has remained low key since March 2003 during the screening of the sister series Full Metal Challenge on UK Channel 4 television which has received mixed responses and feedback. This will not detract at all from the pure enjoyment you can look forward to when the latest Scrapheap Challenge 2003 series-6 is screened later this year. Over the past years you may have thought you have seen it all ................ HOW WRONG CAN YOU BE ! Loose sleep until the later part of the year wondering what NEW contraptions, sorry wonderful machines, the teams will be asked to build this time.
On top of all that YOU HAVE SOMETHING BRAND NEW to look forward to. As I announced on this very website on February 11th 2003 (see below) there is a brand new show from RDF Media the makers of Scrapheap Challenge. A brand new show it may be but some old faces will be seen, but lucky you it will NOT be my face. This new show is being filmed as we read this and the idea looks to be great. For obvious reasons of security to avoid other productions companies from stealing the idea I cannot say more at this time but be assured that when anything is cleared by the makers for announcement then you will be one of the first to know about it.
It is my intention to keep this site low key until September 2003 when the kettle begins to boil again with all the teasers for Scrapheap 2003.
31st March 2003 - FMC hits the UK screens and Robert the Llew appears in a new show
I am really updating this page on April 1st but for those suspicious persons among you I didn't want anyone to think I was playing an April Fool on you ............ so believe me one and all ............... everything that follows is true.
As already reported below I can confirm that this coming Sunday April 6th is the start of Full Metal Challenge on UK Channel 4 television at 5.30pm with the new look Cathy Rogers (Mmmmm !) and a new man to the UK television screen Henry Rollins. Well worth a look so set those alarm clocks and don't leave your seat. Although this new series has already been aired in the USA some time ago it was actually filmed at the back end of 2002 in a disused power station just outside Margate in Kent, South-East coast of the UK.
and also
I hear from my friend Mr team 'In-a-Spin' Robert , that the other Robert .......Robert the Llew is to appear in a program called Hollywood Science due to go out on UK television BBC2 at 7.30pm this Wednesday April 2nd 2003. I am not sure what the program is about but I have looked into it and think it has something to do with scientific experiments that test the apparently far fetched storylines found in films. I did also hear that Rob the Llew was on Des'n'Mel daytime television recently talking about this new program, so from the horses mouth as they say.
The new series-6 Scrapheap Challenge is also well under way and looks to once again please your eyes with wonders new .... yes guys there are still some things that have not yet been done. With luck the new SHC series-6 should be on your screen at the end of this year.
18th February 2003 - minor changes made to various information and links etc.
11th February 2003 - A new show from the makers of Scrapheap
Rumours are in the air that a BRAND NEW series is to be brought to our screens later this year and that you may well see some of our old faithful teams taking on new tasks and experiences to challenge their abilities. The show format is not yet fully decided but needless to say that it will contain machines, teamwork ......... and of course some scrap. Watch this space for the latest developments.
Don't forget the new look Junkyard Wars where the teams are to be decided on an individual basis. This was confirmed when the application website for JYW described that individual applications were required.
We are also soon to be blessed on the UK television screen with Full Metal Challenge where teams from around the world come together with their pre-built creations to fight head-to-head for the FMC title. Full Metal Challenge has already been aired in the Untied States and will far outweigh the likes of Combat Cars recently shown on channel 5 television. Presented by Cathy Rogers of Scrapheap and Junkyard fame and assisted by Henry Rollins ............ FMC is something to look forward to.
And finally .......
The ALTERNATIVE scrapheap forum Scrap Talk which is run by the fans has been operating now for less than four weeks and yesterday had their 1000th visitor. This new simple forum was set up initially as a simple test site but took of so quick that the test became reality. To date the alternative Scrap Talk forum has received a visit from Robert the Llew himself and they have a virtual pub that they have named the 'Proper Job Inn' that yesterday was officially opened by the Barley Pickers. You can view the Barley Pickers opening statement on the forum. There is also a Chat Room that operates at advertised times for real time chat.
16th January 2003- A new format for our sister show Junkyard Wars
Scrapheap Challenge's sister show Junkyard Wars is to have a new format for the 2003 filming. If you visit the Junkyard Wars application page you will find the following statement ......
Attention Junkyard Warriors! Finally, the moment you've all been waiting for...

Junkyard Wars is looking for a few good men and women to compete for the 2003 season. If you think you're rusty enough to make it on our junkyard, send in your application ASAP!

Please note: Unlike previous seasons, competitors will be chosen this year as individuals, not as complete teams. If you have the skills, the know-how, and the courage it takes to win on Junkyard Wars, send in your application right away.
This of course raises the question about the future also of Scrapheap Challenge, will Scrapheap follow the same format change the following year or is this deemed necessary for the American market only ? Watch this space for the answers.
However in the meantime I can inform you all that the applications have been arriving at the RDF offices for the UK series-6 of Scrapheap Challenge. It has also been said that some new challenges are in the planning so never say die to new ideas.
previous period April to December 2002
Chronological History of the Information Newsdesk Update
period January to December 2003
next period January 2004 to May 2005
return to The Steve G Scrapheap Homepage