Return to Steve G Web Page
This years 2003 Christmas Special consists of the three teams as shown below. The filming of the build was carried out by RDF in Los Angeles but due to a distinct lack of snow on the mountains for the actual challenge everyone had to go 'on hold' until the snow covered the ground. This meant that a period of time elapsed between the build and the actual challenge and may explain why Mickey 'C' (see below) could not commit himself to the revised challenge day date.
The British Blizzards consist of Grayham 'Gray' Stratford, Mark Haile and 'Mickey C' Cullum for the build, led by (but not team Captain) Hadrian 'H' Spooner ( who you will see again very soon
Scrappy Races
). Harry Rouse replaced Mickey 'C' Cullum for the actual challenge due to Mickey 'C' having work commitments.

The American Icebergs consist of Tom Edwards and Cyrille 'Catman' Catellier, led by team captain Chris Martz aided by Robert 'Otto' Bakemeier

The Siberian Snowstormers consisting of captain Yuriy Kimayev, Siarhei 'Sergey' Vinogradov, Valery Matskevich and Arkadijs 'Ark' Lindems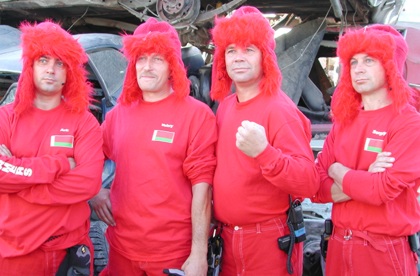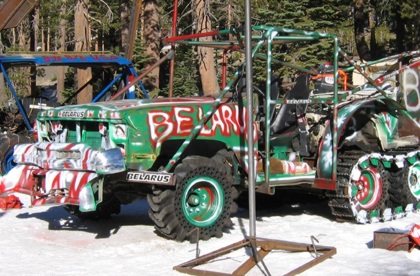 This 2003 Scrapheap Challenge Christmas Special, named The Cold War, is a three team battle and they have 20 hours to each build machines that can climb snow covered mountains, descend a tricky obstacle course, and then to smash through a wall of snow and ice. The three teams represent the UK, the USA and Belarus, which is basically Russia however Belarus declared independence on August 25th 1991. The final edit cuts for this special episode are still being made by
RDF Media
in the USA as we speak due to them having to wait for snow for the challenge to take place. The show is being aired on UK channel 4 television at 5.15pm on Sunday 21st December 2003 and is a 1hr 35min episode so sit back grab and secure the remote and enjoy. Having been privileged to represent the UK myself in the 2000 Christmas special I look forward to this episode with fond memories.
Do not forget that Scrapheap Challenge will be back in 2004 with another 13 episodes so keep an eye on this site for breaking news.
Merry Christmas and a Happy New Year to you all
Steve G