BOB DANCE INTERVIEW CD
In conjunction with Bob himself I am releasing on compact disc just under forty five minutes of an interview I did with him recently.
We discuss his origins at Team Lotus back in 1960, his move to Lotus Components and work on the Colotti gearboxes, his move to working on the Lotus Cortinas in the fledgling Touring Car Championship in 1963 and then onto the Team Lotus Formula 2 team, working with Jim Clark and Graham Hill. Finally being made Chief Mechanic for the turbulent year of 1968, which saw him loose one of his best friends, Jim Clark, but also to win the Formula 1 World Championship with Graham Hill.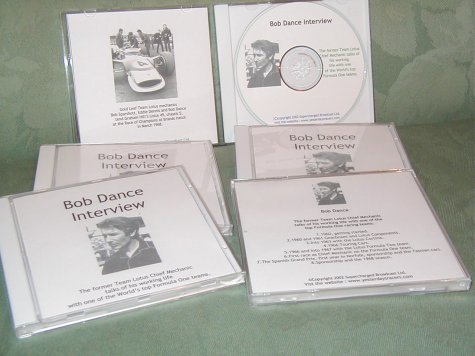 For UK purchasers, the price is £8.50 per disc including postage and packing.
Please send a cheque or postal order to me, Gary Critcher, at the following address :
199 Green Lane, Shepperton, Middlesex, TW17 8DY.
For overseas purchasers, the price in US dollars will be $15, but please e-mail me for details first.
Feel free to e-mail me with any other enquiries.
I will be releasing a further CD of my chat with Bob later in the year, where we will discuss his work with Mario Andretti on the STP March 701, his work with Brabham from 1971 to 1976 and finally back at Team Lotus from 1977 to 1994, so please check back for details.
Over the past few weeks I have been getting some favourable publicity for the CD, here's some of it :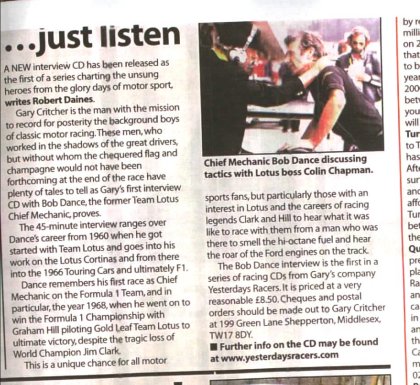 from 'Classic Car Weekly'.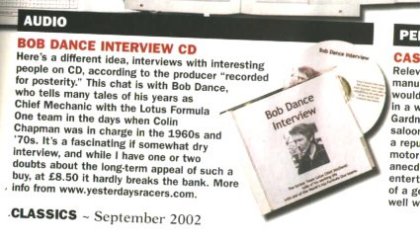 from 'Classics' magazine, Aug. 13th.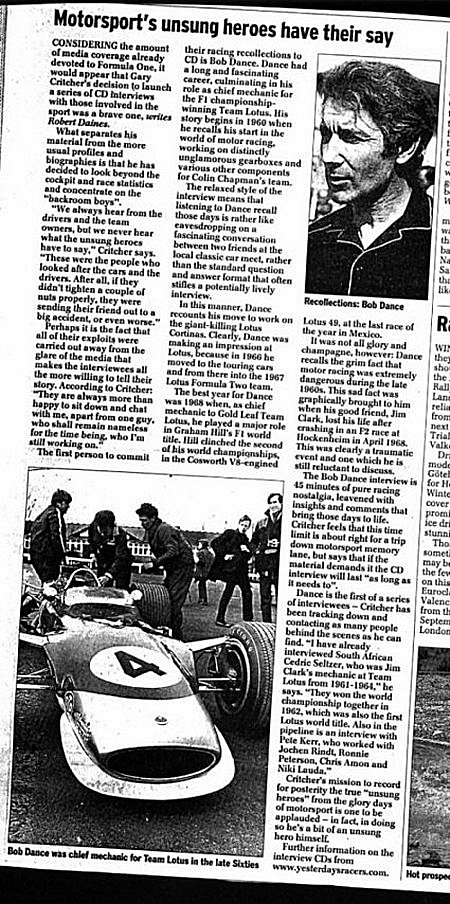 from the 'Daily Telegraph' Aug. 10th.
Back to Yesterday's Racers - Index Page.