BONHAMS & BROOKS HISTORIC FESTIVAL at SILVERSTONE,
27th AUGUST 2001
(Day Three).
Day Three at the Festival dawned blisteringly hot. A complete contrast to the day before.
Still, when have you known Silverstone to have two consecutive days the same??
On the left, the Lola T300/330 of Mike Wrigley. On the right, the McLaren M14A to be driven by Graham Wilcox.
On the left the Brabham BT33 (chassis number 1) of Duncan Dayton, on the right, a racing shot of the Lister Chevrolet of Julian Bronson as he negotiates the Brooklands complex during the Innes Ireland Trophy Race.
On the left the Lola Mk1 (no.50) of Tony Moy battles with the Lotus 10 of Adrian Hall.
On the right, taken during the 'International Trophy Race' is the ex-Ronnie Peterson March 711 as driven by Malcolm Carter.
On the left is Simon Bull's Tyrrell P34 as driven by Martin Stretton. This picture was taken on the warm-up lap, after which there was a huge accident at the start which left something like five cars damaged. The worst of which was the P34.
On the right is the Gurney Eagle of Ben Liebert. The car didn't fare much better, as Ben retired it at the end of the first racing lap.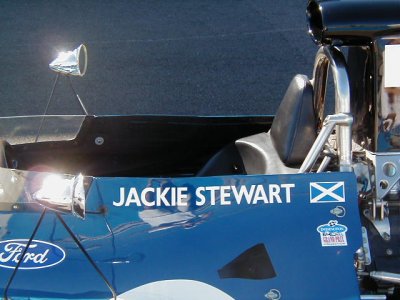 This car was making an un-scheduled appearance at the Festival.
We heard on Saturday that Ken Tyrrell had finally succumbed to his cancer earlier that morning.
Jackie Stewart was due to appear at the Festival on Monday anyway, so the 003 was hastily collected from the Donington Collection and prepped overnight for him to take it out one last time in tribute to his former team owner.
===========================================
Thank you Ken, for all the memories.
===========================================