The FORMULA FORD FESTIVAL
at BRANDS HATCH, 21st OCTOBER 2001.
This years' Formula Ford Festival once again featured the Historic Formula Fords, who always give value for money. It's the same for the whole Festival in fact, I think it provides the best racing of the year, anywhere!
The trouble was, this year the weather was absolutely awful! It was torrential rain all, with out let up.
Consequently, by only 10.30 it looked to me as if everyone was soaked to the skin. It has to be the wettest race meeting I have been to, it certainly ranks alongside the 1997 Goodwood Festival of Speed and that years' Austrian Grand Prix! There was water in rivers at those events, and unfortunately, Brands this weekend was no different!
I'm afraid I only got the camera out to take just two photographs, and here they are.
This is one of the historic competitors getting ready to go out.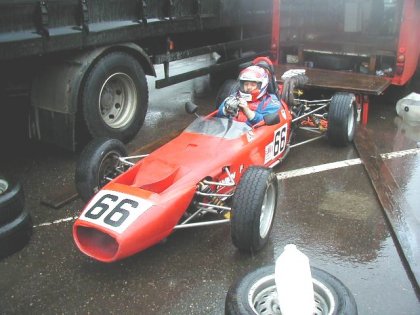 And secondly, me with another of the cars, this is a Royale RP2, the only one still racing!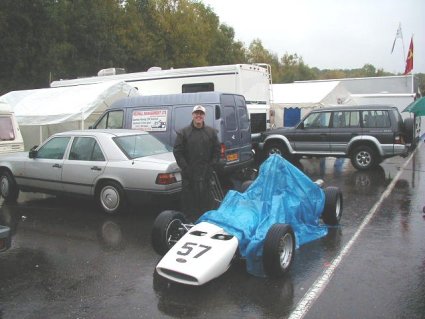 Apologies for this being a short report, but I'm still drying myself out as I type this!
Yesterday's Racers - Index Page 2001.