The WATKINS GLEN CAR PARK
On my recent visit to Watkins Glen, as per usual with these events, there were some fine motor cars in the car parks. Not neccessarily race cars, but interesting stuff all the same. Just for once, I thought I'd include some here on the website.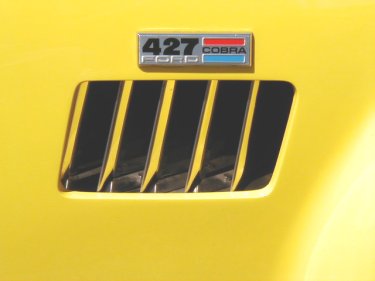 I thought I'd start off with something that is truly American, well, up to a point......

The AC Cobra (even though it was originally designed and built in Britain).

This is a particularly good example, looking really nice in yellow.
| | |
| --- | --- |
| | |
| Nestling under the trees in the shade are a fine E-type Jaguar and a Lotus Elite. | Right next to them were these, a Corvette and a 1969 Chevy Camaro. |
| | |
| --- | --- |
| | |
| I thought this Porsche 356 looked really nice in black. | |
| | |
| --- | --- |
| | |
| Anyone remember the Mini Moke from the 60's? (still wearing it's British number plates I notice, too). | This is a nice shot, an MG TD in front of a couple of Big Healeys. |
| | |
| --- | --- |
| | |
| A couple of oddities now. A S-T-R-E-T-C-H Cobra!!! (words fail me!) | And a 1932 Ford delivery truck (sort of!). |
| | |
| --- | --- |
| | |
| Perhaps more run of the mill stuff to finish off with, but both of these cars caught my eye. This is a 1965 Corvair convertible. Very nice. | And this is a 1963 Plymouth Belvedere. |
As always, please feel free to e-mail me at