THE GOODWOOD FESTIVAL OF SPEED,
Saturday 13th July 2002.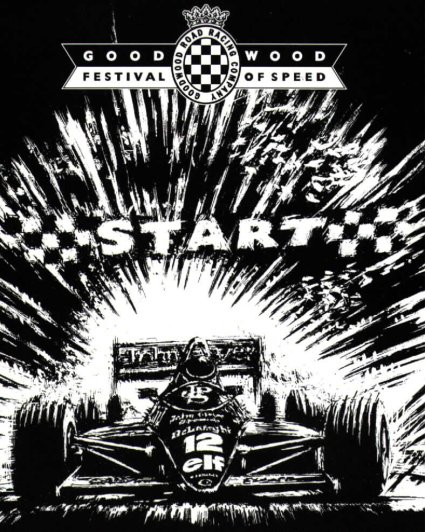 Well, this year I made it back to the Festival of Speed after an absence of three years. Unfortunately, I could only make it on the Saturday, but I was still impressed with the line-up provided by Lord March's team.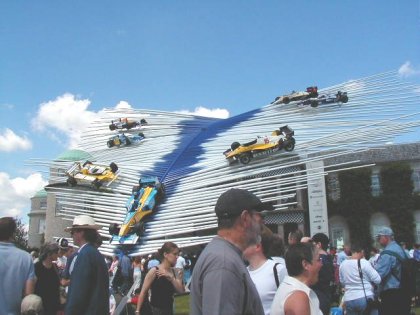 One of this years' themes was the achievements of Renault, this being the display in front of Goodwood House. Even though they might not look it, these are REAL F1 cars on this display, finishing with this years' Renault at the bottom.
The weather today was brilliant also (at last!), Friday being overcast and very wet late on.
Another theme this year was Fifty Years of Lotus, as you'll probably realise, I couldn't resist taking a few pictures of their cars! It was good to see people like Hazel and Clive Chapman present, along with Lotus stalwarts Eddie Dennis and Bob Dance still looking after some of the cars.
| | |
| --- | --- |
| | |
| I found this in the Cosworth tent. | It's the Lotus 49 show car on loan from the Donington Museum. It's displayed in the high wing form as run in 1968. |
| | |
| --- | --- |
| | |
| This is former Lotus driver Satoru Nakajima preparing for a run in the Lotus 88 brought over from Japan by Honda. | An ex-Nigel Mansell Lotus 95T. |
| | |
| --- | --- |
| | |
| Frank Biela takes the Auto Union down to the start. | Here's an interesting car. I don't think it was ever raced, it's the Renault A500 prototype, this is the car that did all the testing for the Renault Turbo F1 engine. |
| | |
| --- | --- |
| | |
| In the Renault display, this is an ex-Nigel Mansell Williams Fw15C. | An ex-Jacques Villeneuve FW18. |
| | |
| --- | --- |
| | |
| This was voted the 'Greatest Racing Car of All Time' somewhere, and I'll go along with that........ | ............the Porsche 917. |
And I'm afraid that's it for this report. I wish I had been able to get there for the Sunday too, but unfortunately, I'm working!!
Please mail me at
Back to