Graham's Greatest Moment
I asked my friend, Barry Boor, to put pen to paper and write down his memories of the 1965 Monaco Grand Prix ; he was lucky enough to be there in person as a seventeen year old! Here is his story as he takes us back to the weekend of the 28th - 30th May 1965.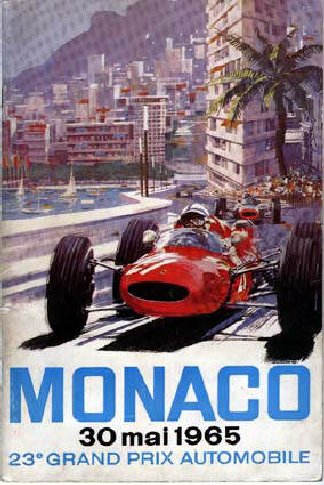 Can you imagine sitting in an empty grandstand, watching a Formula One qualifying session? Impossible? Maybe nowadays, yes, but I can assure you that years ago it really could be done. I know, I did it! Two days later I sat in the same grandstand and witnessed one of the finest drives in the history of Grand Prix racing. It happened like this. You see, it was all my Dad's fault. When I was a young boy, around 8-9 years old, Dad decided to give me the opportunity to observe many sporting activities to see which, if any, I liked best. We had been going to see Chelsea play soccer since I was about 2, but there were other sports to see as well. He took me to see athletics, horse racing and then on Easter Monday 1957 to Goodwood to watch racing cars. That did it. It has been motor racing ever since; (by the way, I still support Chelsea). We were not rich; far from it, but Mum and Dad could always save for a summer holiday. In 1962 we went abroad for the first time. You could stay in a very good quality hotel in the south of France at a reasonable price in those days and we had a week in the lovely little town of Menton (pronounced Mon-ton). This was in July so our trip along the coast on the train to Monaco was just a tourist visit; unfortunately the Grand Prix had been held four or five weeks earlier. Nevertheless, just imagine my excitement as we walked out of the station, straight on to the grand prix circuit. For those who do not realise (surely everybody does?) the hairpin that is now called the Monaco Grand Hotel corner and was formally Loewes, was originally the Station Hairpin. The old route of the railway line ran through a tunnel from the west side of the Principality and emerged into the station which was situated right on the corner. The line then carried on across the bridge that still straddles the circuit just before the Portiere turn onto the sea front, and on towards Menton and the Italian border. Naturally we walked the circuit; I got the most pleasure from standing on the number 4, still just visible, painted on the starting grid from where a few weeks before, my favourite driver Dan Gurney had set off in his Porsche. Sadly as old anoraks will know, Dan only got as far as the first corner before a multiple crash knocked him out of the race; typical! Fast-forward three years; I was now seventeen and the Boor family summer holiday was planned again. Back in Menton, but this time for two weeks, with the Monaco Grand Prix as the middle weekend. Dad bought tickets for the whole weekend so we would not miss anything. It would be very interesting to know what the exchange rate was in those days because I have the race programme beside me as I write this piece; I see that they were charging the princely sum of 10 francs for the Saturday and 35 francs for the race on Sunday. Although I cannot be sure, I presume that if you had a ticket for both days, you got in free on Thursday and Friday. In those far off days, the cars practised on Thursday, Friday and Saturday, with all sessions counting towards grid positions. My memory of Thursday is very vague, so I think that maybe we gave it a miss, but I was determined to go on Friday. The Friday session was organized to cause the minimum disruption to the Monagasque citizens on a working day so it began for the Formula 3 boys at 5.40 a.m; yes, twenty minutes to six in the morning, and was all over by 8.50. Our hotel in Menton was a short walk from the station and I still remember the strange looks I had from street cleaners and market stall-holders as I marched purposefully towards the early train. I can just imagine their thoughts 'Must be another mad Englishman!'. I got off the train at the first of the Monaco stations that, I think, is where the present station is, and walked (ran?) down the Rue Caroline to 'my' grandstand. Remember, this was long before the days of the Swimming Pool complex or the Rascasse, and our seats were in the first grandstand up the start/finish straight, just about level with the back of the starting grid and the first pit boxes after the Gasworks Hairpin. I hurried, of course, because I hoped that I might be able to get near the front if not too many people had got up as early as I. I need not have worried. When I climbed the wooden stairs up to the back of the grandstand where you went in, there in front of me were row upon row of TOTALLY empty seats. I couldn't believe it! Naturally, despite my ticket number, I made my way right down to the front row and as far up the straight as possible so as to be opposite the pits of some of the 'better' cars in the entry. The F3 boys were already going around, and looking at my programme I see several names on the entry who would one day return to those twisting streets in the Main Event; Jean-Pierre Beltoise, Peter Revson (who won the race on Saturday afternoon,) Chris Irwin, Clay Regazzoni and Bob Bondurant who, incidentally, drove a Ken Tyrrell Cooper Austin in place of Warwick Banks.
At 7.50 the F.1 cars were driven along to their pits. Usually by their drivers and not wearing helmets. What a wonderful opportunity to see all my heroes in the flesh. I swear Graham Hill looked at me 'What's that daft sod doing there at this time of the morning?' The one downside of the 1965 Monaco Grand Prix was that it took place on May 30. That dear friends, is Memorial Day in the U.S.A. Nowadays the Indianapolis 500 takes place on the nearest Sunday to that date, but back then it was always on May 30, no matter what day of the week that was. Anyway, the two coincided, which meant that My Man Gurney as well as the Greatest Driver of them all, Jim Clark were otherwise occupied. Jim, of course, won that Indy 500 while Dan, of course, retired. In fact, Team Lotus did not come at all, but at least Jack brought two Brabhams, for himself and rising star Denny Hulme. The odd thing was that by 5 o'clock on Sunday evening hardly anyone noticed their absence! So there I sat, on the most beautiful sunny morning that I had ever experienced, (well, that's what it felt like) with the sun glinting off the water in the harbour, as I watched, listen and absorbed sights and sounds that live with me as clearly now as they did 35 years ago. What a wonderful thing the memory is.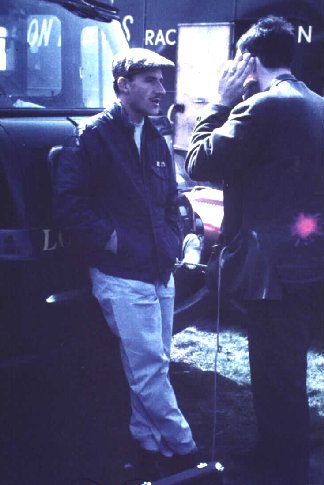 (yes, it really WAS like this in the sixties! The 1962 World Champ chats while leaning on the transporter)
Copyright for this image 2000, The Supercharged Collection (www.superchargedcollection.com)
On Saturday, all three of us went. Our seats were right in the front row and we had a full afternoon's entertainment. The first F.3 heat was at 2 p.m, while the second began at 3. The final F.1 practice was at 4.15 and the final of the F.3 race began at 5.50. Maybe the memory does not always work so well because I recall little of the F.3 race, save to say that Revvie won it in a works Lotus. Also, one of the stars of British F.3 at that time, Roy Pike, crashed, either in his heat or the final and came along to explain what had happened to some friends who happened to be sitting a few seats to our left. I rushed to get a photo of him and moved so much in my excitement that his face is merely a pink blur. The results of three and a half hours of practising saw Graham Hill on pole with the B.R.M with Jack Brabham alongside; row 2 had Lorenzo Bandini's Ferrari and Jackie Stewart in the second B.R.M; with current World Champion John Surtees surprisingly far down in 5th with his Ferrari sharing the third row with one of Monaco's less likely stars, Richard Attwood in Reg Parnell's Lotus B.R.M. To me, the most interesting cars in the race shared the 8th and last row of the grid; the two Hondas driven by Ronnie Bucknum and Richie Ginther had still not really come to terms with Grand Prix racing and were struggling. Remarkably, of course, within a couple of months Richie was qualifying on the front row of the grid and by the end of that same season had actually won a race. Now is that a remarkable achievement or isn't it?
Initially we were a little disappointed on Sunday, for two reasons. Firstly, the day dawned very grey and overcast and then, when we got our race day tickets out we were way back towards the top of the grandstand. Still, we had a good view anyway and in the end it didn\rquote t rain. I see from the programme that on Sunday there was the Grand Prix; nothing else, just the Grand Prix. But then it was 100 laps and occupied nearly two and three-quarter hours. I am sure nobody felt short-changed. Recently, I had my Dad's old cine film transferred to video and although it is very dark I was surprised to see that, in fact, we had one other thing to watch that I had totally forgotten. There was a parade of old cars; Fangio drove a 250F; there was a Bugatti, (I suspect driven by Louis Chiron) and Stirling toured around in one of Rob Walker's Lotuses; either the 1960 winner or the '61 car; there were others, too.
From the start, Graham left them standing. This was going to be his day, and having almost won there in 1962 and then having really won in 1963 and 1964 there was inevitability about the proceedings; or so we thought. By lap 20 we had lost Ginther and Hailwood and Graham was already getting in amongst the tail-enders. On lap 24 as he came out of that short but very dark old tunnel, Bob Andersson was having a problem approaching the chicane and had slowed right down. The chicane in those days was a very quick left-right flick, taken, according to my programme, at 120 kph. The trouble was, it was blocked by a bright green Brabham. Fortunately for Graham there was an escape road; and up it he went at some speed. After braking to a halt, he found that the only way to get back on the racetrack was to get out and push the thing backwards. (no seat belts in those days). By the time he got back in and started off again, four cars had gone by. Stewart was now in the lead, closely followed by Bandini, Brabham and at a distance Surtees. The first three swapped the lead around between them until Jack\rquote s engine failed on lap 43 and Stewart had a spin at, I think, St. Devote. As Brabham retired Bandini retook the lead. I find it so desperately sad and ironic when I think about that lovely Italian driver going so well only to perish so tragically on the very same circuit two years later. While all this was going on Graham was positively flying around. New lap records were set over and over again. In 1964 He had set fastest lap in 1 minute 33.9 seconds; pole in 1965 was 1. 32.5 but by the time he finished on that grey Sunday he left the record at 1. 31.7. His deficit at the end of the lap he did his pushing act was around 40 seconds, I think, but by lap 65 he had passed them all. There was no stopping him that day. His fastest lap was completed on lap 82 and at the finish he was more than ONE MINUTE ahead of Bandini. Poor John Surtees had hauled himself up to be close to his team-mate, but he ran out of fuel on the final lap, to be classified 4th behind Stewart, but ahead of Bruce McLaren and Jo Siffert who took the final points.
Sitting where we were, we missed the other major happening of the day. On lap 79, Paul Hawkins made an error at the chicane and rather than clunking into the armco as he would today, his bright green Lotus 33 plunged into the waters of Monaco Harbour. Happily, just like Alberto Ascari ten years earlier, Paul was hauled safely into a rescue boat with nary a scratch. I don't know if it is the fact that I was still fairly young, but it was many years later before I really appreciated the stunning drive I saw that day. Certainly, I had never and have never thought of Graham Hill as a particularly great or gifted driver, but there is no doubt whatsoever in my mind that something special happened to him at that circuit on that day. Something that lifted him to a higher level of skill that he had never approached before and never achieved again.
NOBODY would have beaten him at Monaco in 1965. Of that, I am absolutely convinced.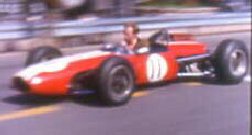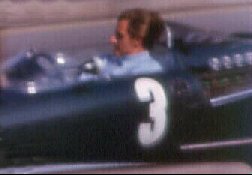 Here are two stills from Barry's father's home movie of the day. On the left, Frank Gardner's Brabham BT11 is taken to the pits by a mechanic, and on the right, 'Mr.Monaco' himself, Graham Hill.