Hardy Hall Restorations
Hardy Hall Restorations is the company that are re-building my Nike Formula Ford. Run by Jonathan Hall on the borders of England and Wales, Jonathan has a long history of working on race cars, starting with Chamberlain Engineering as far back as 1983. 1985 saw him working for West Surrey Racing where he was mechanic for Mauricio Gugelmin in Formula 3. At Macau that year he had the dubious pleasure of being doused with a fire extinguisher by one Ayrton Senna, just for fun! Senna was sharing a house with Gugelmin at the time.
Jonathan works on the installation of the engine in my Formula Ford.
By 1989 he was working for P.C. Automotive looking after an Argo JM19-C, a March 871 Can-Am car and also a Theodore F1 car. From 1990 to 1999 he worked for historic racer Martin Stretton and while there looked after a myriad of cars; from a BRM P48 to a Lagonda LG45 and an Alvis 16/20. Ferraris were there too; 250GTs, 275 GTCs and a 312 PB. Carrying on the Italian theme, Maseratis were worked on;a 300S, a couple of 250Fs and a 4CLT. Also during this time he worked closely with Tyrrell designer Derek Gardner on the restoration of Simon Bull's ex-Jackie Stewart Tyrrell 005 and also the ex-Ronnie Peterson P34 six wheeler. Both of these cars won the FIA Cup for Thoroughbred Grand Prix Cars with Stretton at the wheel.

You couldn't get much more diverse than this!

From a 1923 Humber on the right being made ready for trial competitions, to the MG Special in the foreground and the FFord in the background.
| | |
| --- | --- |
| In June of 1999 he set up Hardy Hall Restorations primarily to restore and prepare historic racing cars. Over the years he has gained considerable fabrication and welding skills, and can do all but lengthy machining work in-house. With all this experience, he is adept at designing parts (witness a couple of things on my FFord!) and can supply full drawings for parts if he has to farm them out. He also does most of his own gearbox work and can also facilitate the re-build of race engines. | Offering up part of the front suspension on the Nike. |
| Since going 'solo', he has worked on a pre-war MG Special, which consisted of an MG PB Midget chassis and running gear with a Riley 12/4 motor. The car was just amazing to look at when finished, especially when you realise that Jonathan was given the car in boxes to start with! | Jonathan (right) works on the P34 Tyrrell prior to its' first run in twenty one years, at Donington Park in March 1999. |
| | |
| --- | --- |
| Another car has been a Frazer Nash TT Replica, along with a Humber 8/18. He has worked on four Lotus Elans, three of which race with the Historic Sports Car Club. He currently has another that is under going restoration to road spec. Obviously he has done all the re-assembly work on my Formula Ford too. | Sorting out the steering position in the Nike. |
| If you think that this is a thinly-veiled advert, then you'd be right! Jonathan can be contacted at the address and numbers below. If you have any race car needs, please feel free to give him a call, you'll be sure of a warm welcome, and be sure to mention Yesterday's Racers! | Jaguar E-types too! |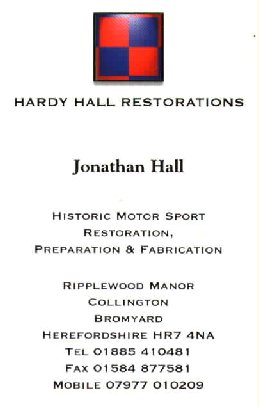 Go back to the index page : Yesterday's Racers Index Page.
As always, you can e-mail me at gary@yesterdaysracers.com