The Historic Sports Car Club Meeting at Brands Hatch,
30th June 2001.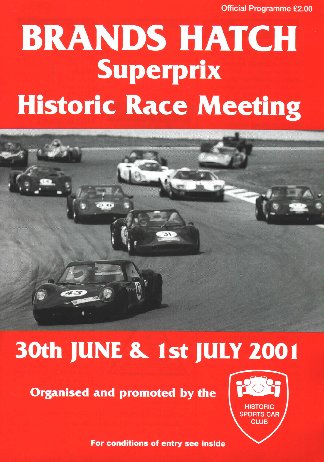 For me, the HSCC's meeting on the Brands Hatch Grand Prix circiut is the highlight of the year. It's always fun to go the back onto the Grand Prix loop and catch the cars at Dingle Dell or Stirling's. This meeting always attracts a bumper entry and 2001 was no exception. As it's such a big event, I've decided to split the days up into two pages on the website, one for each day (you get more pictures that way!).
The weather for today started off as brilliant sunshine and clear blue skies. Just what the doctor ordered. However, after lunch it clouded over with some very dark clouds, but never actually started to rain, which was handy. This is summer after all, isn't it??
This must be the HSCC's biggest meeting of the year, the amount of cars here today was just staggering. From the Formula Juniors (where do they all come from??) to the Jaguar Enthusiasts Club race for XK120s to the Formula Fords. You'd think that we had exhausted the supply of these things!
I thought we might start off with some paddock shots and then get into the racing pictures.
Here's the Fairthorpe Formula Junior of Ronald Welsh.

The Tojeiro Jaguar to be raced by Barrie 'Whizzo' Williams. Is there no stopping this man??

It's all go at Scrutineering (the Tech Shed for you Americans!) for the European F2 boys.

The March 712 to be driven by Walter Nef.

The Elva 100 of Martin Carter.

The newly re-profiled Graham Hill bend (formerly Bottom Bend).

The Mallock (no.11) of David Stevenson and Lotus 22 of Mark Stevenson.

Rodger Newman brings the Brabham BT14 back from Scrutineering.

The Lotus 22 of Mark Stevenson at speed.

(apologies for the fence!)

The Jaguar XK120 of Geoff Ottley goes out onto the Grand Prix loop.

Lotus 61s do battle in the Formula Ford race. John Hutchinson (no.18) and Dick Dixon (no.37). Fantastic stuff!

Where it all happens.........
Alan Baillie in the Cooper T71/73 spins first time round at Druids.

Rodger Newman (Brabham BT14) fends off Mark Gillies in his Brabham BT6.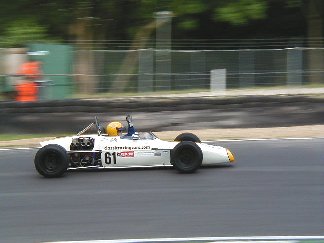 Steve Worrad in the beautiful Brabham BT28 wins the Classic Racing Cars race.
So, all in all, a great days' racing, some good dices, some unusual cars, and........there's even more of it tomorrow, with the European F2s, a two-hour enduro for Sports and GT Cars and also Historic Sportscars! Can't be bad!