The Historic Sports Car Club Meeting at Brands Hatch,
1st July 2001.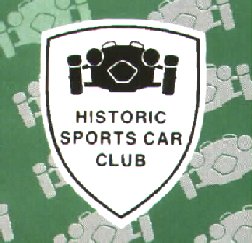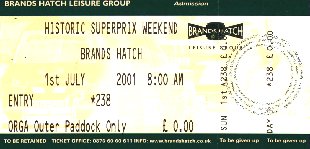 Well, weather-wise Sunday was very much the same as Saturday; blisteringly hot and then black clouds, but still no rain.
| | |
| --- | --- |
| Early morning scrutineering. | Mike Wrigleys Chevron B29. |
| Lotus 11 and Aston Martin DB3S. | The Lister Bristol of Tony Wood. |
| Mark 2 Jaguar cooling off after practice. | Lotus 10 of Adrian Hall. |
| This couple of XK's were in the car park. | Photographed at Dingle Dell, this is the Chevron B19 of Bruce & Alan van Der Mewe. |
The first race today was the two hour enduro for the Richard Budge Trophy. This race was for Sports and GT cars, which meant a plethora of Chevrons plus some Tigas and even a couple of E-type Jaguars. This race was fantastic fun. As it was an enduro, it gave you time to walk out onto the Grand Prix circuit and view the cars from a variety of vantage points.
No.65 is the Chevron B8 of Jerry Hooper and Simon Hadfield, no.28 is the B8 of Joe Ward and Chris Conoley.

The Chevron B8 of Stephen Minoprio.

The Chevron B16 of Sheldon/Cope passes the parked B6 of Aylett/Jones at Druids.

Alfas anyone??

Peter Hardmans' beautiful Ferrari 246S.

Hardmans' office!
The BRDC Sportscar race was good fun too. The field was stuffed with Cooper Monacos, Lister Jaguars, Lotus 11, Lotus 17s, Lolas and even a couple of HWMs.
The highlight for me though, was the European Formula Two race. These little screamers put on a fantastic show. It was a pity that one of the series co-ordinators, Peter Stobinski didn't finish. Swiss Fredy Kumschick ran out the eventual winner with Bob Juggins second.
| | |
| --- | --- |
| Stobinski in his March 712. | Sid Hoole in the Brabham BT36. Unfortunately, Sid didn't survive Dingle Dell first time round. The car coming back on the transporter with a crushed nose. |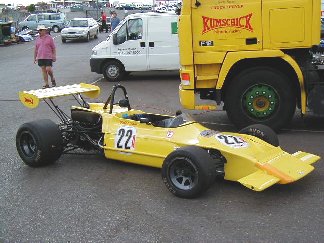 And finally, the March 712M of Robert Simac, a great looking car.
So, a fine weekend was had by one and all. Only a few damaged cars as well. If you have never managed to get to the HSCC meeting on the Brands GP circuit yet, I strongly urge you to get there next year. After all, how much longer will the GP track last??? Lastly, a vote of thanks for the HSCC for putting on the meeting and to all the marshalls and other staff at Brands for making the meeting run so smoothly.
Return to the Yesterday's Racers Index Page.
As usual, you can always e-mail me at gary@yesterdaysracers.com