The HISTORIC SPORTS CAR CLUB MEETING
at Donington Park, April 2001.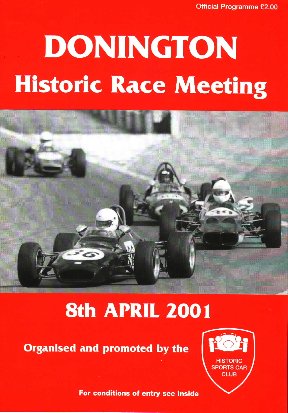 The first HSCC meeting of the year brought absolutely atrocious weather with it. Before lunch for practice and qualifying it was OK, after lunch the order of the day was torrential rain that didn't let up all afternoon. Great.
| | |
| --- | --- |
| Still, this didn't deter anyone, if anything the racing was even closer. As per usual, an HSCC meeting brought out a brilliant mixture of cars, from the humble Riley 1.5 to things like Lotus Elites and this ex-Andrea de Adamich F2 Brabham BT40. | |
The Formula Fords did us proud, as there was enough entries for two races on the day, they even had to have two qualifying sessions. The first race finished up with a win for Chris Lillingston-Price in his Merlyn after starting with a 10 second penalty because the car couldn't be readied in time for qualifying. This didn't stop him slicing through the field with gusto in this ten-lapper! Fantastic stuff! The second FFord race ended up with James Murray winning in another Merlyn (obviously the thing to have!) in front of Paul Smith and Kevin Stanzl.
| | |
| --- | --- |
| The Historic Racing Saloons provided good value for money before the rain really set in. Simon Garrad winning out over Richard Evans in his Alfa GTA and Graeme Dodd in his Mk1 Jaguar. | Peter Hallford in the Mustang chased by Les Goble in the Lotus Cortina. |
| Mustang anyone ? | |
| The Classic Formula 3 race was won by last years' champion Peter Williams in his Argo JM6 in front of Neil Dunkel in another Argo, this time a JM3. | Unfortunately I didn't see this Surtees on the track at all. |
Best race of the day must go to the Classic Racing Cars crowd though. Geoff Farmer ran out the winner after a frantic dice with Steve Worrad. Both driving Brabhams, Worrad in the newer BT28, Farmer in a BT18B. Across the finish line, Worrad finished up in the wall and Farmer got through right at the very end.

Farmer wins!

Great entertainment and a decent crowd too!