The HISTORIC SPORTS CAR CLUB MEETING
at SILVERSTONE, 13th OCTOBER 2001.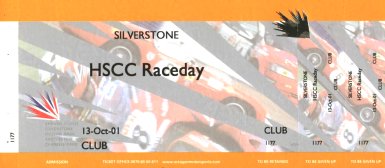 The final, one day meeting of the year took on a sort of 'end of term' feel last Saturday. The weather certainly helped us; it was shirtsleeves weather all day, amazing for both Silverstone AND the time of year! The HSCC is a really 'down to earth' club, in that everyone welcomes you if you want to have a chat about a certain car, or if you want to get that vital, close-up photo.
As per normal with the HSCC, variety was the order of the day, it was eight races squeezed in after lunch, ranging from E-type Jaguars and TVR Vixens in the Historic Road Sports race to Brabham BT18s and March 703s in the Classic Racing Cars race.
The car that took my eye in the first race (Historic Road Sports) was the Milano GT of Mike Eagles. I had never seen one of these cars before, it sure it is a nice looking coupe! Second race of the day was the Historic Formula Fords. Now maybe I'm biased here (OK, I am!), but I thought the FFords produced the race of the day! Neil Fowler in his Lola running out a close winner. I enjoyed too, the Derek Bell Trophy Race, which has classes for F2, F3, F5000s, alongside a few 'invitation' cars. Gary Pearson won this race in his F2 Tecno, which really looked and sounded the businesss. Sometimes the club has to 'mix & match' their cars, and that's the case in the Classic Racing Car Championship. You'll be able to see cars like an F2 Brabham BT18 (ex-Jochen Rindt) compete against things like a Kieft Formula Junior car. This race alone boasted over forty entries. The most powerful cars on offer at this meeting were the RJB Mining Championship cars; these are the old Thundersports cars. Jon Shipman's all-black GRD S74 catching the eye.
Right, it's time for the pictures now.
| | |
| --- | --- |
| | |
| These two shots show the informality of an HSCC meeting. | In the foreground is David Crowther's ex-Jochen Rindt Brabham BT18 with Rodger Newman's BT14 in the background. |
| | |
| --- | --- |
| | |
| Gary Pearson's F2 Tecno. | Could this car be any better prepared? This is Jon Shipman's Ford Anglia. |
| | |
| --- | --- |
| | |
| Andrew Marler's Lotus Elan about to receive some attention. | Duncan Rabagliati's Alexis HF1 Formula Junior. |
| | |
| --- | --- |
| | |
| Michael Moore's E-type Jaguar from the Classic Sports Car Race. Nice paint scheme! | David Brown's Brabham BT23C from the Classic Racing Cars Championship. |
| | |
| --- | --- |
| | |
| Ian Jones in his Lotus 59. | From the RJB Thundersports Race, this is Lawrence Benson's Chevron B8. |
| | |
| --- | --- |
| | |
| Yes, it was THIS frantic for the Formula Fords for the entire race! | Len Selby's 1961 Cooper T56. |
| | |
| --- | --- |
| | |
| John Pearson's immaculately prepared Merlyn Mk17/20 Formula Ford. | Christopher Gawne's Lancia Aurelia B20 GT. A fine looking car. |
| | |
| --- | --- |
| | |
| Denis Clark in his Chevron B31. | Francis Gomm's 1978 ex-Nelson Piquet Ralt RT1. |
And that was it! A great day out (the weather made it). With the news this week that the Bonhams & Brooks Historic Festival for next year has been moved to Oulton Park, and with the general increase of circuit fees, this might well have been the last time the HSCC visits Silverstone, let's hope not!
All we've got to do now is look forward to the first race of next year in March / April!
============================================
Return to Yesterday's Racers - Index Page 2001.
Please feel free to e-mail me!