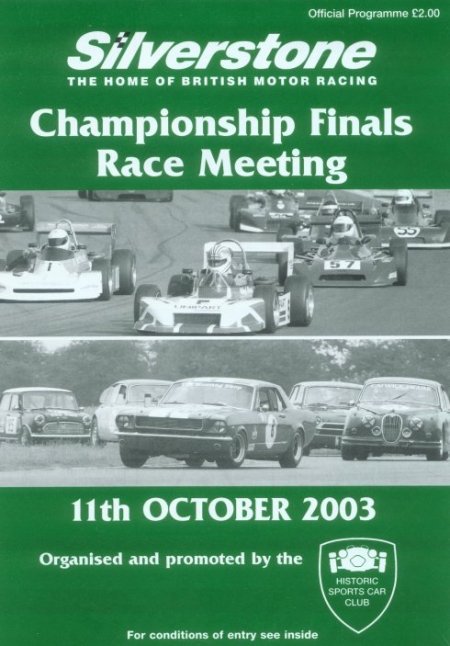 The final H.S.C.C. meeting of the year,
Silverstone, 11th October 2003.
Well, believe it or not, the weather this year was absolutely spectacular! I remember this meeting from last year when the temperature must have been 5 degrees below zero, and yet this year I literally walked around in my shirt sleeves! Unbelievable.
I had a decent test day on the Friday before this meeting, which was just excellent. I had thought it was a test day for just us 'historics', but it turned out to be an 'open' test day. Imagine my horror when I saw at least TEN Formula Renaults getting ready to go out - in MY session!! There were a load of different single seaters there, from Historic Formula Juniors, to Formula Fords (old AND new) and the afore mentioned Formula Renaults. Can you imagine the speed difference from one of those to one of my things?? 'Oh well', I told myself, 'I'll just have to keep my wits about me.' In the event, all went OK, in fact the hairiest moment for me all day was in the pit lane, when one of the Formula Renault guys over-took me on the RIGHT hand side as I was coming in after a session! Kids!!!
Here's a couple of shots from the test day.
| | |
| --- | --- |
| | |
| Getting ready to leave the pit lane. | Just about to be overtaken by a Formula Renault. You can actually SEE the speed difference in this shot!! |
Actually, the test day went really well, it was almost all dry and we had three sessions lined up of an hour each over the length of the day. Which meant I could do runs of 10-12 laps at a time, come in, look at my times, have a think about them (i.e. how bad they were!!) and then go out again and try and go a bit quicker. So that was good. We were using the 'National Circuit', which, I think, is the shortest circuit there is at Silverstone. For all that, I really enjoyed it, and soon was accustomed to taking Copse flat in third gear at 6,000 revs -- good fun!
Some more test day shots :
| | |
| --- | --- |
| | |
| Alex Meek in his Merlyn mk20A. | Formula Junior Elva. |
As you can see from the above pictures, it was a trifle wet on the Friday (although it dried out nice and quickly), this was something we didn't have to contend with on Saturday.
| | |
| --- | --- |
| | |
| Early morning in the scrutineering line-up. | John Sykes' Merlyn Mk20. |
| | |
| --- | --- |
| | |
| Mike Whatleys' 1971 F5000 Surtees TS8. | Edwin Jowseys' Lola T400. |
| | |
| --- | --- |
| | |
| Two shots of Simon Hadfields' ex-John Watson F5000 Trojan. | |