HERSHAM and WALTON MOTORS
Just about the closest place to where I live in Shepperton, Middlesex that has any motor sport history is the HWM garage just across the River Thames, at New Zealand Avenue, Walton-On-Thames. It's about a mile from where I live.
HWM was a relatively short-lived team, entering cars from 1946 to 1955 only. Set up by George Abecassis and John Heath in 1946, they went racing that year with an Alta-engined car and called it an HWM, after their garage. Through the years their cars were raced by many household names, including Stirlign Moss, Abecassis himself, Duncan Hamilton, Lance Macklin, Paul Frere, Peter Collins, Jack Fairman and the American John Fitch. At the beginning of the 2.5 litre formula, the team conecntrated on sports car racing, but John Heath was tragically killed on the 1956 Mille Miglia in Italy and so George Abecassis closed the team a little later.
To bring this article up to date, the HWM garage is still in New Zealand Avenue, and is still very much connected to motoring, it being an Audi / Aston Martin Dealership.
I wonder how many of the current employees know that the place where they work used to produce Formula 1 cars?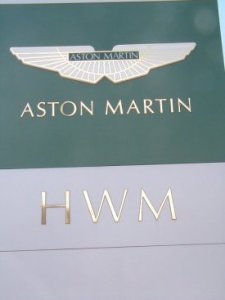 Here's what the garage looks like today
Finally, here's what an HWM race cars looks like.

This is a 1953 formula two car, with a four cylinder Alta engine, as driven by Peter Collins.

This picture was taken at the British Grand Prix meeting of 1979.