The Jefferson 500 meeting at Summit Point Raceway, West Virginia, USA.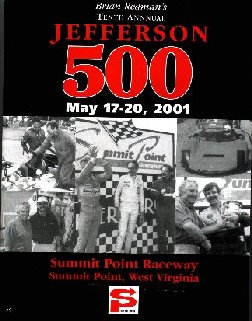 For the second year running, I was invited by friends to attend the annual Jefferson 500 race meeting at Summit Point. This meeting is organised by British sportscar legend Brian Redman and his son James, and a good job they make of it too. This years' event was the tenth, the emphasis being more on the enduro type of racing, so typical of Brians' career. There were also 'sprint' races for 'formula' cars (or, as we would say in England, single-seaters). I had been told that the weather had been superb for the previous three weeks, with temperatures in the 90's all the time. Unfortunately, out of the four days of the meeting, it rained on two of them! We arrived late on wednesday afternoon only to be told that we were not allowed into the circuit until six pm as there was a corporate event still on. By the time we were allowed in there must have been upwards of twenty of those HUGE American-style transporters waiting in line. When we finally got in, we set up camp just by the control tower halfway down the start / finish straight. The Point is a two mile road course which reminds me of somewhere like Oulton Park or Snetterton here in England. Thursday morning brought us a clear sky and sunshine, which was nice after having endured the rigours of a spectacularly wet English winter! This day was purely for people arriving, scrutineering and also test sessions on the track. Friday was a more regimented test day. Vintage racing in the States always seems to be much more relaxed than in the UK, with (obviously) a different set of cars to see. Perhaps we're spoiled over here in that we have so many historic cars to play with. Anyway, this report is not going to be a blow by blow account of every race (too much work for me!), I'm just going to pick out a few highlights and let you look at some of the pictures.
| | |
| --- | --- |
| Here's the map of the track. As you can see, there's a long straight ending at turn 1, a nice tight right hander. Uphill into turn 2 and left through turn 3, into the Chute at turn 4 and down into 5, a tight left hander which immediately turns into the Carousel, a tight right hander before you're into the Esses at 8 and 9, then a long up and downhill straight before turn 10, Paddock Bend, and onto the start / finish straight. And yes, I did manage to get a lap in over the weekend - on a pushbike on Saturday evening! | |
| I thought I would start off with a typical US race car, this is Wesley Myers' Corvette. | |
| | |
| --- | --- |
| | One of the undoubted stars of the show was Henry Paynes' Porsche 907 Long Tail. This is the first factory Porsche to take a 24-hour victory, at the Daytona 24 Hours in 1968 in the hands of Vic Elford and Jochen Neerspasch, the sort of car we never see in England these days! (and yes, I would have liked to have brought it home with me!). |
| It was good to see Ron Boissoneaus' McRae F5000 car - not too many of these in the UK either! | Just entering the Carousel, this is the Shelby GT350 Mustang of Steve Fox. |
| | |
| --- | --- |
| Lining up for scrutineering........ | And in the bay itself, this is the Sunbeam Tiger of Geoffrey Byrd. |
| First practice for the Lola Cars Cup. | Just entering turn 1, this is Bobby Brown's Chevron B27. A good looking car, and it's for sale! |
As befitting a Brian Redman event, Porsches abounded, here are a few of them
| | |
| --- | --- |
| A 906 and 914 at the Carousel. | The 356 of Scott Kreuger at turn 1. |
| The 906 of Ed Mettelman in the paddock. | Driver change for the 914 of Bert Flagg. |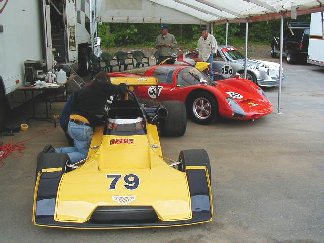 Paddock shot of the Chevron, and a 906 and 911 Porsche.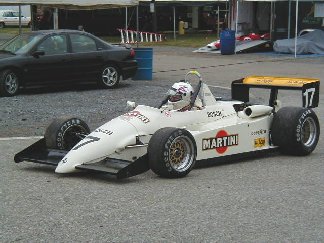 Dave Kane's Ralt RT4.
| | |
| --- | --- |
| The man himself. Brian Redman prepares to go out in the Brumos Racing Porsche 914. | |
| The Chevron B15B of Robert Hubbs, a great looking paint job! | Broken driveshaft on this Formula Ford. |
Time for some more racing shots!
The BMW CSL of Dennis Letz.

Ferrari 250GT of Jay Jessup.

Another fine looking colour scheme!

The Davrian Imp MkVII of Terence Sullivan.

And how about this for a paint job as well?
| | |
| --- | --- |
| The Titan Mk6 of Vaughn Rockney at turn 1. | Lotus 22 Formula Junior of Shairon Beale. |
| The Zink C4 Formula Vee of Rich Ernest. The Formula Vees looked really good fun! | GT350 at turn 1. |
I must admit it was a nice change to go racing somewhere other than the UK.
I must also thank Harvard Wood, George Cormeny and Mike Johnson for their hospitality (for the second year running!), it wouldn't be the same without them!
Let's hope we make it a hat-trick next year!
.29/06/01 11:37