The JIM CLARK MEMORIAL at HOCKENHEIM, GERMANY
On my recent visit to Hockenheim for the German Grand Prix, I decided to take a walk out on to to the old circuit and seek out the Jim Clark Memorial. I have been meaning to do this for some years, but have only now got around to it.
The recent circuit changes mean that the long blinding straights that Hockenheim was famous for are now just a memory. In fact, I was somewhat aghast to see that already the old track, armco and fencing has been pulled up. We were walking through a sea of mud! After something like forty five minutes of walking, starting at the stadium section, we finally found the memorial to one of the world's greatest drivers. It nestles between two trees (presumably planted when the memorial was first laid) which must be some twenty five feet high now. There are a few wild flowers growing next to the stone, but other than Jim's name and the date of the accident, there is nothing else there.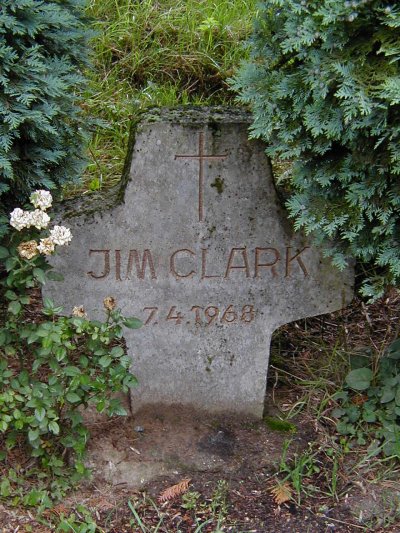 Frankly, the place resembles a building site. There is felled fencing and armco everywhere, and the mud must be six inches deep where the track used to be.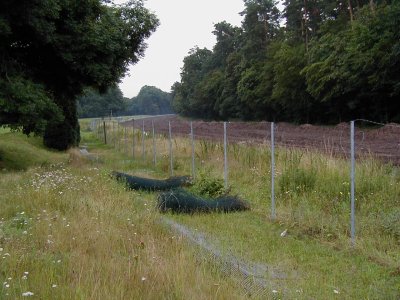 As an example, the above photo shows in the foreground a couple of rolls of fencing, the poles for the fence haven't been taken down yet, the track / mud is on the right. The memorial stone is in between the two trees on the top left of the photo.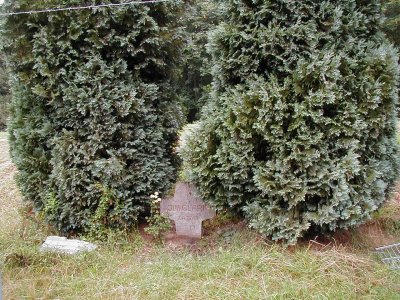 On the left is a memorial to another race driver, Bert Hawthorne, who was killed near this spot four years after Jim, in 1972.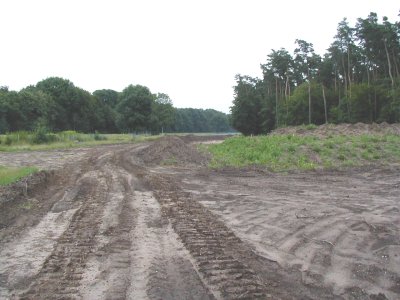 Looking forward from the Clark Chicane. The memorials are just below those trees that are just centre left in this shot.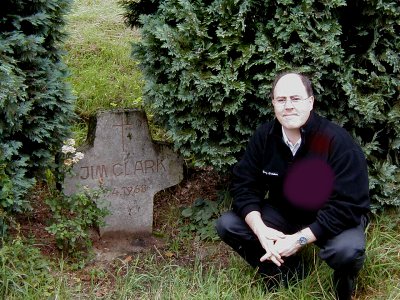 Lastly, a shot of me at the Memorial.
Thanks for everything, Jim!
Please feel free to e-mail me
or return to
Yesterday's Racers - Index Page.