My friend Murray Chalmers reports from the Vintage Automobile Racing Association's (VARA) first meeting of the year at Las Vegas Motor Speedway, March 15th to 17th.
MARCH MADNESS in LAS VEGAS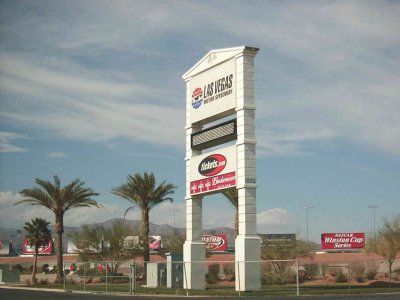 On March 15th 17th VARA held the annual Trench Shoring Formula Festival on Las Vegas Motor Speedway's road course in California. The organization has over 1100 members and about 400 active drivers. VARA puts on around eight to ten meetings per year. In addition to the race schedule, VARA begins the season with a two day driving school in February.
The average turn-out for a race weekend is in the area of between 150 and 180 entries. Some events, like the May 'British Extravaganza' draw upwards of 230 entries for a two day event. This Las Vegas event drew over 130 entries and included some really interesting cars. Group 1 was made up of 14 cars from A and B production along with two vintage NASCARs. This group was a mix of Corvettes, Mustangs, Chevy Camaros and a Shelby GT350 Mustang. This group is lovingly referred to as the 'ground pounders'. Group 2 was the vintage (pre-1972) Formula Ford race, your reporter was in this group with his newly restored Lola T200 for its' first outing. Group 3 is for D and C production cars; the likes of Porsche 911s, 356 and 914s, joined by Sprites, BMW 2002s, Alfas and even a Kurtis 500s, this was a big group totalling 22 cars. Group 4 consits of 20 large bore open wheelers. There is a large contingent of Formula Super Vee (water cooled, full aero-dynamics), several newer Formula Fords and a Formula A Brabham BT29. Group 5 is the small bore production cars consiting of 19 F and g production cars. This group has a great turn-out of Mini Coopers, Sprites, Spitfires, an Alpine and a Datsun 1600 Roadster. Group 6 is made up of 16 Formula Vees, including the reporters wife in her first outing in this class with an RCA FV. Group 7 is the big group with 29 cars. This is the E production class, and so features the usual Spitfires,, TR4s, MGAs, Alfas and several Elva Couriers.
This was a three day meet with each group getting a twenty minute practice session each day and a twenty minute race each afternoon. The Friday session establishes the starting grid for the Saturday afternoon race and the finish positions on Saturday determines the starting grid for Sunday. These events are great social events coupled with a chance to see some very special historic cars being driven as they were designed to do. All sessions are started with a pace car and a flying start, which can make turn one a bit hairy! Great effort is taken to minimize contact, but the racing is door handle to door handle and well fought.
| | |
| --- | --- |
| | |
| the A and B Production grid. | Formula Vee grid. |
| | |
| --- | --- |
| | |
| Formula Ford grid. | Lotus 51. |
Race reports
Group Two - Formula Ford
The FFord qualifying was a fight between Chuck Pittenger in his new Titan mk6A (this was his second race since performing a complete restoration) and Bob Hatie in a Macon MR8. Their qualifying times were separated by a mere seven-tenths of a second. Case Bor in his beautiful Lola T204 was next two seconds back followed closely by Jeremy Shaw in a Mallock U2 mk9DD, one tenth behind him. Due to soem teething problems your reporter in the lovely Miss Lola was qualifying without the benefit of the carburetor secondary, but still managed to log a sixth position in a field of thirteen, six seconds behind the Titan. On the green flag, turn one saw the Titan first with the Macon closely in pursuit. The Lola of Case Bor further back closely followed by Tom Morgan in the ~51 Lotus 51. Your reporter lost some ground in turn one due to a sticking throttle and found himself at the back in the field. While the leaders battled in a closely fought race, Miss Lola began to move back up through the field in spite of continuing problems. We managed tp log a best lap two seconds faster than qualification. My problems continued to worsen and I was forced to retire at the halfway point of the 11 lap race. The race finished with the Titan in the lead, followed one second back by the Macon. Case and Tom Morgan finished in that order 41 seconds behind the winner. Jeff Robin was the hard charger coming from last position in his yellow Titan Mk6 to finish in the number five placing.
On Sunday's flag race your reporter started last due to the retirement in the qualification race. At the green flag the Macon got by the Titan of Pitteneger to lead the first lap. Morgan closely followed them as Case Bor slipped to fourth. The lead went back and forth between Pittenger and Hatte in the Macon with the Titan head at the checker. Your reporters Lola once again got to come from the back of the field and had regained sixth position with a fast lap one second quicker than the previous day when throttle problems again forced retirement, this time on lap three.
| | |
| --- | --- |
| | |
| Corvette and Mustang do battle. | Ford Thunderbird and NASCAR on the A, B grid. |
| | |
| --- | --- |
| | |
| Corvette paddock. | F production grid. |
| | |
| --- | --- |
| | |
| NASCAR in Corvette - Mustang sandwich. | 1963 Sprite. |
Group 5 - F production
The F production qualifying turned out to be a battle between a tight group of Sprites and Mini Coopers. Randy McConnell's Mini just edged out Debbie Elkind's Bugeye Sprite followed by Jim Boehm's Mini and Craig Hibbard's Mk2 Sprite and Alan Berry's Mini. The rest of the field contained an Alpine, an Abarth GT, four Spitfires and and even a Datsun 1600 Roadster. In Sunday's green flag race, the battle continued and McConnel, Berry and Boehm in the Minis jumped to the lead closely followed by Hibbard in his Sprite. Larry Young's Alpine managed to jump into the battle due to a great start. Debbie's Bugeye retired with mechanical problems. Hibbard managed to move himself into the middle of the flying Minis and held down the second position. McConnel held the lead at the checker and Alan Berry managed to move up to third. These Minis are very strong competitors and go surprisingly quickly!!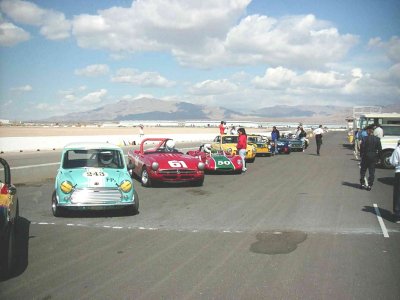 F production grid.
Group 6 - Formula Vee
Qualifiction saw Chric Campbell in his Zinc C4 dominate the field. Chris logged a best lap a full four seconds faster than the next competitor, Rick Marsh in a Caldwell D13. Next was Ray Stevens, in an Autodynamics, one second behind him. This was Stevens first outing in six years, he being a former three time national champion FV racer. In the fourth spot was Patrick Maynard in another Zinc. The total field was some thirteen cars. In the qualifying race Cambell continued his dominance and finished the ten lap race 29 seconds ahead of Stevens, with Rex Linde in a Caldwell two seconds further back. In the flag race on Sunday, once again, we saw Cambell in front at turn one closely followed by Stevens and Linde. At turn two Linde got by Stevens under braking and Marsh and Maynard began to carve through the field. At the halfway point Maynard and Marsh both by Stevens and Linde under braking at turn one due to some great drafting. One lap later Stevens was forced to retire due to a broken throttle cable. Maynard was now in second place and closing on the speedy Campbell, with Marsh still in tow. Capmbell never put a wheel wrong during the entire race and managed to pick up the pace when he saw the Maynard was closing. At the checker Campbell still had a twelve second lead on Maynard with Marsh seven seconds further back. Capmbell logged the fastest lap of the race only four tenths of a second faster than Maynard's best.
====================================
My sincere thanks go to Murray for suppyling me with a race report and photos on what must have been a pretty busy weekend for him!
=========================
Return to
Yesterday's Racers - Index Page
Feel free to e-mail me