The LOTUS 72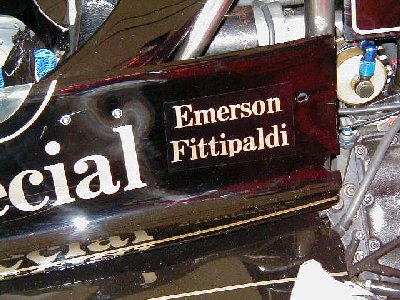 I make no apologies here. For me, the best looking Formula 1 Grand Prix car of all time is the Lotus 72.
From the first time I saw a photograph of one, that was it! Added to that that during 1972 and 1973 two of my favourite drivers, Ronnie Peterson and Emerson Fittipaldi raced them, then there was even less question! There is a video on release called 'If You're Not Winning, You're Not Trying Hard Enough' (a Chapman-ism, if ever there was one!), which follows John Player Team Lotus throughout the 73 season and provides some fantastic behind the scenes footage of the team and the cars. Favourite moment for me is final warm-up in Sweden and Ronnie has problems with his car and needs an extra couple of laps to sort it out. Chapman walks up to the marshal in charge of the pitlane exit and explains, then he adds 'It's for Ronnie, he is Swedish, you must let him have another lap.' Whereupon the guy agrees straight away! If only that happened these days!
I thought I would make up a page of various pictures of the cars in various guises, most of which I have taken at historic race events.
Introduced at the time when all F1 cars still cigar-shaped, the 72 revolutionised Grand Prix car design with its' side mounted radiators from then onwards. The car was introduced by Gold Leaf Team Lotus during 1970 for John Miles and Jochen Rindt to use. Unfortunately, its' anti-squat and anti-dive systems were far from trouble-free and Jochen reverted back to the old 49 for his historic Monaco win.
He was to loose his life in a wing-less 72 in practice at Monza that year, thereby becoming the sports' only posthumous World Champion.
Above are a couple of shots of chassis number three (the ex-Reine Wisell car) being driven by then owner Michael Scryver at Donington Park in September 1996. This was the chassis bought by Rob Walker during 1970 for Graham Hill to race, so is sometimes seen in Rob Walkers' blue and white livery in contemporary pictures.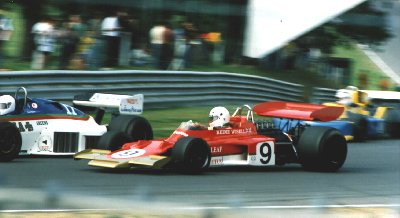 Another shot of Scryver in chassis three, this is at Druids Bend at Brands Hatch in July 1998.
But for me, the cars we made to look EVEN better when Team Lotus picked up sponsorship from John Player in 1972, the cars then being decked out in the ultimate racing livery of black and gold.
Emerson Fittipaldi became the worlds' youngest World Champion in 1972 when he won at the age of just 25 years.
Here are some shots taken at the Donington Park museum in January 1998. Unfortunately I didn't note down which chassis this is. It has Ronnies' name on the cockpit, but as you can imagine, that doesn't mean much these days!
This car is presented in the later (1975) livery with Duckhams 'Q' Oil on the front wings.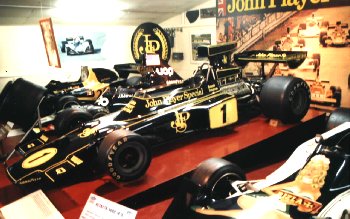 Lastly we have some shots of chassis number 6, these two shots taken at the Coys International Festival in August 2000. The car having won its' race with Simon Hadfield at the wheel. This is a 'true' Ronnie car, so you could imagine how I felt watching the car lap Silverstone again.
If only Ronnie had been with us.
Here are some more photos of chassis 6, this time taken at the Goodwood Festival of Speed in 2000. Even though it's a Ronnie car, Emerson Fittipaldi drove the car up the hill, I can't think of anyone better suited to do the job!
| | |
| --- | --- |
| Finally, I had to get a picture of me taken with the car!! | |
And from my own collection of archive photographs, here's Emerson at Brands Hatch in October of 1971.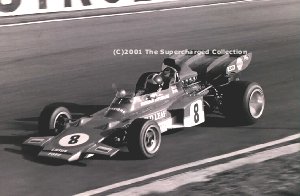 This image copyright 2001 The Supercharged Collection.
www.superchargedcollection.com
A new picture now, this is from this years' Bonham & Brooks Historic Meeting at Silverstone, 25th - 27th August.
This is chassis 72-R5, which hasn't been seen out since 1975. Sean Walker drove with some verve on his return to Historic Formula 1 racing, unfortunately, he had to retire the car after seven of the 12 laps.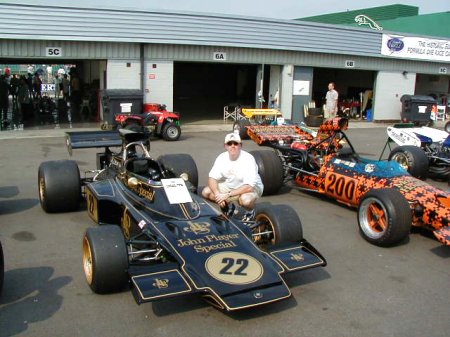 Return to Yesterday's Racers Index Page.
As always, please feel free to e-mail me with any comments :