Currently in production, alongside the usual 'Yesterday's Racers' volumes is....
The Lotus 72 video.
As some of you may already know, the Lotus 72 is my favourite Formula 1 car.
While I was chatting to a friend of mine, about a year ago, we got to talking about how I would like a make a video on the 72. It didn't hurt that Richard was the guy who actually restored 72 chassis 6 (ex-Ronnie Peterson) back in 1985 when it returned to the UK from South Africa. Initially it was an idea for a piece in a volume of 'Yesterday's Racers'. Richard had some archive photographs from when he worked on the car, plus some actual video footage that he filmed himself of the car in his workshop plus footage of the car's first test session after restoration at Silverstone in 1986 and also a race weekend at Thruxton that same year. He agreed to let me use these in the video.
I thought it was a good idea and went and filmed him in November last year. Over Christmas I got to thinking a little more about the project and came to the conclusion that I would like to make it a 'stand alone' video, rather than it being contained within something else. To that end, I contacted motor racing historian Michael Oliver (author of THE books on both the Lotus 49 and the 72, which are available from Veloce Publishing here : www.veloce.co.uk ) and asked if he would like to be involved in the production. He readily agreed.
We went and filmed Michael (now firmly ensconced as our 'Lotus 72 Historian'!) in January.
After writing the book on the car, Michael had untold contacts with the guys who were at Team Lotus in the years 1970 - 1975 when the car was raced - which is handy for us!
During the summer I made contact with Alistair Morrison who now owns and races chassis 6 in historic races.
In a hectic few weeks in August we shot no less than three interviews. We filmed Alistair at his home with the car, then hurriedly arranged via e-mail an interview at Silverstone with none other than 1972 and 1974 F1 World Champion Emerson Fittipaldi. Emerson gave us his interview after a hectic day testing his Grand Prix Masters car, was word perfect, not having seen the questions beforehand, and talked eloquently about the car and the team.
During that month we also filmed Luke Watson, an ex-Team Lotus member, who, believe it or not, wrote, arranged and produced the 1973 Team Lotus record 'The Champions'. How many of you remember that disc??
Here's a few photographs taken along the way so far.
These two photos were taken as we were setting up to shoot Richard Hinton's interview.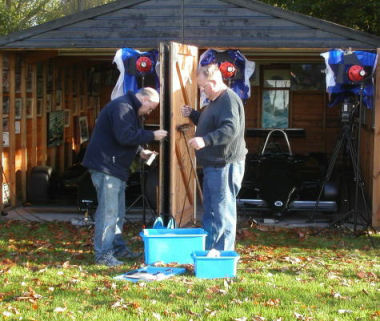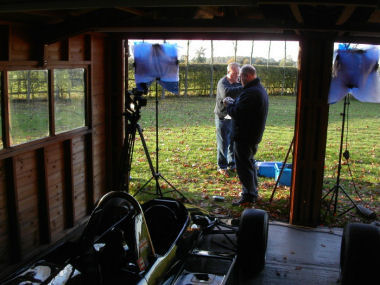 This is the sleeve and actual record of the only (so far!) release by Team Lotus.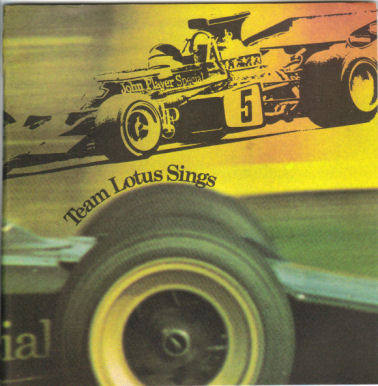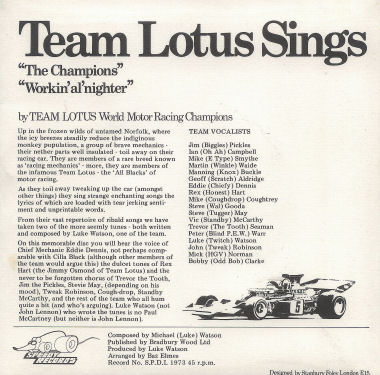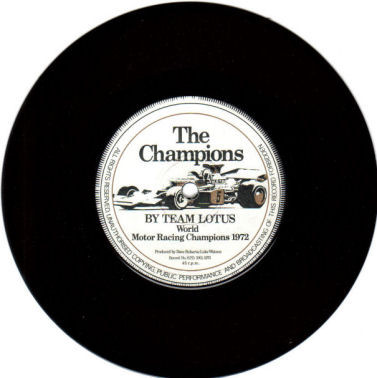 Here we are filming Alistair Morrison's chassis 6.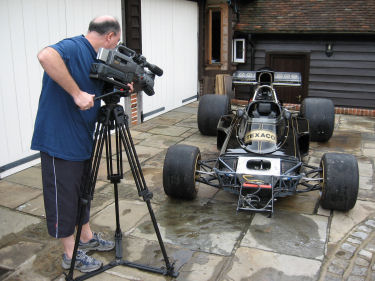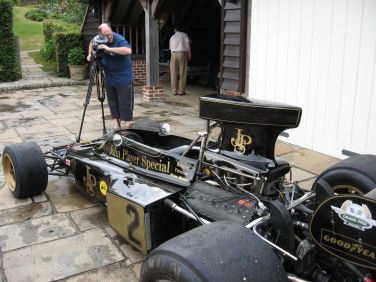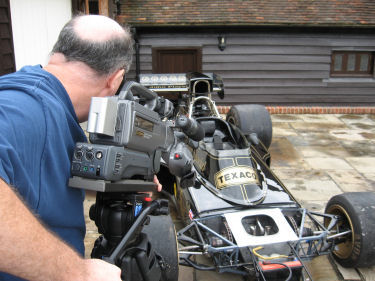 Lastly, the car that it is all about :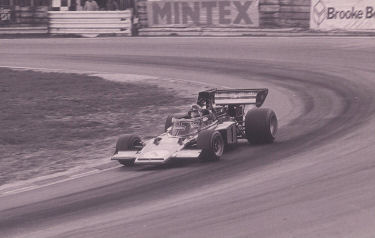 We shall carry on filming soon. I am aiming to finish shooting interviews by around March next year, then I start editing!
One of the people on my list of possible interviewees is former Team Lotus Team Manager Peter Warr. I am also hoping to film a few of the mechanics who were with the team in the early 70's, to help flesh out the story.
I will include in the video previously un-seen still photographs, plus some excellent newly discovered archive movie film.
The video, I'm hoping, will run for 90 minutes, there will also be a number of 'extras' on the DVD, which I'm not going to tell you about as yet, just to keep you guessing!
I'm also hoping that I can get a TV station interested in taking a cut-down version for transmission in the autumn.
If you have any still photos or home movie film of the car or the Team, please don't hesitate to contact me at the following e-mail address:
Back to the 'Yesterday's Racers' index page.
28.11.06