The MARCH 711-6 at MONTREAL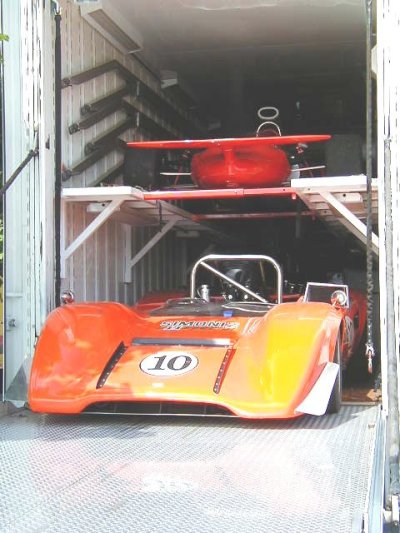 We all know that this is a Lola T-163 ready to come off the transporter, but what's that above it??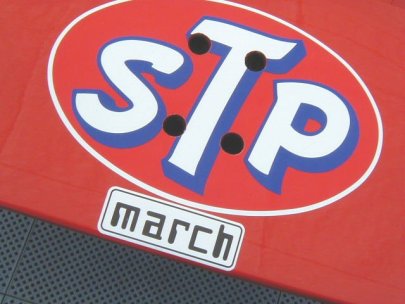 Perhaps this is a bit more of a clue??
While attending the Formula 1 Grand Prix meeting in Montreal I was pleasantly surprised to find this car in the Historic Can-Am paddock. I readily knew it was a 1971 March 711, but what more of its' history is known? Well, after chatting to one of the mechanics there I found a bit more out about it.
This car is chassis number 6, as raced by Ronnie Peterson during the 1971 season. This apparently, is one of just three cars left in original form, the rest having been converted by the March factory to 721X specs for and during the 1972 season. Quite a rarity then.
I was even more surprised to find that this is the actual chassis that Ronnie used at the 1971 Italian Grand Prix at Monza. Yes, the race that is classed as 'The Fastest GP of All Time', when won by Peter Gethin.
This is the car that came second that hot September afternoon!
Former March driver Howden Ganley owned the car for some thirty years and was only persuaded to part with it earlier this year!
The restoration has taken some four months (some sort of record!!) and has been raced just the once since. The car looked absolutely spectacular in the paddock at Montreal with all the correct livery too.
Here's a few more photographs.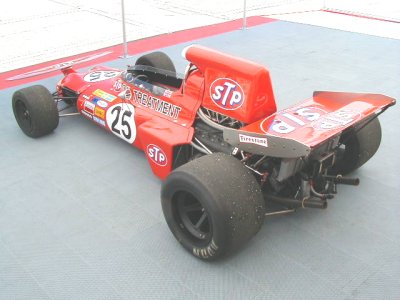 My thanks go to Travis Tassey and Michael Rowe for chatting over the weekend.
================================================================
UPDATE 25th June 2002
Just received an e-mail from Travis, one of the guys who looks after the car, to tell me that the car suffered a big accident over the weekend at California Speedway; lots of damage. Apparently the car is repairable, but don't expect to see it out on the track again this year. Bad news!
The good news though is that no-one was seriously hurt in the crash.
================================================================
Please feel free to send me an e-mail at
Back to the index page :