1969 NIKE FORMULA FORD
My Formula Ford race car found on a website in America comes home to England after thirty years.
This was the first time I had actually seen the car in the flesh after it came over from America. This photo was taken in Jonathan Hall's workshop in October 1998.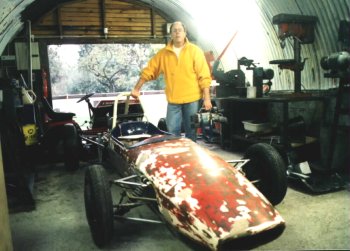 I was not disappointed, the car needed a complete restoration. But back to the start of the story.
| | |
| --- | --- |
| | |
I guess I'm one of these people who have always watched motor racing green with envy at the people actually doing it. I had been watching the HSCC racedays for about four years off and on, and wanted to get involved with a car, but had never had the necessary finance available. Added to that I had never done any sort of racing apart from some karting. Then the odds, I thought, were stacked against me. Also, if I was going to do something, then it had to be a single seater, certainly nothing with a roof! Probably the most accessible series for me was the Formula Fords, but with prices of up to £15,000 for a car, then that was it as far as I was concerned-too much money! So it was, one day in July 1998, I was browsing through the latest Autosport, and as usual was leafing through the classifieds, when I came across an ad that was just a website address. Realising it was in America from the address I went to the computer and logged on. I automatically went to the Formula Ford ads, which, when I looked I realised that prices in the US were much cheaper than over here. However, I was still finding things a little out of my reach, taking into account the shipping charges. Then I got to the bottom of the page, and found the section labelled 'projects'. A couple of things didn't appeal, then I reached a 1969 Mark 4 Nike that was an 'estate sale bargain.' I realised this meant that the current owner had just passed on. The fifteen or so photographs on the site held little information on the car, apart from that it hadn't been used in at least twenty years, and was currently in Michigan. The price was cheap too, considering the work that was probably needed to get it running again. I downloaded all the information and printed it out of the computer. I sat and pondered. I pondered for about two weeks! Every time I checked the exchange rate between US dollars and pounds sterling, I had saved more money. They then reduced the price of the car by another $500! That made my mind up, I e-mailed them straight away, but on return they had no further details, as the car wasn't in their workshops, but still with the owners' family some two hundred miles away. I went and thought again. Another few days passed and I'd made my mind up. I e-mailed them again, asking them what I had to do to get the car. It was simple enough, I had to wire them the money and they would put it on a container ship headed for Felixstowe. I would be informed when it arrived at the quayside and would then for the first time see it when I picked it up. The sea crossing took about two weeks, then I received a phone call to say that it had arrived. In the meantime I had arranged for a friend of mine to collect it and take it to his garage. When it arrived there, I hurried up to see what I had bought. I was not disappointed. Judging by the surface rust everywhere, it certainly hadn't been run in a long time! In the meantime, I had contacted Ken Nicholls of Nike Cars, who had built the car originally. He traced chassis number 6, and was able to tell me that it was supplied new in November 1969 to Bob Smith Racing of Michigan. Now, that was where I bought the car, could it be possible that the car had only raced in just one state in America in thirty years? In the end, I drew a complete blank on the history of the car, but resorted to letters to 'Victory Lane' magazine in the States and 'Classic & Sportscar' here in England. The British end of things came up with nothing, but within a week of my letter and photo being published in 'Victory Lane' I was e-mailed by a guy who remembers the car, and in fact used to be its' mechanic! He also passed on to me the name and phone number of the guy who ran it in 1971. I have made contact with him, and he has promised me some photos (if he can find any!).
Meanwhile, the re-build was progressing (albeit slowly!), depending on how much money was available. I took the chassis down to Ken Nichols in October 1999 to be stripped, shot blasted and then powder coated, I also had a new seat fitted at the same time.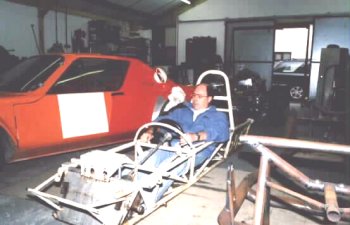 Checking the new seating position at Ken Nicholls' workshop.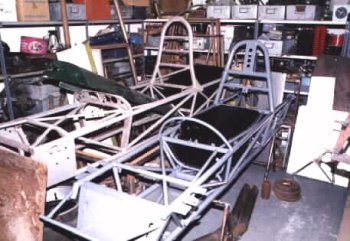 The newly shot-blasted and painted job. Ken also welded in a few extra members to update the car to current safety regs.
By February 2000 it was obvious that if I was going to carry on the re-build by myself (something I had not done before), it was all just going to take too long! This was where I enlisted the expertise of ace restorer Jonathan Hall (01885-410481), a man who has worked on anything from Riley Specials Formula One Tyrrells including a P34, among other things. So, if he couldn't do the job properly, who could?
| | |
| --- | --- |
| When I originally got the car there were a couple of things left over from its' US Racing days. An American flag on the back of the gearbox was one, also a couple of sew-on patches on the seatbelts and another sticker on the engine rocker cover. I have managed to save all of these items for the sake of originality. See the picture right, of the flag on the back gearbox housing. | |
By April 2001 we now have the engine and gearbox back from being re-built and they are back in the car. All the corners (suspension, shocks, hubs etc) are ready to go on too. I have bought a new set of seatbelts too. All that needs to be done now is to manufacture a new fuel tank to go under the seat, buy a few more small (-ish!) items, like a steering wheel, rev counter and sundry other items and we'll be ready to roll! Of course, I still have to get my race licence yet too.
I'll update when we get a little further along.
UPDATE : June 2001
Well, I believe I might be making some progress with the cars' history. I seem to have contacted the right person at the SCCA (Sports Car Club of America). I have supplied him with the cars' SCCA number, and he will be going back through their records to see if they have any information for me. Can't wait to find out!
UPDATE : August 2001
No news from the SCCA as yet.
Here are a couple of sew-on patches that came with the car. When I originally took delivery of the car, these patches were sewn on to the seatbelts. I have since heard that 'Bob's Drag Chutes' went out of business twenty five years ago!
So, to keep the patches with the car, I'm going to have them sewn on to my racesuit.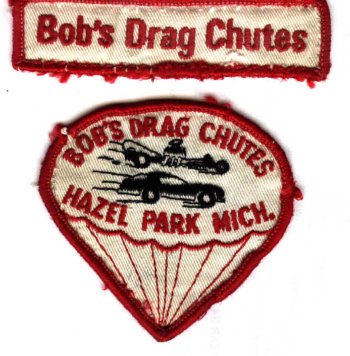 UPDATE : October 2001
And here are the patches sewn on to my new race suit.
I'm pleased that the light blue of the racesuit matches the blue on the car, it means that even if I'm at the back of the grid, at least I'll be noticed!