TESTING at MALLORY PARK,
24th September 2003.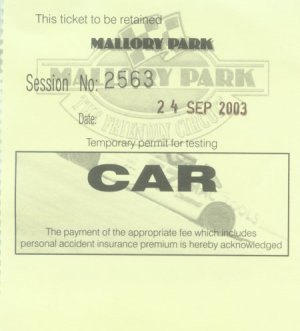 I thought that it would be a good idea to get some testing under my belt, seeing how little time I've had in the car so far this season. Example : for the recent Castle Combe meeting, I got fifteen minutes practice followed by a fifteen minute race. Not exactly brilliant, especially as it was at a circuit I hadn't been to in over ten years, and the first time I had actually driven it!
We decided to test at Mallory Park for two reasons. One, it was where we had tested earlier in the summer and therefore had some times to compare to. Second, it is just about equi-distant for both Jonathan and I to get to!
Testing is available at Mallory on every Wednesday, cars in the morning, bikes after lunch, and very reasonable it is too!
We arrived to find a lovely clear blue sky, but it was a typical early autumn morning ; cold! At least it wasn't wet!
Our first session wasn't until 9.40, which gave Jonathan a chance to check over the car before I went out.
| | |
| --- | --- |
| | |
| Jonathan checks the water. | Checking the left rear suspension. |
My previous best time around Mallory was 61.5 (not exactly a stunning time, I know) so I was aiming to get under the one minute mark this time.
I was due to go out in the single seater sessions, which meant it was a complete mixture of cars. We had some newer Formula Fords, some extremely modern Formula Renaults and some old Formula 3 cars too. I realised I was going to be using my mirrors quite a lot!
| | |
| --- | --- |
| | |
| This is the first corner, Gerrard's. It just seems to go on for ever!! In top too! | Entering the hairpin. Is that a right front brake disc glowing I can see? OK then, probably not..... |
The first session was OK, my times were down to just over 60 seconds, but it was EXTREMELY busy!! There seemed to be cars just about everywhere on the circuit.
| | |
| --- | --- |
| | |
| Jonathan checks tyre pressures after the first session. | |
| | |
| --- | --- |
| | |
| Another couple of hairpin shots. | They give you a good idea on how the weather was ; the sun was nice and bright. |
The second session was another of fifteen minutes. This time I was edging towards the minute mark. I was nice and consistent, which pleased me, running 60.3's and 60.5's for four laps at one point. I vowed to try and dip under the sixty second mark in the last session of the morning, especially as it was twenty five minutes long, something I could get my teeth into!
| | |
| --- | --- |
| | |
| Here you can see what sort of cars were out with me! | Another hairpin shot. |
The last session of the day was stopped half way by a red flag, someone had gone off at the first corner, but I don't think there was any damage to either car or driver. So, I had something like ten minutes to go for a really decent time. Jonathan held out the pit board to tell me I had done a 59.5. Excellent! At least I had ducked under a minute if nothing else!
But, it was even better news when I came in at the end of the session ; I had done a 58.5 earlier!! We seem to be making progress! All too soon it was time to pack up, grab some lunch and head off home.
My next race is at Silverstone on the 11th October, followed just a week later by a race in the Formula Ford Festival on the Brands Hatch Indy Circuit. THAT will be good fun, in front of a big crowd too!!
My thanks go to Tim Taylor for taking all the pictures on this page!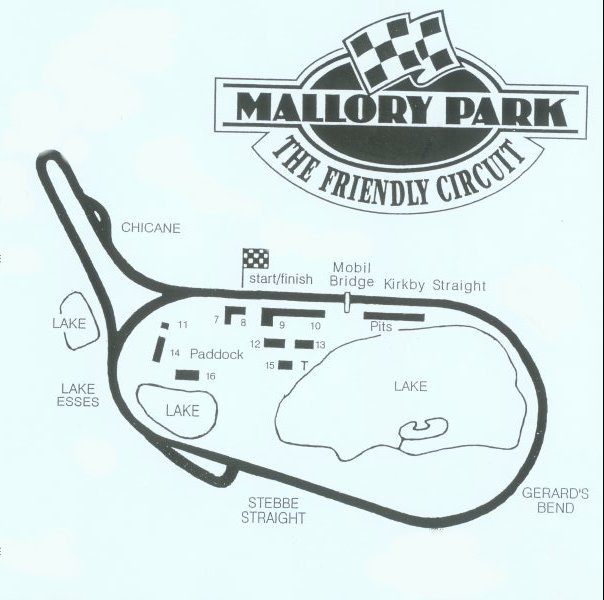 Back to Yesterday's Racers Index Page
As usual, please feel free to e-mail me at gary@yesterdaysracers.com