LYMINGTON & NEW MILTON FC
NEWS & VIEWS
Online with The Linnets    
---
---
AS YOU WERE, THEN.

Friday 28th September 2001
It is pleasing to report that, having been given the 100% backing of players and committee, Graham Kemp has decided to continue in his role as The Linnets' player-manager. Encouraged by the response of the club to last Saturday's wholly unexpected defeat at Whitchurch, Kemp feels that his faith in himself has been restored ; "The effort everyone put in on Tuesday [against B.A.T.] was really encouraging. I have been assured by the chairman that the executive committee is fully behind me. The players are taking equal responsibility for what happened last Saturday and we've agreed to put it behind us."

As I commented previously, Kemp was seemingly under no outside pressure to consider his position. The fact that he did shows what high standards he has set for himself and, by definition, for the club. He clearly understands that, whatever past success the club may have enjoyed, that there is no automatic right to continued success but that it has to be achieved over and over again on the pitch. Players, members and supporters should be encouraged to know that the 'man in the middle' (metaphorically as well as literally!) sets such high standards.

I hope that this will prove to be a turning point in our season after a stuttering start. It is still early days and there is a lot to play for. Initial results have shown that there may be wider competition in the league this season and the club is still well placed to challenge for honours if the resolve shown this week can be maintained.
---
ALL FOR ONE (& ONE FOR ALL)?

Tuesday 24th September 2001
Whether courageously or foolishly, I read that Graham Kemp has put his future as the Linnets' manager on the line in tonight's Russell Cotes Cup fixture away at B.A.T.

Kemp is still smarting from the team's performance last Saturday : "That's eight points we've dropped already and it's a disgrace. Come May, the Whitchurch scoreline will go down as the most embarassing result of the entire Wessex season". He went on to say : "We've got as good a side as anyone in the league and to finish outside the top two with this set of players would mean that I haven't done my job properly".

He clearly feels let down and was moved to say : "either the players are taking me for granted or I'm not good enough". In effect he has made tonight's match a 'make or break' encounter for the team and his continued occupancy of the manager's role (and possibly his future with the club) may hinge on the result.

To his credit, Graham has said that he is under no pressure from the club's board but that his expectations are high, while he doubtless feels under some personal pressure to emulate previous boss Derek Binns' success with the club. Although I feel it is a 'high-risk' strategy, I must say that I admire Graham's courage and I think that he deserves the players' support - watch this space.
---
HOW TO EXPLAIN THE INEXPLICABLE?

Monday 24th September 2001
Actually, since I was not present at last Saturday's match, it would be presumptious of me to even try. It is enough that today's Echo headline is "Kemp considers future" to know that the team's performance was not what would be expected. No mitigation is offered, just the comment from Graham that "I have told the players that I won't tolerate performances like that and that if things don't change then either I go or they do."

I did wonder if I had been guilty of putting a "hex" on the team after my comments about last week's game and the need to ensure results against the likes of Whitchurch. The essence of what I said previously was about guarding against complacency and not assuming that (because on paper we think we should win most of our games) we will automatically beat such teams. No team has a divine right to win, nor (as Brockenhurst are perhaps finding out) does money spent on transfers or players fees guarantee anything. Success is about confidence and confidence comes from having respect for the opposition whilst being determined enough to prove that the respect is misplaced - and then doing it, game after game.

Credit must go to Whitchurch, who having been hammered 6-0 and 5-1 in their two previous matches, must have had sufficient determination to put that behind them and prove that they were better than those results suggested. Just watch them climb the league table now. Of course, one result does not make a season and come next May we may be looking back on Saturday's result as simply a "blip" - I sincerely hope so.

THANKS FOR YOUR THANKS

I have recently been pleased to receive a couple of messages from regular visitors thanking me for my efforts in maintaining this website. One in particular from Steve Slatter was extremely complimentary (or so I interpreted to be) - although any response is gratifying since it shows that somebody is taking notice! Anyway, I would like to thank those who took the trouble to contact me and all regular visitors for "keeping the faith". Please feel free to contact me with comments (good and bad) on the advertised e-mail address or on (a new one this) lnmfc@clara.co.uk
---
'WONDER GOAL' FROM KEEPING BUT WAS SIX ENOUGH?

Monday 17th September 2001
It will probably seem extremely churlish of me to pose this question in the wake of the Linnets' six-goal victory over Hamble last Saturday, particularly since the total included a "wonder goal" by young midfielder Gareth Keeping that Graham Kemp described as "The best goal I have ever seen in the Wessex League...it was as good as David Beckham's [goal for Manchester United] against Wimbledon". Keeping lobbed the visiting 'keeper from the half-way line to score the fourth of the club's eventual six, the other goals coming from Matt Town (2), Richie Glenister, Chris Marwood and another from Keeping himself.

All of which seems like pretty good work from a side that had been struggling to find consistency as well as missing their main striker (see below) and if the team could score six goals each time out we would win the league without question! But I am a realist and know that that won't happen. Besides, Hamble are shaping up to be one of the league's "whipping boys" this season and this result should be viewed against Hamble's performances against other leading sides. At the time of writing they are due to play away at Wimborne and then away at Andover in their next two fixtures (but cup commitments may alter that) - I bet they were chuffed when they saw the fixture list!

Last season, champions Andover showed their opposition no mercy and regularly clocked up five and six goal wins when we were content to win by two or three against the same opposition. And it is not just a matter of goal difference (although we know all about that from two seasons ago!) but about creating confidence and a 'killer instinct' which has the opposition trembling before they have even left home. Although it may have been partly due to match fatigue resulting from the fixture "pile-up", there were a number of occasions last season when points were surrendered because of a lack of that ability to "see off" undisputably lesser sides. One such occasion was the away fixture at Whitchurch, the first time in twenty games that the Linnets failed to score, which finished 0-0 and was part of a sequence of drawn games that meant that we didn't push Andover right to the wire.

The view from the touchline on Saturday was that we could (perhaps should) have scored more. Perhaps in the next fixture we can put this right! Who is it ? Oh, yes, we are away at Whitchurch.
CLUB TO APPEAL TO F.A. OVER PHILLIPS SUSPENSION

I understand that after some consideration, the club has decided to launch an appeal direct to the Football Association over the extended suspension imposed on Leigh Phillips by the Hampshire F.A. Regulars will know that Phillips, who was initially suspended for 35 days for an alleged 'stamping' incident last April, had that ruling extended to 56 days following an appeal to the Hants F.A. The club were clearly surprised and dismayed by this decision and considered appealing again but were obviously worried at what the Hants F.A.'s response might be.

Not only is the length of the suspension a concern but the method of imposing sanctions in terms of time rather than for a number of games (as seen for example in the Premiership). Added to this, the Hants F.A. has acquired something of a reputation for being slow in hearing disciplinary matters so that suspensions often are handed down a considerable time after the offence in question. Rumblings have been heard from other Wessex clubs (notably Christchurch) about the way discipline is administered but going straight to the F.A. is an unusual step. I can only wish the club the best of luck!
---
BATTLING RESULT AS INJURY COUNT RISES

Monday 10th September 2001
It was pleasing to learn that, after the somewhat "gloom & doom" nature of my pre-match comment, the Linnets battled their way to a point in Saturday's encounter with Bournemouth Poppies. However, I was saddened to hear that Graham Kemp's squad may be deprived, at least in the short-term, of yet another member following Saturday's match. A second-half collision of heads between L&NM's Gary Grace and Bournemouth's Jimmy Edwards saw Grace stretchered off and ultimately both players being taken to hospital by ambulance.

It is unfortunate for Grace since he has only recently returned to first-team action after a long lay-off through injury, a situation that Graham Kemp characterised as being "like signing a new player". Let us hope the injury is not serious and that both players make a speedy and full recovery.
---
EARLY SEASON MINI-CRISIS?

Friday 7th September 2001
Hopefully, regular visitors will agree that I am not generally given to hyperbole and that the above headline may therefore just be an isolated example. Having said that, Graham Kemp has got his work cut out just at the moment and tomorrow's away game at surprise league leaders Bournemouth Poppies will be a real test of his and the squad's mettle. With suspensions currently accounting for Leigh Phillips, Brett Phillips and Jason Stride, work or holiday arrangements for Richie Glenister and Steve Strong and with Mark Smith on the long term injury list, it is going to be an interesting team that turns out at Victoria Park.

If you then add to the above a surprising inconsistency that has emerged from the early games, with competent wins against BAT, Fleet and Newbury juxtaposed with the astonishing club worst-ever result against Burgess Hill and the surprise defeat at Bemerton [according to my records, the first time the merged club has not beaten the Salisbury side], clearly the management has it's hands full.

I am the last person to want to put any pressure on the team and I am encouraged by Graham Kemp's upbeat comments reported today by the Echo : "The league is so much more open this season that I think you could lose six or seven games and still win the title". On the early evidence he may well be right, with ourselves suffering the aforementioned defeat at Bemerton and champions Andover slipping up at Wimborne, who in turn have already lost at home to Christchurch. Meantime Poppies owe their present exalted status largely to wins against sides already occupying the "deadzone" at the bottom of the table - all of which makes it hard to see any sort of pattern emerging!

However, I have a hunch that this is one of those points in the league calendar when those early threads start to draw together. It is three years [and seven games] since we lost to Bournemouth in league or cup matches, a sequence I very much hope we can maintain.
---
CLUB TO RECEIVE GRANT FROM FOOTBALL TRUST

Wednesday 5th September 2001
Not having been present at last week's A.G.M., I have taken a couple of days to reflect on the information given to me to try to put things into context before writing it up. Regular visitors will have already noted the news 'flashes' I put on the front page so that the "surprise" elements have already been trailed and may therefore not be surprising at all!.

Nevertheless it is worth reporting that the club has been successful in obtaining a grant from the Football Trust to carry out improvements to the Fawcett's Field site (reported to me as £100,000 over the next seven years). The club had announced some time ago that it was keen to extend the facilities available so as to offer a more attractive proposition to existing and potential sponsors. As I understand it, part of the grant will be used to create exclusive "sponsors boxes" for which plans have already been drawn up. In addition, some covered standing accomodation is to be erected specifically on the Chewton Glen side of the ground, although this may be expanded. This is a significant development for the club and full credit must therefore go to those involved in successfully putting together the necessary plan that has led to this award.

Surprising though this may have been to those of us not "in the know", how much more surprising is the news that The Cherries [AFC Bournemouth] had approached the club with a view to playing their Reserve team fixtures at Fawcett's Field, to which the club's management have given their blessing. This necessitated an inspection by the F.A. in order that the Nationwide League club could pursue their plan and this has been carried out and the ground given the "thumbs up". The approach was a consequence of the recent friendly match between the two clubs which was staged at Fawcett's Field, during which visiting Cherries personnel were impressed with the The Linnets' facilities. AFCB, apparently unhappy with the standard of the Chapel Gate ground that they have been using, intend to commence playing matches at New Milton shortly, with the first fixture likely to be on the 19th September.

Whether this budding involvement with our nearest Football League side will develop further one can only speculate but this is a significant "feather in the cap" for The Linnets. It is also one in the eye for Bashley who have recently tried to make capital out of their [supposed] superior status and a [supposed] "special relationship" with The Cherries that seems largely to hang on the transfer of Wade Elliott from The Rec. to Dean Court nearly two years ago.

These announcements can only improve the standing of Lymington & New Milton FC in the wider football world but as regards promotion to a higher level (assuming of course that the team once again earns the right), it is still the case that this will only be sought if the finances are there to permit it. Although the club seems to be on a stable financial footing and is not at the mercy of one or two backers liable to disappear at the first hint of "under-achievement", the resources are still limited. Indeed, it is a fact that Graham Kemp is working on a tighter playing budget than comments from other clubs about L&NM's "wealthy" status would have one believe.

It is my opinion that members and supporters can take satisfaction from the fact that the club has consistently sought to be self-financing and prepared to take "the long view" rather than catapult itself up the non-league pyramid, only to come crashing back when the money runs out. Credit must therefore go to all involved in running the show. Let us all hope for another successful season.
---
---
THE INS AND THE OUTS

Friday 31st August 2001
Today's Echo reports that striker Chris Marwood may be in line for a first-team debut for the Linnets tomorrow, when they travel to AFC Newbury in a fixture that has been brought forward to fill the gap resulting from both clubs' exits from the F.A. Cup last weekend. The game also sees the last appearance of Leigh Phillips before he starts a suspension which, if the anticipated appeal is unsuccessful, could see him sidelined until the middle of November. Brett Phillips and Jason Stride also start seven day suspensions following tomorrow's game, so it will be a new-look squad that travels to Bemerton next Tuesday. For tomorrow's game, Graham Kemp will apparently choose from : Kearn, Gazzard, Bailey-Pearce, Morris, B. Phillips, Keeping, G. Grace, L. Phillips, Glenister, Drew, Stride, Boulton, Marwood and, of course, himself.
STOP THE SEASON, I WANT TO GET OFF!

Tuesday 28th August 2001
Any hopes that following the Linnets this season would be any less stressful than last year seem to have vanished already! After a nice, comfortable, get-back-in-the-groove opening against B.A.T. came the shock of last Saturday's Cup demolition at the hands of Burgess Hill. This is quickly followed by a storming victory against Fleet and then the news that Leigh Phillips' suspension has been extended on appeal. And there I was worrying about fixture congestion!

Credit must go to Graham Kemp and the team for getting it back together yesterday, so quickly after Saturday's debacle, and this should have acted as a balm for any twitching nerves. However, the news from the Hants F.A. had me scurrying for the tranquillisers again. Not content with handing out a 35 day ban on Leigh Phillips over the alleged stamping incident at Eastleigh last season, but to extend that to 56 days on appeal sends a pretty powerful message.

Don't get me wrong - I have said in this column before that I do not condone violent conduct on the football pitch (or anywhere else for that matter!) and if (as the Hants F.A. clearly believe) the case against Phillips was proven, then punishment is inevitable, particularly as the football authorities generally seek to "clean-up" the game. Such an attitude is to be applauded. To me, however, there is a fine line between being "committed" on the football field and having such complete disregard for one's opponents that "anything goes" in the cause of winning. Graham Kemp has said that he believes that Phillips' past record is against him and that that is the reason that the ban has been extended. Possibly the Hants F.A. are looking to make "examples" of such transgressors to get their message across.

I believe that Leigh is a victim of his own "whole-hearted" approach and I understand the club intend to make a fresh appeal against the extended ban. One can only hope that the Hants F.A. see the matter in this context. All of which worrying suggests that the Linnets are a "one-man" team. Although I don't believe this is true, Leigh does seem to have a 'talismanic' quality as far as performances in general are concerned - although it didn't work last Saturday!

FUTURE OF THE SWANS IN DOUBT

Following last season's 14-1 annihilation in the corresponding fixture, my eyebrows were only slightly raised at the news that Swanage's away game at Andover had been postponed. I understand that the 'Swans' were unable to raise a team to fulfill this fixture, although they managed to play in a 4-1 defeat at Whitchurch yesterday. There appears to be a possibility that the club may be forced to withdraw from the Wessex League and a club committee meeting has been called for this week to decide the Swans' future. I have expressed concerns before at the standard of clubs joining the League and Portland's 7-1 thrashing yesterday by an Andover side that, according to their manager, "were a bit rusty" is more grist to that particular mill. And I thought we might have problems?!
OFF AND RUNNING - BUT FIXTURES PILE UP!

Sunday 19th August 2001
With the first round of matches having only just been completed, it seems daft to be talking about fixture congestion already but, on the face of it, that is a distinct possibility! With just one league match under their belts, the Linnets already swing into cup action next week thanks to the imposition by the F.A. of an 'Extra Preliminary Round' in the F.A. Cup competition. It is my personal opinion that 'The Cup' is still the greatest knockout competition in the world and no club would want to forego the chance to participate but the 'qualifying' stages just seem to keep growing!

Fortunately, the Wessex League have anticipated this and so the club was not scheduled to play a league match on the same date. In addition, because the Wessex is persisting with it's 23 club structure this means that, in each round of fixtures, one club has no fixture (yesterday it was Andover). With another round of matches having been scheduled for next Tue./Wed. perhaps it is even more fortunate that the Linnets are the "odd men out".

But what the Wessex giveth, the Hants F.A. taketh away. With the club due to play in 'The Cup' next Saturday, followed by a league match the following Monday, comes the news that the Linnets are expected to play their first round Russell Cotes Cup match on the following Tuesday or Wednesday or be fined. This is notwithstanding the fact that if they draw their F.A. Cup match, the replay for that will have to be played the same week because.......if they win, the 'Preliminary Round' tie is due the following Saturday! Theoretically the club could face 5 matches in 8 days but, of course, this just won't happen?!

Looking slightly further ahead, a study of the Wessex fixtures for the season makes it clear that the League is anxious to avoid last season's fixture "pile-up" and has "front-end loaded" league fixtures so that a significantly larger proportion of the season is due to be played before New Year than one would normally expect (the Linnets have 27 out of a total of 44 - I counted!). This seems fair enough since the weather will no doubt play it's part but if you add in the F.A. Cup, F.A. Vase, Hants Senior Cup, Wessex League Cup and Russell Cotes Cup fixtures due prior to Christmas, then one can only hope that the squad is big enough!

Don't get me wrong, the club is in a happy position in that it is able to participate in all these competitions and no supporter wants their team to lose any matches but could this be a year in which "concentrating on the league" has more meaning than most?
TRANSFER REPORTS - JUST TALK?

Monday 6th August 2001
Intriguingly, the playing future of Leigh Phillips continues to be the subject of recent local press speculation. It may just be that hard-pressed journalists, with column inches (or these days - websites) to fill, are keeping the story alive in order to have something to write about. I hope that I am not falling into the same trap!

What is clear is that there had been some discussion concerning Leigh's future and that three clubs - Bashley, Salisbury and Dorchester - had expressed an interest in the Linnets' player. When manager Graham Kemp made it known that, with Phillips under contract, he expected a "reasonable" fee to secure the transfer; there was some prevarication from the interested parties. Feathers were further ruffled when it became known that the size of the fee was £5,000 rather than the £1-2,000 which had been reported earlier. In justification, Graham Kemp has explained that this is a direct result of an improved sponsorship deal that the club had negotiated and that as a result, there was no financial case for selling Phillips. He went on to say that, in those circumstances, the fee was related to an anticipated loss of such revenues if the player moved on.

The response from Bashley has been that their priority lies in another direction entirely (rumoured to be Nick Hooper of Staines Town) and that any reported interest in Leigh Phillips was just speculation that had helpfully acted as a smokescreen for their real intentions. It is the opinion of yours truly that the efficacy of a smokescreen depends entirely on which way the wind is blowing, particularly as a news item today links them with a deal to sign Stuart Hussey from Brockenhurst only weeks after he left the Linnets! However, in fairness to 'the Bash', attempts by the press to link them with any issue concerning the Linnets is the inevitable "fall-out" of the aborted merger discussions and the decision of Derek Binns to move up to the 'Rec.' to pursue his ambitions of Southern League management.

Less conclusive has been the reaction of Salisbury, whose assistant manager - Tommy Killick - claimed that his club had already agreed a fee of £1,000 with the Linnets as well as settling personal terms with the player. He went on to say that the Whites were interested in Phillips but not at anything like the price now being mooted. The inside track on this would seem to be that no such agreement had been reached and this would seem to be borne out by a story last week that a deal with Salisbury was on, provided the Linnets were able to recruit an adequate replacement. Their target was reported to be Newport's Steve Tate but although a fee was apparently agreed with the Island club, Tate quickly scotched that story by stating that he was not interested in making the move, preferring instead to stay and fight for his place at Newport.

It may be unrelated, but it is curious to note that Salisbury have since chosen to pull out of their previously arranged pre-season friendly with the Linnets, scheduled for August 7th, with no official reason seemingly having been given. Which leaves Dorchester. Despite their reported interest, I am not aware that any official move has been made so far by the Dorset club although, in a curious twist of fate, the Magpies are also due to play a friendly at Fawcetts Field this week. All of which makes interesting reading while we await the start of the new season. In the meantime, I understand Leigh is quite happy to continue his goal-scoring exploits with the Linnets. Next!
---
---
BUILDING FOR THE FUTURE

Now that the roller-coaster ride of last season is fading slowly in the memory, it is encouraging to hear about more new signings and further changes to the club's football structure as Graham Kemp prepares for the post-Binns era. A recent 'get to know you' evening was held by Kemp and his assistant Paul Morrell to introduce newly appointed staff to the existing setup.

Although Kemp intends to continue playing, it appears that he has passed on the role of team captain to long-serving defender Paul Morris and if this is correct, it would seem to be a good choice. Morris, who generally appears unflappable on the pitch, is rated as one of the best and most consistent defenders in the Wessex League and played a major part in the success of the first team last season.

With Paul Morrell having stepped up from running the Reserves to the position of Assistant Manager, the club has appointed Trevor Evans (a former league player with Norwich & Swindon) and qualified U.E.F.A. coach and fitness expert Colin Wade to oversee Reserve team affairs. The 'A' team will continue to be the responsibility of John Breaker and Tony Daniel, while the Youth side will again be overseen by Nick Keeping and Bill Beach. Alan Farrar continues in his coaching role but former Cherries player David Jones has left the coaching staff and joined (what is hopefully the last of) the drift to Bashley.

In addition to the recently signed first-team squad members, Richie Glenister, Rob Walker, James Bailey-Pearce and Ross Drew, the club has signed a number of teenagers from Bournemouth club sides. These include Alex Westerway, Wayne Smith, Lee Prescott, Sean Read and James Merritt, the last of whom (although only 16) carries high expectations having already apparently attracted the attention of some league clubs.

Added to which, the return from injury of Paul Gazzard and James Wood is further encouragement. Gazzard was probably the Linnets' most improved player last season until a knee injury in April brought his season to a premature close. Wood, who had been on the fringe of the first-team nearly a year ago also makes a welcome return to the colours. Also, the news that virtually all the remaining squad (with the exceptions of Stuart Hussey & Nigel Mottashed who have joined Brockenhurst and Totton respectively) have signed up for another season is a major boost to the club's ambitions.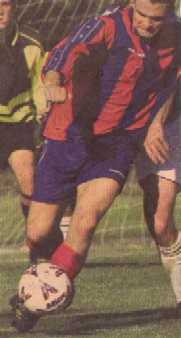 Finally, and perhaps most encouraging of all, is the news that the Leigh Phillips saga has been resolved. For a long time last season, the Linnets' ace marksman (pictured left) appeared to be Bashley-bound, a situation that seemed even more likely when Derek Binns finally declared his hand and was appointed as Bashley's new manager. Further interest from the likes of DML sides Salisbury and Dorchester had made the possibility of Leigh's departure seem even more likely. It is still possible that he will leave but, to his great credit, he has agreed to honour his existing contract with the club, who in turn have slapped a £5,000 transfer fee on his head. Consequently, if he does move, the club will benefit financially, while if he stays there will hopefully be many more goals to add to his tally so far.

I am sure that Leigh must have been tempted to move to a higher level, and particularly since I understand he works in Salisbury, the interest of the local club must have been a distraction in considering his playing future. With the fee having been set at a relatively high level however, it is currently unclear whether the Southern League side intend to pursue their interest. In the meantime (and Hants FA disciplinary judgements notwithstanding), Leigh will continue to add his considerable presence and committed approach to the Linnets' game. Eyes down for another successful Linnets season !
---
---
Top (Click here to return to the top of this page)
Previous (Click here to go to News & Comment Page for January to June 2001)
Home (Click here to return to the Home Page)
  Online with The Linnets © Paul Johns MMI