Rees Hopkin RHYS 1819-1899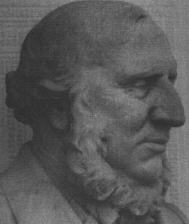 Locally known as "Blind Rhys".
1841 census: Llwydcoed: surveyor.
1851 census: Llwydcoed: mineral surveyor (blind).
1861 census: Llwydcoed House. Colliery proprietor employing 245 men and 94 boys; farmer of 650 acres employing 8 men and 1 boy; brick manufacturer employing 4 men and 12 women; gas manufacturer employing 6 men.
1871 census: unmarried & living with his mother & 2 sisters Mary and Catherine at Plas Newydd, Llwydcoed. Occupation: Magistrate and Chairman of Local Board of Health.
"He was born in Llwydcoed in 1819, and became a mineral agent. Even as a young man, he always took a great interest in local affairs. In 1847, he was experimenting with gun-cotton at the Dowlais Works when an explosion occurred which robbed him of his sight. Despite this loss he was a man of great mental vision and was the driving force behind most of the important improvements in the parish [of Aberdare] during his term of office, becoming a household name throughout Glamorgan. In 1846 he was elected to the Board of Guardians, and was Chairman from 1880 to 1887. During this time, he was a strong advocate of the Industrial School to take children out of the workhouse. From 1854 he was on the first Board of Health, and worked hard to provide Aberdare with a park, cemetery and other amenities. He was Chairman of the Sewerage and Burial Boards and of the School Board from 1877 to 1898. In 1860, he was a Commissioner of Income Tax and in 1867 he became a Justice of the Peace, an office he held for 32 years. In 1883 he was elected a Governor of the University College of South Wales and Monmouthshire, and was a member of the Glamorgan County Council. In 1894 he became Chairman of the newly formed Aberdare Urban District Council. He died in 1899 at the age of 81."
(Obituary in the Aberdare Times, via Old Aberdare vol. 7)

Previous page