In but a few days, the World Domination festival tour onslaught hits the UK, and you'd better be ready for this six-band package of Terrorizer favourites like Dark Tranquillity, Enslaved, Swordmaster, Dellamorte and Demoniac. Somewhere amongst that lot you'll also be confronted by the mighty Bewitched, and Satpal Kalsi took the joint opportunity of tour and the band's third release of Retro-Metal Hell, 'Pentagram Prayer', to talk to frontman and songwriter Marcus Norman.
---
BEWITCHED
Hellfire and World Domination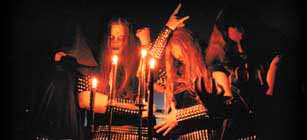 ---
With the timely release of 'Pentagram Prayer', Bewitched's third recording for Osmose, we Brits can finally get to hear in the raw what all the fuss has been about in these pages for the past few years, when they take part in the World Domination tour. I talked to main man Marcus Norman about the tour and how the new album may be received by fans on this fair isle.

"I don't know, really, because I have absolutely no idea how our album is selling, but it will be interesting, because it's always good to play somewhere we haven't played before. It feels really good because our music is really good live. As it is now, we're only a three-piece band, and we will use a session guitarist on the tour. But I believe we will only continue as a three-piece band. I think the tour's very good, because there's six different bands and it'll be quite boring if every band played the same style. Personally, I've met the guys from Swordmaster and Enslaved, and they're really good guys."

Being the premier exponents of Retro-Speed Metal, coming to Britain is like coming home to one's musical heritage. I'm referring to Venom, of course.

"I don't really know. I have no idea, really. I guess it would be cool. Of course we're influenced by Venom because they are so original in what they did. As you know, we did a cover of their 'Warhead' on the 'Encyclopedia Of Evil' mini-CD, so of course we're influenced."

But how did Marcus get into all this nonsense, and what are Bewitched going to add as a band compared to what the originators did?

"Well, we have developed all these basic ideas. In a way, we've taken it one step further, you know, with the production, where we're got a really good sound. Well, I'm very much into the Nineties as well, but really, all the good music was produced during the Eighties - unfortunately. One of my relatives gave me, when I was about eight or nine years old, he gave me the 'Rock And Rollover' and 'Destroyer' albums by Kiss. I guess it started from there. I liked the makeup. Gene Simmons was my god when I was a kid. But the best album ever is Mercyful Fate's 'Don't Break The Oath'. There can't be an album as good as that. If anyone hasn't heard that album, they have definitely missed something."

How do you feel about all those old bands either reforming, or just continuing to flog a dead horse?

"I don't really care because, you know, I took a listen to a bit of the new Judas Priest album and that was a very, very big disappointment. It seems that they wanted to do something a bit more Industrial. I heard some drum programming and I didn't really like it. The 'Painkiller' album is a real killer, but this? Mercyful Fate's new album has a high standard, even though they can't compare to their early stuff."

So do Bewitched wish they were around in the Eighties, then?

"Not really, because then there would be the big possibility of drowning among the others, so in a way I think it's good that we do this now. But it seems like there's a lot of upcoming bands that play this old style now. I don't really see Bewitched as an original band, to be honest. I believe that quality is what really matters. Whether it's original or not, that doesn't matter at all. In a way, quality and originality is the same thing. Bewitched is more about… the lyrics are quite simple, and quite straightforward, we don't try to hide anything behind fancy words. We write everything very simple, very primitive and everything in rhymes - even though the message is very serious for us. I don't think people take us seriously, but we don't care, because we will always do what we feel like doing. Since I write all the lyrics and music, I don't want other people's opinions, really. I write what I feel, not anybody else's feelings."

What's made Hell Metal so popular now?

"It's hard to say, but I guess everything goes in circles, you know. First it was Thrash, then Death Metal, Black Metal blah blah blah. But I think now we see that it's coming back. I don't think it will go full circle all the time, but it will develop a bit. Also, people see it as an opportunity to release a record if they play this style. I don't really remember the main reason for starting, but one part was because we had read so many interviews with bands who claim to be influenced by bands like Kreator and Sodom, et cetera. When we sit down and listen to them, you can't imagine how they have even heard them, because they don't sound anything like it. Anyway, we wanted to show how it had to be done. We played it like we wanted it to sound. It wasn't like we sat down and said, 'Hmmm. Good riff. Let's do it ourselves'."

As the old cliché goes, if you want something done properly, just do it yourself, and all DIY enthusiasts should indeed pop down to their nearest World Domination gig for some handy tips…

SIX (SIX, SIX…) OF THE BEST

If you need reminding just who the other bands are on the Osmose World Domination tour, then either you've just arrived from Mars or you haven't been saving your copies of Terrorizer, 'cos we've featured EVERY SINGLE ONE OF THEM in the past twelve months. But seeing as we're nice, kind people, we thought we'd take this hell-sent opportunity to prod your memories about the other five bands on the bill:

DARK TRANQUILLITY

Gothenburg has a lot of fine bands, but Dark Tranquillity are undoubtedly among the finest among the Melodic Death Metal pack. Their latest album, 'The Mind's I', won the Album Of The Month award [@@@@@] in #41 and placed in this issue's Top Thirty End-Of-Year Poll. Said guitar player Niklas to us the next month, "We've never conformed to the stereotypical rules of how a band in a certain scene ought to be. Take it or leave it."

ENSLAVED

Norsemen and obviously proud of it, judging by their armoured attire, Enslaved's 'Eld' hit the full-marks jackpot in #42 [@@@@@]. Some around here are convinced that these guys came up with the underrated Black Metal classic of the year, and you know what? They're probably right. Ivar Bjornsson attempted to explain the Norwegians' style to us by saying "Enslaved is epic, majestic yet violent music. 'Eld is a big step towards that goal, but we still have some way left to this goal. We feel now we have a 100% line-up. We'll teach you a lesson in violence!"

DELLAMORTE

Yet more Swedes, only this time playing Death-Crustcore. 'Uglier And More Disgusting' got @@@1/2 in #48, and when we talked to bassplayer Daniel, he had this to say of Dellamorte's sound: 'I usually describe it as Motörhead meets Entombed. We all love Punk and Thrash, but we like the Death Metal SOUND, so we tried to mix the two. It's Death Metal, but with a Punk Rock attitude, I guess."

SWORDMASTER

Their guitarist Nightmare may be Jon Nödtveidt of Dissection's younger brother, but Gothenburgers Swordmaster come over more like the offspring of Slayer and Destruction than like any Melodic Metal wimpery. Said Nightmare to us this September: "Swordmaster is a gut-ripping Metal band with burning guitar riffs, blazing speed and reaping vocals. When we play you can feel it in your balls!" Confronted by such impeccable attitude, 'Postmortem Tales' amassed @@@@ in #46 from our resident underground expert Greg Whalen.

DEMONIAC

Normally to be found outside every underground gig in London getting pissed on off license lager, these three Kiwi fruitcakes, when they're not simply causing more havoc and mayhem than an entire army of maniacs, play Retro Metal. 'Stormblade', their debut for Osmose subsidiary Evil Omen, was awarded @@@1/2 in #42, while Behemoth commented quite reasonably to us earlier this year, "The thing is, we're completely unserious about the whole thing. The only reason we do it is because it's fun playing beats and we love Heavy Metal." Can't argue with that!
---
Back