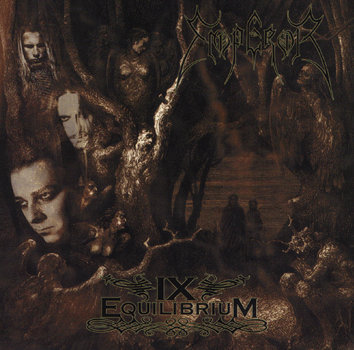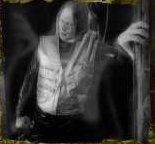 Limited digipak version also available with a bonus live track. Only 5000 copies.
---
Curse You All Men
Decrystallizing Reason
An Elegy of Icaros
The Source of Icon E
Sworn
Nonus Aequilibrium
The Warriors of Modern Death
Of Blindness and Subsequent Seers
---
I've taken the following has been taken from the Emperor Spring Newsletter from Candlelight:

Following on from the huge success of 'Anthems to the Welkin At Dusk' and 'In The Nightside Eclipse', 'IX Equilibrium' will be the modern day standard bearer for extreme music. The band have remarkably, improved again, taking a musical step forward to the next millennium and beyond. They have combined the sounds of 'Anthems...' with even heavier and yet accessible riffs, plus a devastating orchestral beauty that will leave their rivals drowning in thie wake. This will be THE milestone alum of the year!!
There are so many different musical aspects to this release, the shades of pure darkness and then light make this one of the most challenging listens to the last decade, every song takes on a new angle every time you listen to it!!
Emperor are the most important act in the genre and this is the landmark album, that the world has been waiting for even eclipsing 'Anthems to the Welkin At Dusk' and 'In The Nightside Eclipse'!!!!