Marduk Biography
---
1990 : Hatred and scorn towards Christ and Christianity gives birth to the band Marduk whose desire is to create the most blasphemous and unholy music ever experienced by mankind.
1991 : Marduk releases the demo «Fuck Me Jesus» which receives a very positive and enthusiastic praise within the underground scene. The band also records material for a planned 7» called «Here's No Peace» but the band later choose not to release it when they get an album deal from the Swedish label No Fashion Rec.
1992 : Marduk performs on various locations through Sweden and records full-length album «Dark Endless» which is released by no Fashion in December.
1993 : After being badly ripped off by No Fashion, Marduk signs a deal with the French label Osmose Productions and records a new album entitled «Those Of The Unlight» which is released in October.
1994 : Marduk plays abroad for the first time on a black metal festival in Norway. In May/June Marduk's first European tour takes place together with Immortal under the name «Sons Of Northern Darkness». In the autumn the third full-length album «Opus Nocturne» is recorded and in the end of the year the album is available in the stores.
1995 : In February Marduk's second European crusade called «The Winter War» takes place with Enslaved as a support act. «Fuck Me Jesus» is released as a miniCD in April due to the tremendous demand for the recording, which at this time have gained a heavy cult reputation. But because of the title and cover artwork the release is boycotted in 7 countries. In early June Marduk plays one gig in Mexico City. Marduk spends falltime with creating new material.
1996 : In February Marduk enters a studio once again to record their new album «Heaven Shall Burn...When We Are Gathered» which hits the shelves of the record stores in June and is immediately cherished as a milestone within the black metal scene. Never before have any band showed such skill in mastering the power of ultra fast and furious black metal. In the autumn Marduk tours with the support acts Gehenna and Mysticum on the so far longest European Tour. A new MCD «Glorification» with a remixed track from «Heaven Shall Burn...» + covers of Bathory, Piledriver, and Destruction is released during the tour.
1997 :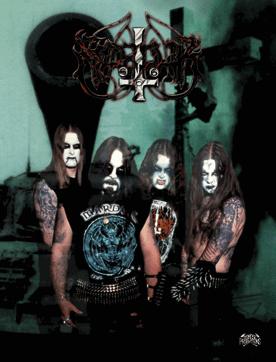 The black metal warmaschine Marduk attacks Europe once again in spring on the shorter «Legion» tour. A live album, entitled «Live In Germania», recorded on four different locations in Germany during the 96 tour for «Heaven Shall Burn...» is released during summer and impress greatly on critics world-wide, as proving that Marduk, unlike many others are fully capable of performing their material on stage with the same intensity and feeling as on their studio albums. A single gig is performed together with the reformed Mayhem in former east Germany during midsummer. The ancient recording «Here's No Peace» is released in October on the newly started Swedish label Shadow Rec. and during Oct./Nov. Marduk perpetuates the upcoming and long-awaited percursor of «Heaven Shall Burn...» entitled «Nightwing».
1998 : «Nightwing» is ready to be unleashed upon the masses. Divided into two chapters, the first one entitled «Dictionnarie Infernal» containing the tracks «Preludium», «Bloodtide (XXX)», «Of Hells Fire», «Slay The Nazarene» and «Nightwing» will blow all competing albums into oblivion with its spellbinding speed and brutality.
Chapter two «The Warlord Of Wallachia» deals with the life and doings of Vlad Tepes Draculea in five pieces entitled «Dreams Of Blood And Iron», «Dracole Wayda», «Kaziklu Bey/The Lord Impaler», «Deme Quaden Thyrane», «Anno Domini 1476». Accompanied by bonecrushing music very well fitting to the lyrical concept. «The Warlord Of Wallachia» will be just everything people fascinated by Vlad The Impaler can ask for. «Nightwing» will be a massive monument of christraping Black Metal and the people involved with this kind of music that do not worship this recording are either lying or are totally deaf !
---